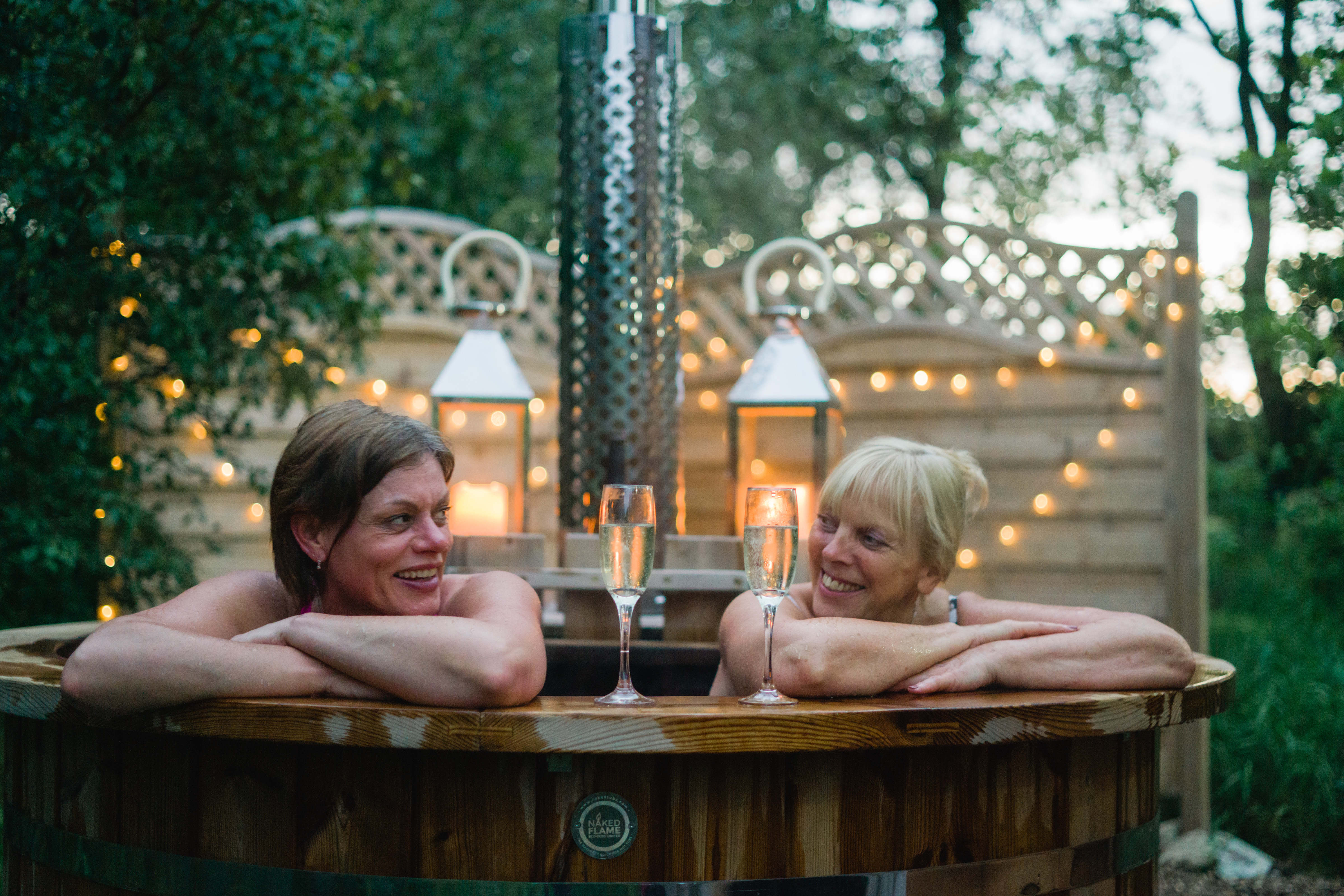 A Cabin With a Hot Tub - The Recipe for the Perfect Holiday?
A hot tub adds that little something extra to any holiday, don't you think? Today, we'll go over some of the reasons why hot tub holidays have won over the hearts of British glamping enthusiasts as well as some tips for planning your perfect getaway.
4 Reasons You Should Book a Cabin With a Hot Tub
1. A bit of pampering after a long day out
If you're after a more active glamping holiday, filled with hiking, mountain biking, or another outdoor activity of your choosing, finishing the day with a soak in your very own private hot tub is the perfect way to unwind. It helps your muscles relax and for your mind to switch off after your day's adventures.
Even if your day has been spent relaxing by a fire pit or wandering around local sights and food spots, ending the day in a private hot tub helps add an additional layer of pampering to your holiday experience.
2. Add a touch of romance
If you're planning a romantic getaway, maybe for an anniversary or Valentine's Day, a cabin with a hot tub is a surefire way to boost the romance factor. Cuddling up in the hot tub while sipping on something bubbly adds a touch of decadence that helps you forget about the outside world and focus on each other.
3. Warm up in cold weather
Here at Wigwam® HQ, we're big fans of year-round camping and glamping, and a hot tub is just one way to make outdoor living more comfortable during the colder months. It allows you to take in the beautiful, sprawling landscape around you while staying warm and cosy. If you're lucky enough to see some snowfall, few things are more magical than watching the flakes fall while soaking your troubles away in a hot tub.
4. Relax like never before
A soak in the hot tub has many health benefits - it helps reduce stress, improve sleep, and even offer pain relief. It can be difficult to actually switch off from work mode on holiday when we remain so reachable thanks to our smartphones and wireless internet connection.
A dip in a hot tub has a funny way of helping you set all that aside and enjoy some quality time with loved ones. Whether it's making memories with your partner or catching up with friends, a hot tub helps create memorable moments that elevate any staycation.
Hot tub tips
Know how to operate your hot tub. Your accommodation should provide a guide to make sure you know what you're doing. At Wigwam® Holidays sites, you'll usually find classic wood-fired hot tubs full of rustic charm. These take a couple of hours to warm up, so get the fire going before you start dinner prep to enjoy a post-meal dip.
No glass in the tub. This would present a safety risk. Instead, ask your accommodation if they have plastic champagne flutes or cups available. Alternatively, leave the beverages to before and after your hot tub experience. Either way, don't forget to drink plenty of water to avoid dehydration!
Make sure to supervise kids using the hot tub - kids under five are generally not recommended to use a hot tub. Make sure they don't submerge their head in the tub either.
And finally, don't forget to pack your swimming costumes!
Where to find cabins with hot tubs
You can go hot tub glamping in almost any corner of the UK. Just look at some of these suggestions from across the Wigwam® Holidays franchise!
Hot tub glamping in Scotland
The wild, rugged beauty and big skies of Scotland make it the perfect destination for a holiday in the great outdoors. From munro bagging to enjoying the sights and sounds of historical towns and villages, there's plenty to experience for glampers of all kinds.
Hilly Cow Wigwams® and Wigwam® Holidays Cove Farm offer cosy accommodation just outside Edinburgh for a blend of a city break and an outdoor adventure. The Loft in Moray offers a Highland getaway in the heart of the Speyside whisky region, while Shulista Croft is your gateway to the Isle of Skye.
Hot tub glamping in England
England offers a wide variety of experiences, from coastal getaways in Cornwall with Wigwam® Holidays Great Tregath to farm life and charming small town experiences in Lincolnshire with Crowtree.
Hill Farm & Orchard in Buckinghamshire, Evenlode in the Cotswolds, and Maglia Rosso in Suffolk offer hot tub breaks near London, Herding Hill Farm and Brampton are lodged between three different wild and remote national parks up north near the Scottish border.
Hot tub glamping in Wales
Wales is packed with fascinating history, breathtaking landscapes, and curious myths and legends. Wigwam® Holidays Abersytwyth is ideally placed for taking on Snowdonia, while Brecon and Hafren are ideally positioned for exploring the Brecon Beacons and the Cambrian Mountains.
How to book a cabin with a hot tub
If you're ready to start planning your hot tub holiday, think about the type of experience you're after. Glamping can offer a thousand different ways to enjoy your holidays. Whether you're after an adrenaline-packed break in the great outdoors, a family-friendly getaway, a fabulous hen do, or even a solo adventure, a glamping cabin can offer you the perfect home base.
This means that choosing your perfect glamping site is as easy as figuring out what you need in order to make your plans a reality. This is easy to do when booking your cabin with a hot tub with Wigwam® Holidays.
To find your perfect glamping cabin with a hot tub, visit our Locations page. Here, you can filter results by selecting "Hot Tubs" under the "Popular" menu. You can further narrow down your results to find sites that are dog friendly, offer ensuite cabins, rent out things like kayaks, and much, much more. You can even filter locations based on the landscape, from mountain ranges to sandy beaches.
So what are you waiting for? Find your perfect hot tub holiday by visiting the link below.