7 Ideas For An Unforgettable Glamping Hen Party
Organising a hen party for your friend? Congrats! It's an honour to be asked to be the maid of honour, though you might easily forget this in the midst of the logistical hell that is trying to pick a weekend that'll work for everyone in your friend circle.
Once you've found a time that works for everyone, though, it's time to decide what you want to do.
If you're after something a little different, with a more relaxed vibe and a chance for your whole friend group to really catch up, glamping could be just the thing for you! Glamping would suit a wide variety of brides, whether they're outdoorsy and active or would love nothing more than a soak in a hot tub with a glass of bubbly for their hen.
Whatever vibe you want for the get-together you're organising, read along for our seven top tips for throwing a hen party you'll all be talking about for years to come.
Our top tips for organising an unforgettable hen party
1. Kick back and relax in a hot tub
For a truly luxurious glamping experience, choose a Wigwam® site with hot tubs. What's a better way to celebrate your friend getting married than getting all your girls together and clinking glasses of champagne in a relaxing, bubbling tub? Pair with facemasks for a truly pampering experience.
2. Get silly with some nostalgic games
Get old-school with some retro lawn games! Play rounders, darts and Jenga, or host an epic sack race. Give out some fun prizes to encourage a bit of cheeky competition. Especially if you split your group into teams or pairs, games like this make for some great icebreakers if everyone in the group doesn't know each other all that well.
3. Recreate your favourite festival memories
Chances are you have a lot of fond of memories of going to festivals with your bestie, and you can bring some of your favourite memories to life during their hen weekend. Put on a playlist of some of your favourite jams from back in the day, wear flower crowns and do some glitter face painting for a bit of silly fun. There'll be no queuing for the loos or mud, just some good times singing and dancing along to your favourite tunes!
4. Explore local towns and villages
For a little break from the great outdoors, get everyone in the car and go exploring in the nearby town or village. This is a great opportunity to check out some local boutiques and treat yourselves to a fancy lunch or afternoon tea. Make sure to check out the local pub for a bit of a dance and giggle too if that's your style. Our friendly Wigwam® franchisees would be more than happy to organise taxi pickup for you to make sure you all get back to basecamp safely.
5. Get the adrenaline pumping
For outdoorsy, active brides, taking part in some sporty activities makes for a great addition to the hen weekend. Wigwam® locations offer a wide variety of fun activities, from horseriding to watersports. If you'd rather enjoy things at a slightly slower pace, try a nature walk - it's a great free activity. Just get your hiking boots on and spend the day exploring beautiful countryside before rewarding yourselves with cocktails back at basecamp.
6. Cook a big meal
Get everyone to help out for a delicious big meal to enjoy at the end of the day. Small plates like tapas or mezze are great because everyone can have one dish or dip that they're in charge of and you'll have a lot of different things to try out. Enjoy the fruit of your labour on a picnic if the weather is sunny, or around a big table after the sun goes down, chatting all the way into the wee hours.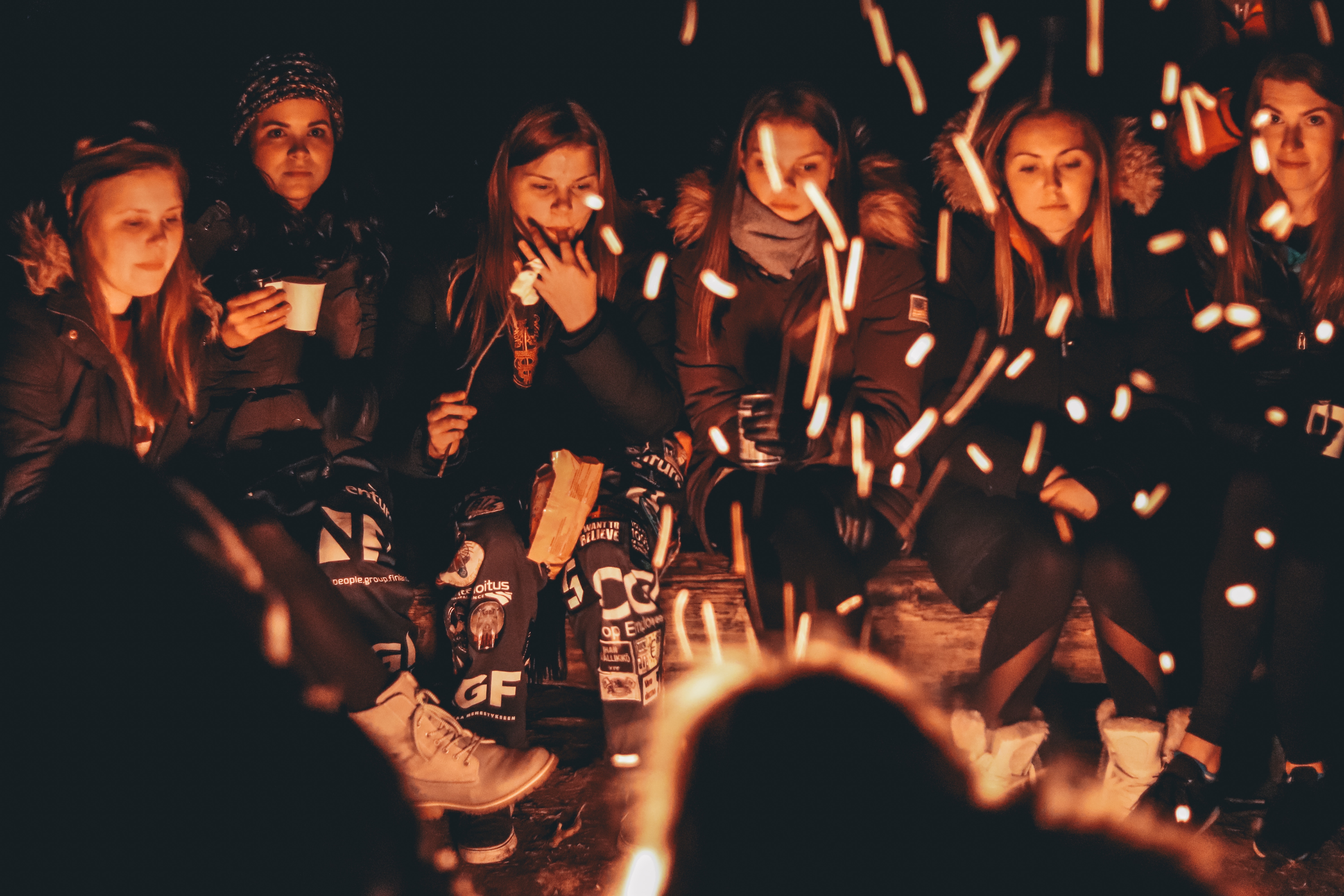 7. Catch up with your nearest and dearest
After school, it can be hard regularly meeting up with our oldest and dearest friends, so take advantage of the fact that you're all together again to just pause and catch up. Build a fire and get cosy with some blankets, open a bottle of wine and take some time to connect with friends both old and new. You'll feel like no time has passed since you were all together the last time!
If you're interested in learning more about organising an unforgettable glamping hen weekend, browse our locations below.