Thinking of Winter Camping? Here's How To Stay Warm & Have Fun
You might have read the title of this blog and scoffed to yourself: who'd want to go camping when it's freezing out? Believe it or not, camping in winter can be a wonderful experience: you'll experience nature as it's in a deep wintry slumber, with quiet hiking trails and campsites that give lots of room for you and your thoughts.
Experienced campers might go camping in the winter as a bit of a challenge, bundling up and making their tent as cosy as possible, while glampers can enjoy the crisp weather without compromising on comfort by staying in a camping pod. Whichever camp you might fall into (no pun intended), today's article will give you the tips you need to stay warm and have a good time on your winter outdoor adventure.
Dressing for the weather
Dressing properly is probably the single most important aspect of a successful fall or winter camping trip. Drying wet clothes in the cold is hard, so the better plan is to try your best to avoid clothes getting damp.
To stay warm and dry, opt for light layers topped with something waterproof. Go for a warm, breathable base layer - merino wool is a good option. Top this with an insulated jacket and, if this isn't waterproof, pull on a raincoat to top your outfit off. And don't forget about your legs! Go for a thermal underlayer and pull a pair of wind and waterproof trousers on top to make sure you stay toasty.
Sturdy, waterproof shoes are also a must, as no one wants chilly toes! Pack extra pairs of socks just in case and consider investing in some waterproof socks for happy feet. Don't forget to pack a warm hat, scarf and mittens, too. Mittens are warmer than gloves, where every finger has its own little cavity, making them the better choice for winter walks.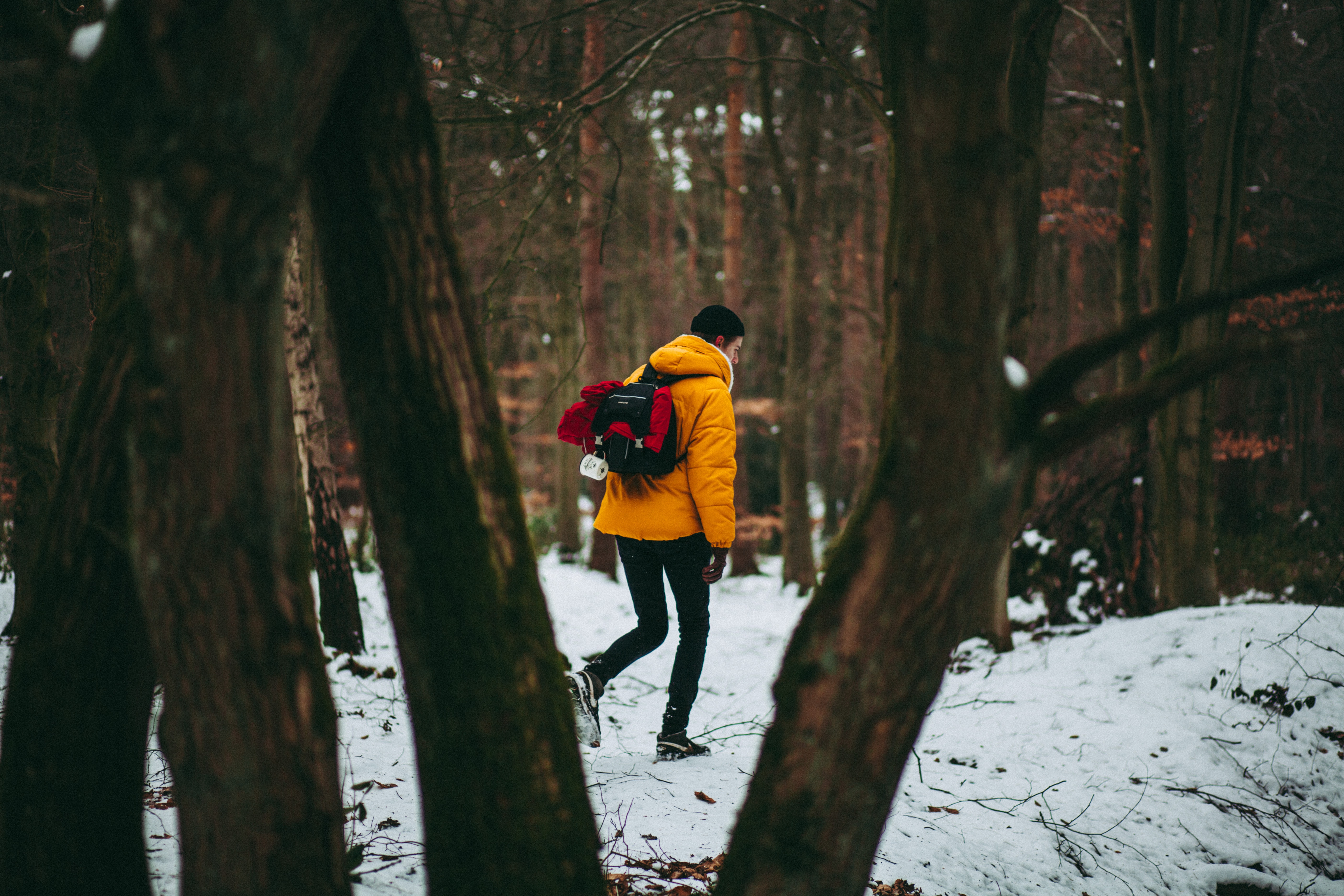 Cold weather camping tips for staying in a tent
If you want to brave the weather in a tent, you have to make sure yours is suitable for winter camping. Especially budget tents are often suitable only for spring, summer and fall, so make sure yours is a four-season tent designed to stand all kinds of weather, including snow. This means stronger fabric and more durable poles and frame. Opt for a tent with a full rainfly to make sure moisture stays out.
While air mattresses are popular for summer camping, they're not great for camping in winter conditions as they offer very little insulation against the cold ground. Instead, opt for a nice and thick sleeping mat that traps your body heat, keeping you cosy all night long.
Your sleeping bag should also be suited for camping in all four seasons. A mummy-style sleeping bag that hugs closely to the contours of your body is an excellent choice. Alternatively, opt for a double sleeping bag and share your body heat with your camping companion. And remember: a hot water bottle is your best friend when it's cold out!
To eliminate the traumatic experience of crawling out of your toasty sleeping bag to dress in the freezing cold in the morning, stuff the clothes you plan to wear the next day into your sleeping bag - this means they'll add a bit more warmth to your bag and be warm when you put them on while staying inside your sleeping bag - now there's a life hack we can get behind!
Winter camping activities
Hiking is a great winter camping activity as moving keeps you warm. It also offers some gorgeous sights: frosted leaves on the ground, frozen-over puddles, deer timidly peeking their heads through the treeline and maybe even some snow! After you've got some colour in your cheeks, pop into the village pub for a pint and a pie to refuel.
You could also take advantage of nearby towns and villages on especially cold or rainy days, idling the afternoon away in little museums and tea shops, enjoying life at a slower pace.
And at the end of the day, what's better than warming up by the campfire, roasting marshmallows and enjoying a mug of mulled cider or hot chocolate? As darkness lands around you and your camping crew, you'll feel cosy and safe in your ring of warm firelight, watching the stars above and listening to the sounds of nature around you.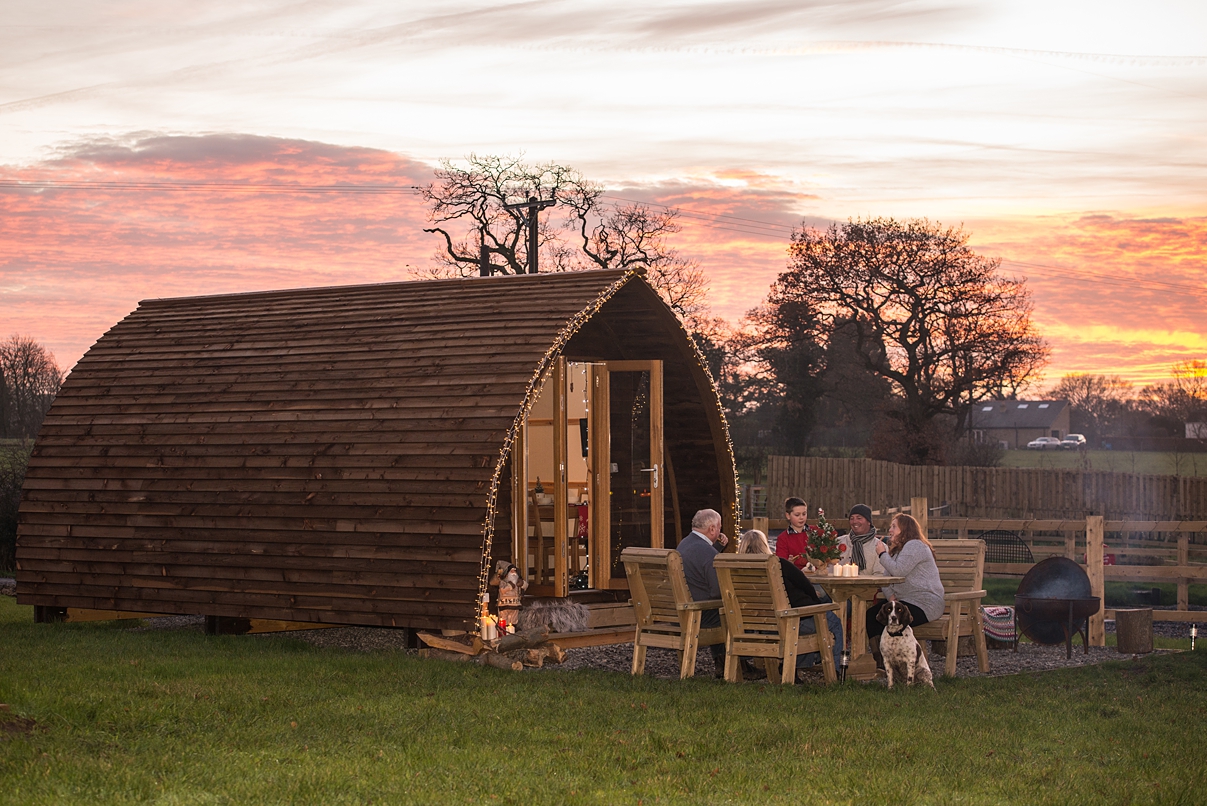 Wonderful winter glamping with Wigwam® Holidays
Let's be real: staying in a tent when the temperature drops near zero is not for everyone! For those who want to enjoy the wonders of nature in winter with ease and comfort, glamping is the best choice. Having a cosy bed to sleep in and some extra protection from the elements means the prospect of getting up and facing the chilly weather outside in the morning is a lot more exciting.
Plus, there's no need to try pitching a tent, the freezing northern winds whipping you this way and that as you desperately try to get your tent pegs into the frozen ground… Yeah, that's not our idea of fun either. A glamping break makes things considerably easier and you won't have to pack half as much, fast-tracking your enjoyment.
Our timber camping pods are well-insulated, with double glazing and heating for comfortable camping all year round. Don't feel like freezing your fingers at the crack of dawn to brew yourself a cup of coffee? Not to worry, as you can book your pod with its own kitchenette, perfect for making simple meals and hot drinks to warm yourself up.
You could even opt for a camping pod that offers a private hot tub so you can soak your troubles away in perfectly warm water while enjoying the sights and sounds of nature in winter. For inspiration for your winter outdoor adventure, browse our glamping sites in the UK by clicking the link below.