How to Make the Most of the Easter Holidays with the Kids
As Easter grows nearer, we can all see the days grow longer and warmer, and it's truly a sight to see after the winter we've had here in the UK! If you've got school-aged kids, the school holidays are a great chance for the whole family to take a break and enjoy some quality time together, far removed from the stresses from everyday life.
Whether you're looking to travel during the Easter break or simply want some fun Easter activities you and the kids can take on at home, you've come to the right place! In today's blog post we'll go over some fun and educational activity ideas for the Easter holidays.
Outdoor activities for the Easter holidays
We all know that these days, kids don't spend nearly enough time playing outdoors. The warmer, brighter days of spring offer a great chance to spend more time outside, and the parents joining in on the fun is a great way to get kids excited about nature. So keep boredom at bay and help your kids connect with nature with these fun activities.
Nature scavenger hunt
This is a great way to get the kids excited about the natural world! Before you head out, find a scavenger hunt card online or make your own. This could include things like leaves, flowers, birds, animal tracks and pinecones. You could simply mark items off the list as you go along or gather items, or even take photos of them.
This activity will help kids understand and respect nature. A nature scavenger hunt can easily be done in your local park, beach or woodland, and it also makes for an awesome camping activity! Once the kids have found all the things on the list treat them to a small prize - a yummy easter egg would be ideal!
Den making
We all remember the magic of building dens in the forest as kids. The sticks and stones seemed to come alive with our imagination, transforming natural materials into cute cottages and magical dwellings fit for fairies.
Help your kids experience this same magic by building an old-school den out of sticks organised in a teepee shape or buy a den-making kit online - these are perfect for building a den in your back garden on sunny days! Den building will get your children to interact with natural elements, work as a team and use their creative problem-solving skills.
Cloud-watching
Watching the clouds drift overhead and trying to figure out what they remind you of is a great way to encourage your child's creativity. Set out a picnic in the garden, a nearby park or your camping site and lie down with the kids, debating whether the fluffy clouds overhead look like bunnies or tigers, or maybe even old Uncle Ted!
Once you've decided what "characters" you see up above in the clouds, make up a story about them. What are they up to? Write or draw the story on paper together to bring it alive and to make a nice keepsake from the day. You can also use the experience to teach the kids why clouds exist and why some clouds are white while others are grey.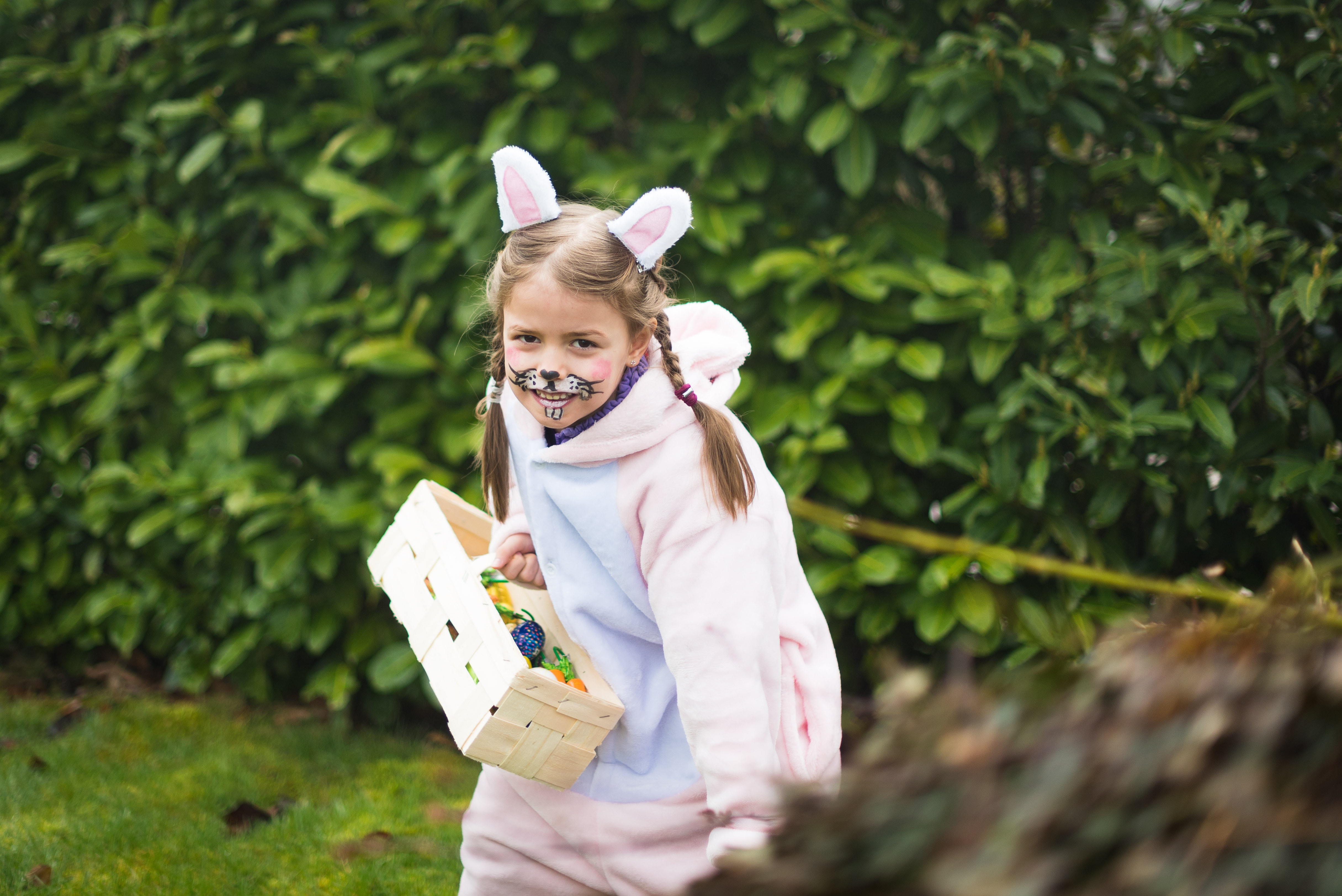 Go for an Easter egg hunt
What's Easter without an egg hunt? Host your own by hiding either some wooden or chocolate eggs in your garden, a small area in the local park or even your living room and then have your kids look for them.
Alternatively, you could always take part in one of the countless egg hunts taking part in every corner of the country, offering a day full of family fun and maybe even some prizes! Check out the annual Cadbury Easter Egg Hunt, organised in association with the National Trust and the National Trust for Scotland, taking place in woodlands and gardens throughout the UK.
Make some Easter crafts
Another quintessential Easter activity is doing some cute Easter crafts. As always, Pinterest is a great resource to find simple crafts you and the kids can make together, from sweet cards to send to the grandparents to heartwarming decorations for the home.
Crafting activities are a great option for days when the weather is less than ideal, making sure kids have something productive and creative to do instead of spending all day vegging in front of the TV and playing video games.
Enjoying the simple things in life
Exciting activities are great, but you don't need anything fancy to enjoy some good times together as a family. Simply being together, talking and eating some yummy food with nowhere else to be and no work stresses weighing you down is a great way to make the Easter holidays special. Going for a walk in the local park with the family dog is a fabulous option, and perhaps you can stop for some hot chocolate from a thermos along the way!
A simple family barbeque and some al fresco dining are great ways to spend some quality time together as a family without putting in massive amounts of effort. Get the older kids to help with the grilling and food prep, while younger ones can set the table. When everyone's got a job, you boost your kids' confidence and they learn how they can contribute to the everyday tasks of your family.
Easter glamping breaks with Wigwam® Holidays
Are you looking to get far away from the stresses of everyday life this Easter? A glamping trip is a great way to do just that without breaking the bank or spending a full day travelling to some far-flung tourist trap. Our wooden camping pods are ideal for family holidays, offering warmth, comfort and quiet all year round. You can even book a cabin complete with its own private hot tub for some truly blissful relaxation!
To get some inspiration and browse our picturesque, tranquil glamping sites, click the link below!