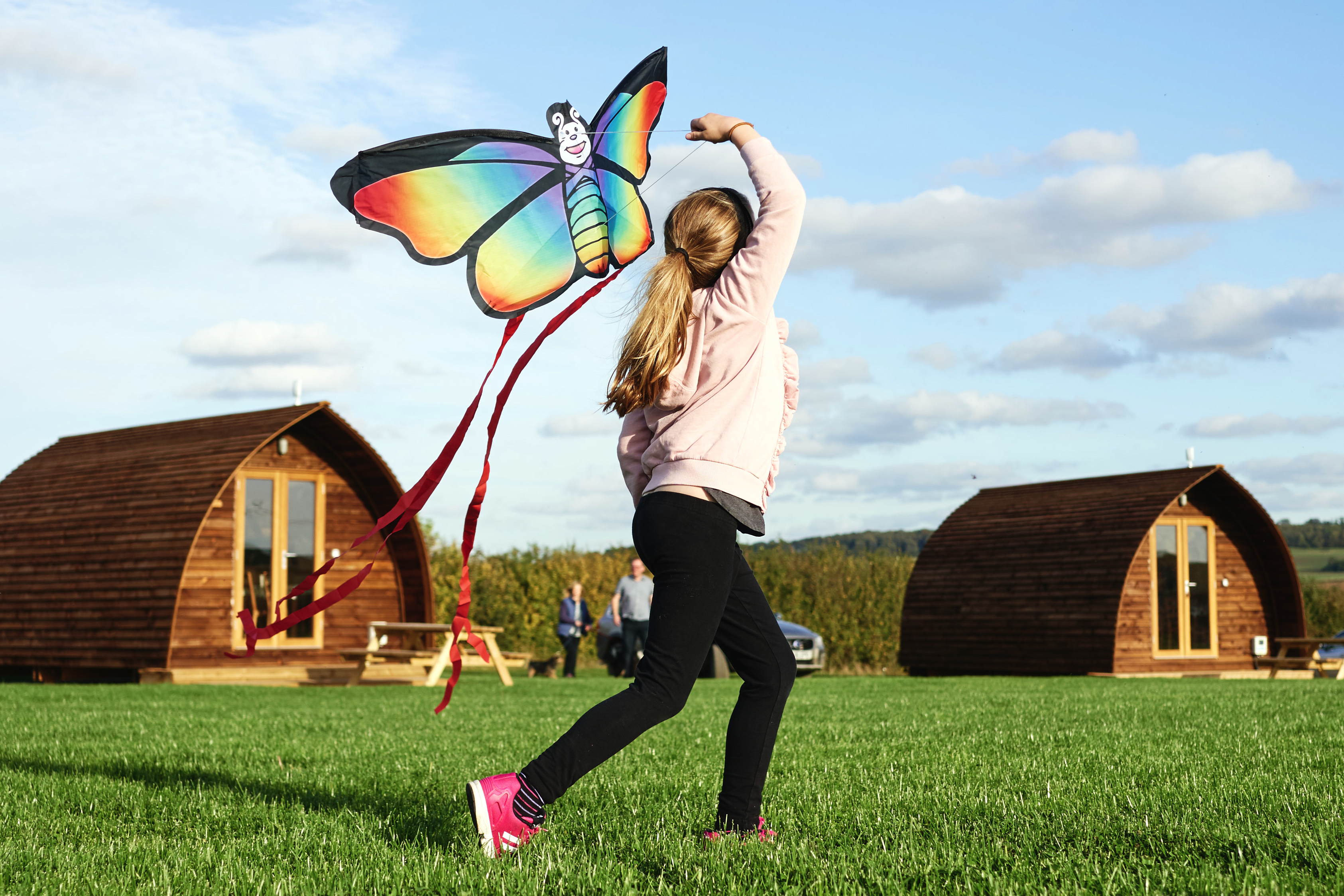 Family Glamping – Keep The Kids Entertained On Holiday
Glamping holidays are a time to kick back and relax. Surrounded by countryside and the calming sounds of nature, you can't help but unwind in the peace and tranquillity. It really is the perfect break when life gets hectic.
Unless you're glamping with kids, that is. A constant need for snacks, entertainment and boredom busting means your afternoon alone with a good book disappears.
That's why we've come up with the ultimate guide to keeping kids entertained on your glamping or camping holiday, whatever their age.
Find inspiration for keeping the kids busy on your glamping holiday and make the most of their busy time to enjoy some quiet time while they're occupied. It's important to carve out some you-time on your next staycation.
Keep kids happy on your next glamping trip
The best glamping holidays should keep everyone happy. If you're away with kids, it's important to give yourself some time to unwind. Newsflash: it's okay to wish for a whole day without driving, queuing, shopping and spending time in crowds at the 'must-visit' tourist attractions in the area.
Do your research before booking
Taking a break from sightseeing by spending time on the campsite gives everybody a chance to recuperate. Planning ahead for campsite days and packing the right stuff to keep kids busy will mean they leave you alone long enough for you to recharge your batteries so you feel energised for whatever adventure you have planned next.
Every campsite is different and there can be a big difference in the activities offered onsite. Options can range from a simple duck pond and play area to an all-out adventure playground, quad bikes, pony trekking and alpaca walks.
You know your young 'uns best so it's a good idea to research the sites with them in mind. Get it right and you'll have them begging to go glamping year after year.
The best glamping activities for kids
Campsite activities for kids age 2 – 5 years
Glamping with infants can be a heart-warming experience. At this age, nature is magical and full of adventure. Use this to your advantage! With a little imagination and creativity, your little ones will be happy all afternoon.
1. Puddle Competitions
Okay, it's raining. That doesn't mean you need to head to the nearest (soul-destroying) soft play area to take cover. Instead, wrap up in waterproofs and go on a puddle hunt. Scatter leaves or twigs around the puddle and see who can splash the furthest objects. Ten points extra if mum or dad have a go!
2. Nature Bingo
Paint or draw different shapes and coloured spots on a sheet of card or paper and find things in nature to match the colours or shapes. Perfect for a short walk or to let them run around and enjoy some independence.
3. Obstacle Course
Gather together balls, chairs, toys, skipping ropes, logs – whatever you can get your hands on and lay everything out in stations.
Give the older kids the responsibility to design the course for the younger ones and then they can swap around. This gives you the chance to sit down and enjoy a cuppa!
Make sure each station is a good distance apart so that the course takes as long as possible.
4. Shadow Puppets
Shadow puppets are one of the great joys of sleepovers and camping. Snuggle down in your tent or glamping cabin, switch off the lights, shine a torch against the wall and let the stories unfold.
Little ones will really love making different shapes with their hands but if you're super organised, draw and cut out simple shapes of people, dragons, trees, cars, houses and any number of other props out of cardboard and have your own shadow puppet theatre show.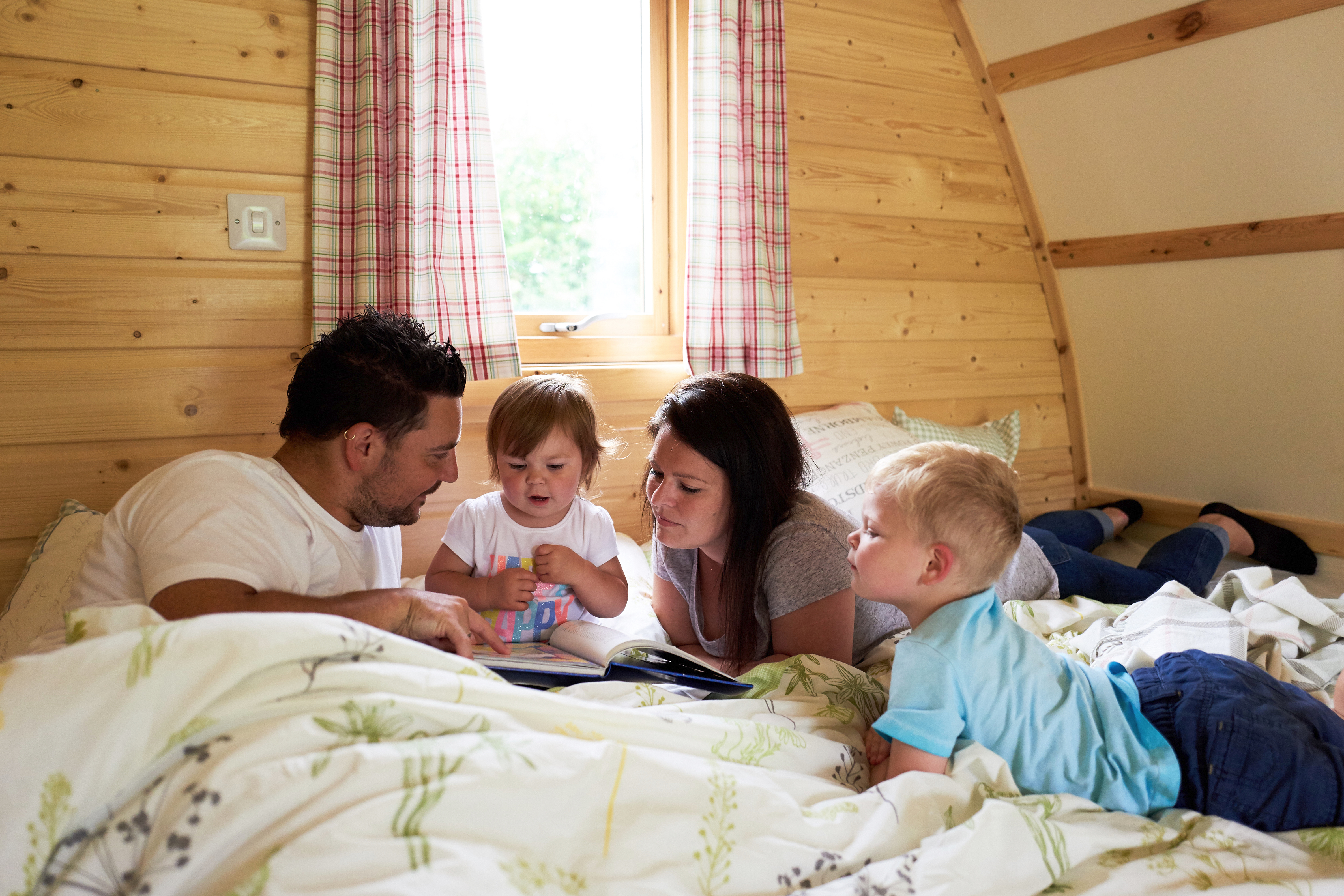 Campsite fun for kids age 6 – 11 yrs
Sometimes all you need is a ball and homemade goalposts to keep older kids entertained. At other times it can feel like you need a whole kids' club worth of activities to keep them from climbing the walls. Arm yourself with a few activity ideas before you go and it won't take long to find the perfect balance on your glamping trip.
5. Hunt – don't walk!
There are always exceptions, but we've found that kids in this age group are not keen on going for walks. Our advice? Don't go on them. And by that we mean DO go on them but give them a different name and focus. When you're nine, going for a walk without a purpose feels like a complete waste of time.
To get around this, go hunting for something instead: it could be some wood for a fire, the best tree to climb, shells for crafting or leaves and bark for making rubbings – the possibilities are endless. When kids have something to focus on, your 'walk' is no longer a boring adult blip in between all the fun, but a great activity all on its own.
6. Giant Pick-Up Sticks
Gather sticks around the campsite or make finding them the focus of one of your hunts as outlined above. Use chalk, paint, pens, ribbons – whatever you can find – to create markings on the sticks so each one has a different point value. Drop the whole pile in a heap and begin your game of pick-up-sticks. If you successfully pull one out without moving another you win the points painted on it.
7. Glamping Sports Day
Find a flat patch of grass and set up your very own sports day. Don't forget to include races that suit all abilities (and interests). You can have slow-motion races for those who aren't speedy, while a silliest walk race and the classic rolling on the grass race are sure to get everyone laughing. Be creative and you'll have everyone eager to take part – and surely that means everyone's a winner!
Glamping with teenagers? How to keep them busy
There are lots of great reasons to go glamping with your tween or teenager. It's a great chance to get kids away from their screens and to enjoy some much-needed family time together. This is easier said than done, though with so many distractions just a phone or tablet screen away,
8. Ditch the devices
We're just getting this one out of the way first. It's a big one for sure. How about leaving the devices at home? This one is for you too, mum and dad! Phones and tablets do come in handy for long car journeys and early mornings in the cabin but if you're competing with the social media or the latest group chat drama, you could be in for a long wait for that special bonding time you've been craving.
9. Delegate, mate!
If you're glamping with kids of any age, you'll have to plan a good few activities ahead of time. All that planning and organising can be exhausting. This is where older kids truly shine. Give them the responsibility of organising the treasure hunt or sports day. Watch them work together as a team and come up with creative ideas you would never have thought of yourself as you get to sit back and marvel at how brilliantly your plan has come together.
10. Ready, Steady, Cook
Older kids love responsibility – especially with a bit of risk thrown in. They also love eating, so why not combine all of these things and let them plan and cook the evening meal? Let your teen step out of their comfort zone by organising and preparing everything for the BBQ and let them have a go at cooking on an open fire.
There are loads of great camping recipes online for inspiration and while they will need a bit of supervision, the satisfaction of seeing your teenager delight in feeding their family with some basic camping provisions is well worth it.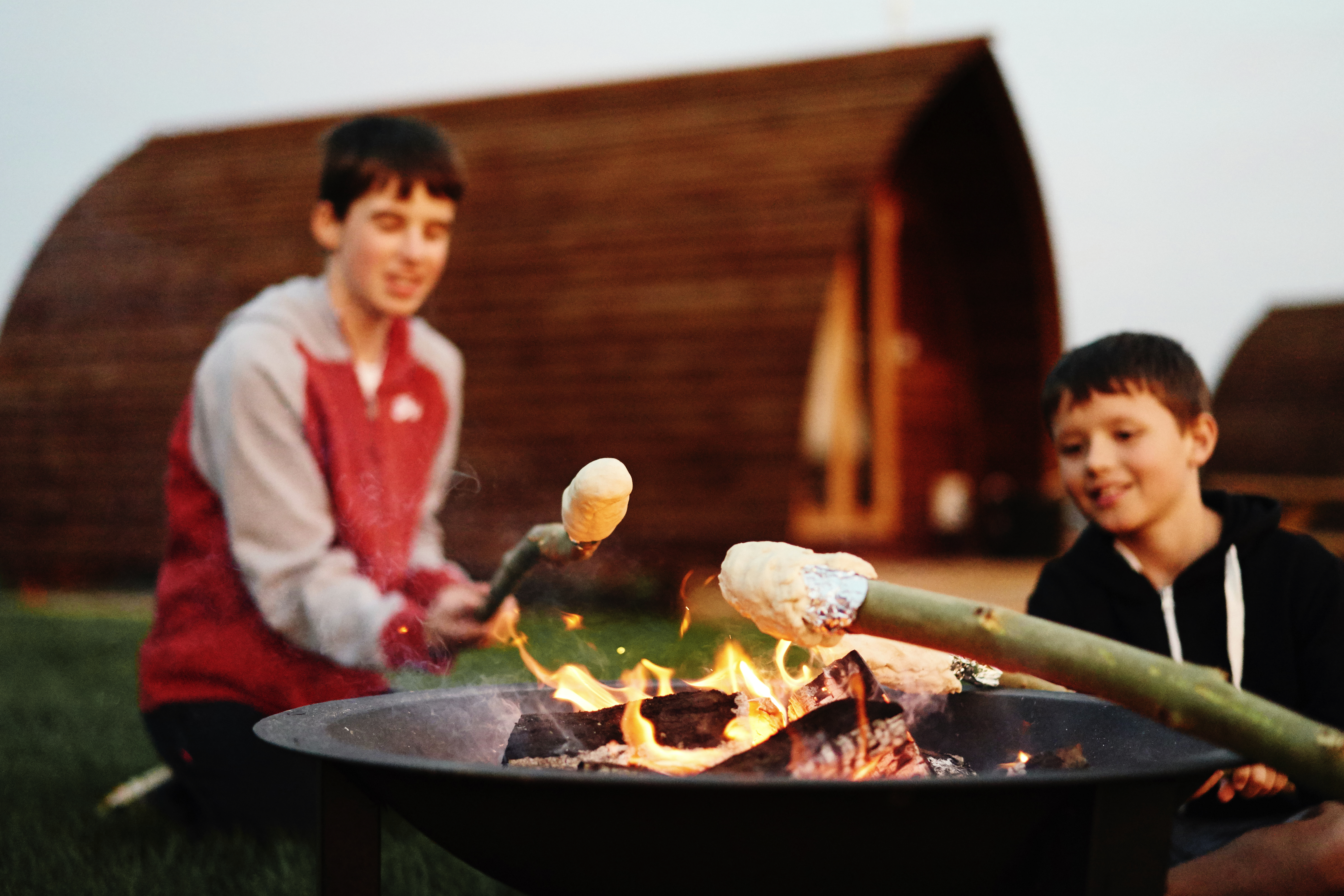 Glamping with kids – the Wigwam® way
Wherever your glamping adventures take you and your family this year, there will be a Wigwam® Holidays site nearby to give you everything you need to make your holiday perfect. Browse our 80+ sites across the UK by clicking the link below.