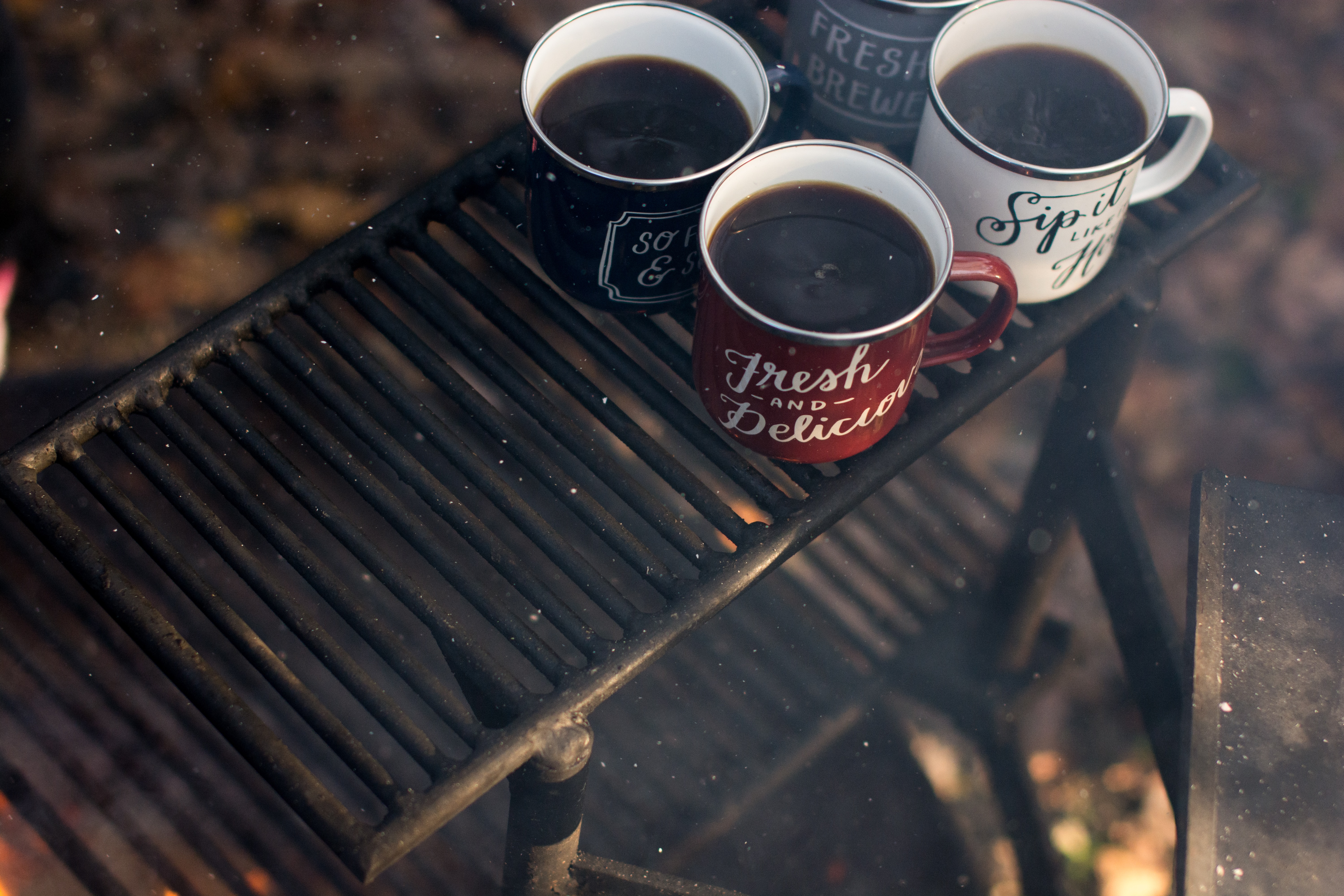 4 Yummy Campfire Hot Drinks to Make on Your Glamping Break
We love hiking, mountain biking and all those other camping mainstay activities that get the blood pumping but really, is there nothing better than lazing about by the campfire? Especially when it's chilly outside, warming up by the fire while chatting away with your nearest and dearest is the perfect recipe for relaxation and a great time. And what makes for a better addition to this picture than a yummy hot drink?
Today, we're sharing four of our favourite recipes for delicious drinks to sip by the fire - or even at home to bring the outside in! We've included instructions of what to prep at home so that you can make the drinks easily once you get to the campsite and you won't have to pack your entire spice cupboard to go camping. Keep reading for hot drink recipes that add a touch of luxury to your next camping trip!
Cowboy coffee
This traditional method for brewing a pot of coffee gets its name from the American frontier people who would prepare their morning cup o' joe this way. While there are many great pour-over methods for preparing single cups of coffee, this is an excellent way to make enough strong coffee to fortify your whole camping party if you're not into instant coffee.
You'll need:
Coarsely ground coffee
Water
Small measuring cup
Small pot
Campfire
Method:
1. Measure a cup of water for each cup of coffee you want to make into your pot and bring it to boil on the campfire. Once the water is boiling, take the pot off the fire and let sit for about 30 seconds.
2. Next, add two tablespoons of coffee per every cup of water in your pot and stir vigorously. Leave sit for two minutes with the lid on, stir again and wait two more minutes.
3. After the four minutes are up, add a bit of cold water on top without stirring to help the coffee grounds settle at the bottom of the pot.
4. Pour coffee into cups slowly so that the grounds stay in the pot and enjoy your cowboy coffee!
Campfire pumpkin spice lattes
This cosy hot drink is most popular in the autumn months, but who's to say you can't enjoy one at any time of the year? The drink will be delicious just with the spices and sweetener, but for some more authenticity, add the pumpkin puree - this can be found canned in the American food section of supermarkets. This recipe is for one latte so adjust it as needed.
Ingredients:
2 tsp instant coffee
2 tsp powdered dairy milk or soy milk
½ tsp ground cinnamon
¼ tsp ground ginger
1 pinch each of ground cloves and allspice
2 tsp sugar
2 tbsp pumpkin puree (optional)
Method:
1. At home, mix the instant coffee, milk powder, sugar and spices. Store in an airtight container. If you want to use pumpkin puree but don't intend to use the whole can on your trip, pack just as much as you need in a screw-top container and freeze the rest in an ice cube tray for easy PSLs later on.
2. At your campsite, heat water and add your dry mix and pumpkin puree in. Whisk to combine. Serve with an extra dash of cinnamon on top if you're feeling fancy.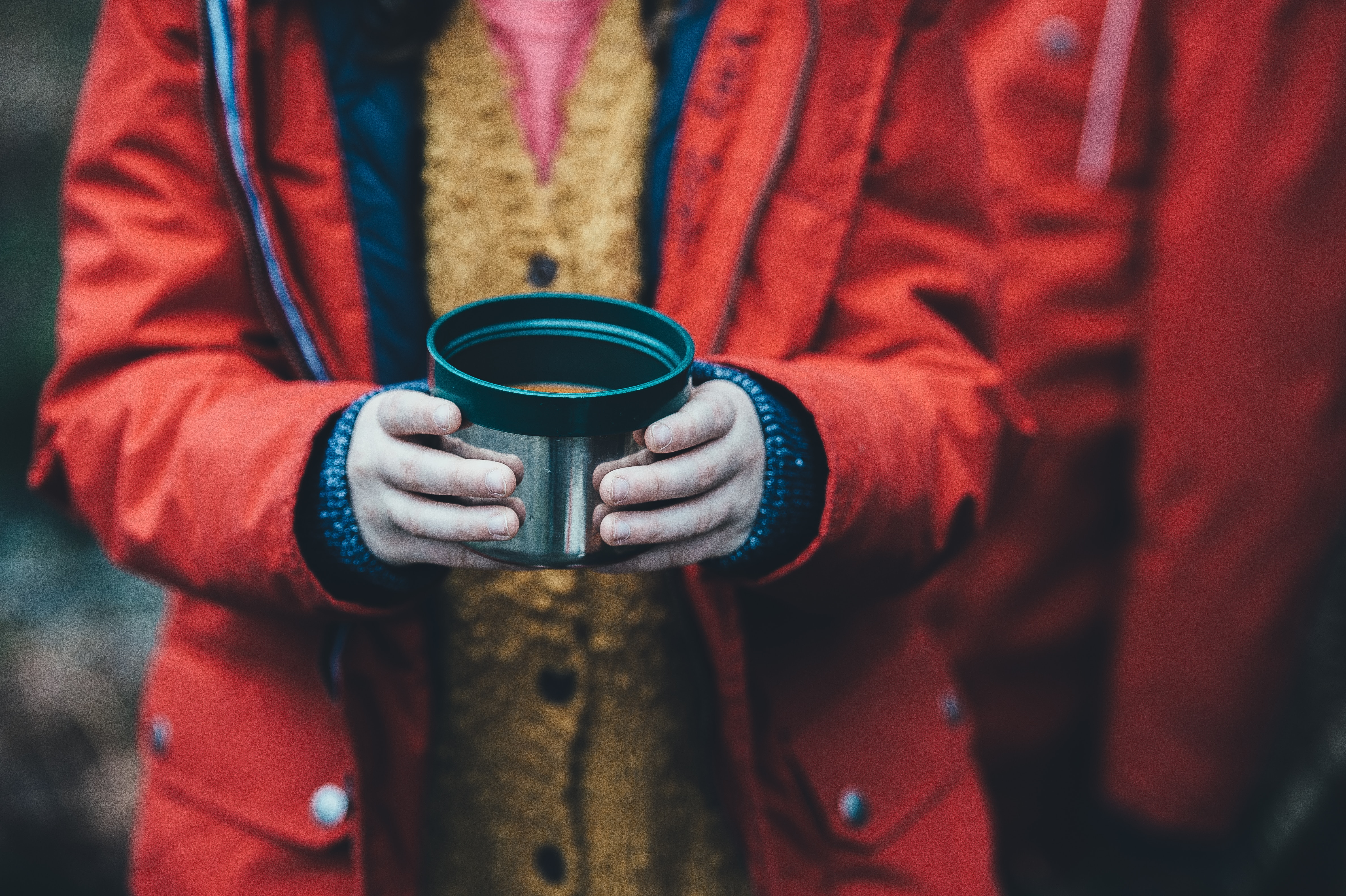 The best basic camping hot chocolate
This basic hot chocolate recipe can easily be adapted to your liking with some of the suggested additions mentioned in step three. Just pack your pre-prepared hot chocolate mix and everyone's favourite toppings for a yummy campfire treat. The recipe below makes enough hot chocolate mix for 10-15 cups - enough for your whole camping trip!
Ingredients:
1 cup powdered sugar
1 cup powdered dairy milk or soy milk
½ cup unsweetened cocoa powder
A pinch of salt
Method:
1. At home, sift together all ingredients and store in an airtight container. For an extra rich hot chocolate, substitute half of the cocoa powder for dark chocolate chips or shavings. Depending on how sweet your chocolate is, you may also need to adjust the amount of sugar in your recipe.
2. When you're at the campsite, heat hot water and add 2-3 tablespoons of the hot chocolate mix to it, whisking to combine.
3. Add any extras you'd like: marshmallows, a pinch of cinnamon or chilli flakes, some vanilla extract, coffee or Nutella. For a boozy kick, add a shot of dark rum, Bailey's or peppermint schnapps to your hot chocolate.
Hot toddy - everyone's favourite camping cocktail
There's nothing like a hot toddy to warm you up on a cold day. Especially if you fear you're about to catch a cold, this hot drink with warming alcohol and flu-symptom-fighting honey and lemon juice will have you feeling better in no time. The below recipe makes one serving - simply multiply to make enough for the whole gang!
Ingredients:
50 ml whisky or dark rum
3 tsp honey or agave syrup
1 cinnamon stick
2 tbsp lemon juice
200 ml water, black/ginger tea or cloudy apple juice
Method:
1. To save some space in your camping backpack, mix all liquids apart from the alcohol and store in a cooler until you're ready to prepare your drink. If using apple juice, add less honey or agave until you've achieved the desired level of sweetness.
2. Heat up your drink on the fire, add your alcohol and stir with a cinnamon stick. Enjoy!
Make comfy camping easy with Wigwam® Holidays
Choosing a Wigwam® Holidays glamping site for your staycation accommodation means a good night's sleep in your heated camping pod, beautiful nature right on your doorstep and lots of fun outdoor activities within easy reach of your campsite.
Booking a cabin complete with a kitchenette and an outdoor firepit also means you can easily cook your meals while still getting to enjoy a lovely blaze for some campfire cooking and telling ghost stories by the light of the flames while sipping your warm drinks. For some inspiration for your next outdoor adventure, click the link below.