Glamping & The Night Sky - How to Go Stargazing
Stargazing makes you really appreciate just how tiny a dot in the universe we are. It's also a great feeling to see for yourself the constellations and planets whose names you've heard all your life and then check them off your list. Stargazing is a great activity to share with your partner because there's just something so romantic about it, or with the kids, helping them get excited about science and the natural world.
To help you plan the perfect night of sky-watching, we've put together a guide below with all the information you need to make your outing a successful one. Without further ado, here's how you can go stargazing in the UK.
Ideal conditions for seeing constellations
A clear, dark sky with minimal light pollution is the ideal situation for spotting stars and light events. Because nights are longer in the fall and winter, these seasons are good for stargazing as you won't have to stay up until silly o'clock to see the stars. Just bundle up and load a thermos with your favourite hot drink to stay warm as you prepare for the outing.
That being said, the sky is constantly shifting, with some constellations being visible only at certain times of the year, so you'll be able to make some unique discoveries in the night sky whatever the season. Stargazing is best done before the full moon because of the light it reflects around it, so choose a night when the moon is barely visible. This dark skies calendar should help you find a good time for your expedition.
And because streetlights, TVs and lamps all cause high levels of light pollution that make it harder to make out the stars, rural areas far from towns and cities are best for stargazing. Hills and beaches are often the best spots as they give you the most expansive, uninterrupted view of the dark skies above.
Preparing for your stargazing outing
Perhaps the most important part of prepping for your stargazing expedition is checking the weather forecast. As we all know, the weather in the UK can be a bit… Unpredictable. Since dark clouds can gather fast and make all your prep useless by hiding the stars behind them, check what's in store on the weather front during the day as you get ready to head out to avoid disappointment.
Having some kind of a guide with you is also a good shout. There are many good stargazing apps out there to help you identify planets and constellations. A compass can also prove very useful for locating these and packing a camera that allows for a slow shutter speed lets you capture the night sky in its full glory.
You can see many things in the night sky with the naked eye, but in order to appreciate the stars and planets in their full glory, some binoculars or a telescope will prove very useful. If you're looking to buy a telescope, you'll find this guide by the National Space Centre helpful.
Planets & constellations to look out for
Perhaps the easiest thing to spot in the dark sky with the naked eye is the Milky Way, the galaxy our solar system is a part of. You'll recognise it from the hazy, milky band of light that has darker strands running through the middle. In Northern latitudes, this will be visible near the horizon or might even be concealed by it the farther up north you go.
Timing your stargazing night for a time when a meteor shower is expected can make for an extra special experience. These take place around thirty times a year, with some having happened around the same time each year for a century - the Perseid shower in August is one of the best-known ones. During meteor showers, you can see up to a hundred meteors an hour flying through the sky.
One of the easiest constellations to recognise is Ursa Major, also known as the Great Bear or the Big Dipper, visible at night in the Northern hemisphere all year round and used for navigation due to its proximity to the north celestial pole. Orion is another easy-to-spot constellation due to its brightness and having the highly recognisable Orion's belt, a cluster of three bright stars, as part of it. Finally, try locating your astrological sign in the night sky - each one has its own constellation.
As for planets, almost all of the ones in our solar system can be seen with the naked eye, though they're much more impressive through a telescope. Jupiter and Saturn are especially spectacular through a telescope, showing clouds, rings and moons around them.
See the Northern Lights in the UK
Seeing the Aurora Borealis is on the bucket list for many people, and for good reason: it's truly a sight to see! As the aurora are polar light phenomena, your chances of witnessing one are best near the south and north poles. But the Nordic countries don't have a monopoly on the Northern Lights, and in the UK, you might just see them in Scotland.
Shetland is known as a hotbed for Aurora Borealis sightings, but they can be seen from time to time even in Edinburgh. The Northern Lights can be hard to predict, but sites like this one can help you estimate your chances of witnessing them on any given night. You can also sign up to receive alerts on nights the aurora is at its strongest.
Choose a spot where you can see the north horizon and be prepared to wait. At first, you might see white shadows over the horizon and on some nights, these may get stronger, more colourful and travel overhead, giving you the full show.
Best places for stargazing in the UK
There are fabulous places for observing the night sky all over the UK. The South Downs National Park in South East England is one of only 15 International Dark Sky Reserves in the world, offering great opportunities for stargazing just two hours outside London. Other Dark Sky Reserves in the UK include the Exmoor National Park in England as well as Snowdonia and Brecon Beacons National Parks in Wales.
Yorkshire is another good spot for stargazing, with the North York Moors being home to three Dark Sky Discovery Sites and the Yorkshire Dales having four of these. In Scotland, Galloway Forest in the Scottish Borders has the UK's first Dark Sky Park, with an effort to protect the area from light pollution. In 2018, the same title was given to Tomintoul and Glenlivet in the Cairngorms National Park.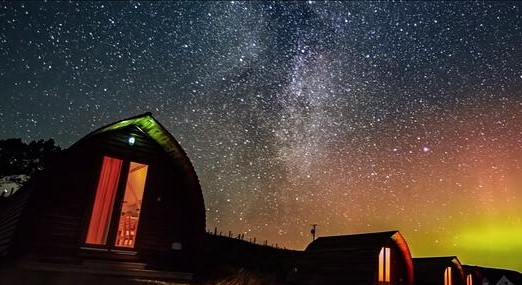 Stargazing breaks with Wigwam® Holidays
If you live in an area with a lot of light pollution, your best bet might be to combine your stargazing expedition with a relaxing staycation. Wigwam® Holidays has glamping sites in every corner of the UK, including many areas known for their dark night skies and excellent stargazing opportunities.
After watching the skies, you'll return to your cosy and warm camping pod where you'll get a good night's sleep on your luxury foam mattress. Or for a more leisurely option, watch the stars from around the campfire or while soaking in your very own hot tub for a taste of true relaxation. Discover comfy camping by browsing glamping sites hand-picked for amateur astronomers by clicking the link below.