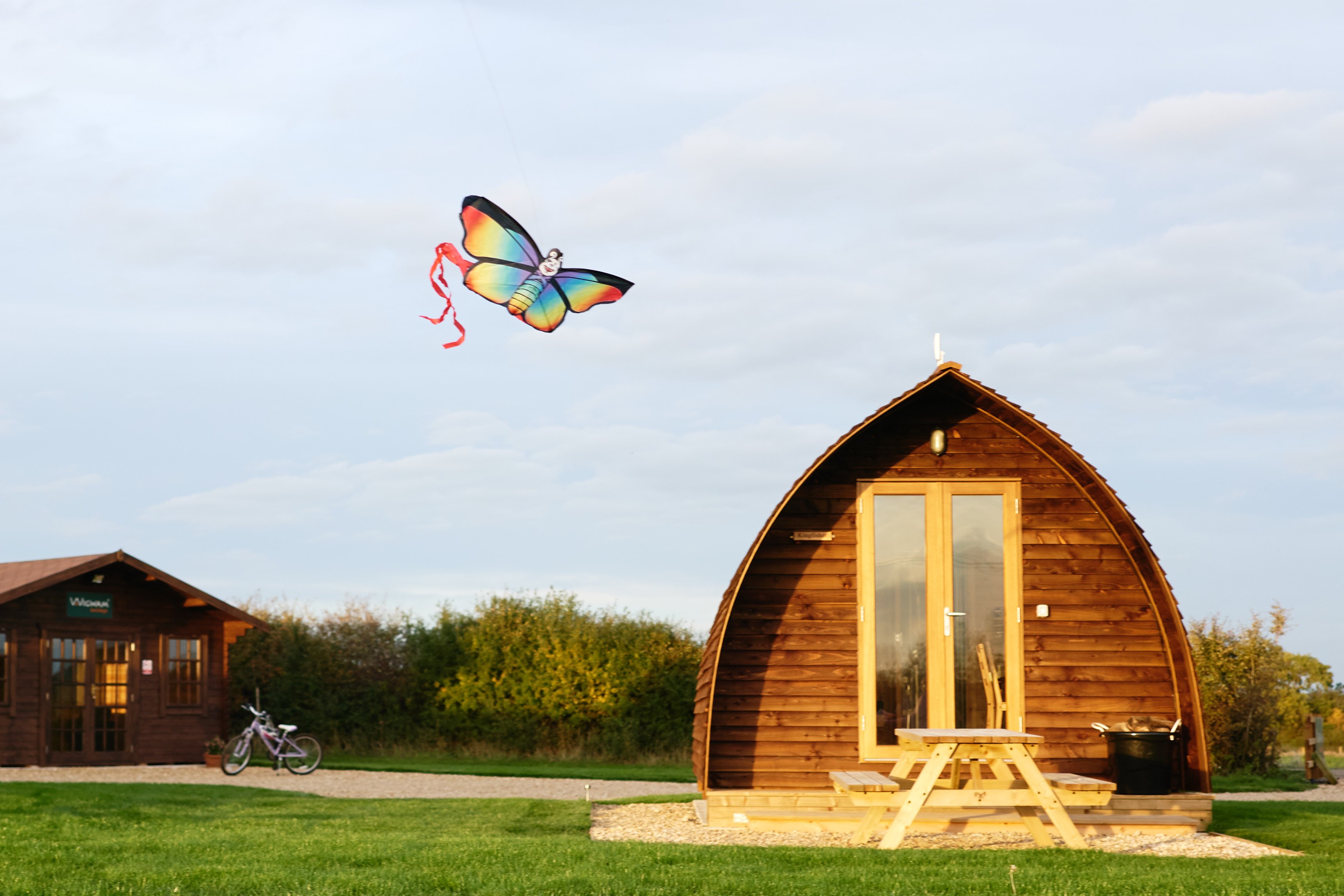 What On Earth Is A Camping Pod?  - Your Guide to Glamping
If you've been doing a little research into different types of glamping out there, you might be a little confused with all the options available to you. Should you choose a yurt or a tipi? A pod or a cabin? You might also be wondering if you'll have your own bathroom and whether you'll be cold at night.
Not to fret, because we've got tonnes of helpful articles lined up on everything you need to know about glamping and the Wigwam® experience! To begin with, today, we're taking a closer look at what exactly a camping pod is and what you can expect from your glamping break with Wigwam® Holidays.
Glamping vs. camping
You could say that glamping is simply camping + glam, but that's not all it is. Sure, you might enjoy things like a hot tub, a soft double bed and even a TV on your glamping holiday, but above all, glamping is about ease and accessibility.
There's no need to lug tonnes of expensive camping gear with you, and instead of spending two hours sweating and swearing while trying to pitch a tent up, you can get straight into relaxing. Wigwam® camping pods also offer an accessible way to spend time in nature for people with limited mobility and wheelchair users.
What is a camping pod?
Crafted from eco-friendly timber, camping pods are often crafted in shapes reminiscent of traditional tents, caravans and lodges. They offer you just enough space and comfort so that you can enjoy yourself without being cramped or cold, while still giving you an authentic camping experience.
The terms camping pod and cabin are often used more or less interchangeably, with both words referring to small wooden structures perfect for glamping.
Pod camping offers a chance to enjoy the great outdoors with some of the creature comforts you'd expect from a cosy B&B. They're warm and insulated, usually with heating and electricity, sometimes even running water and a private ensuite bathroom.
Wooden camping pods are different from canvas tents, like yurts and tipis, because they guarantee warm and dry glamping all year round, even in the UK!
History of Wigwams®
These days, there are many different kinds of camping pods out there, but Wigwam® has always been a true trailblazer. To really understand the history of Wigwam® Holidays, we need to travel back to 1989, the year the Berlin Wall came down, Like A Prayer by Madonna was at the top of the charts and Charles Gulland, the founder of Wigwam® Holidays, got the idea for camping pods made from timber.
Three years later, he built the first prototypes for what would later become known as Wigwam® cabins, inspired by the semi-permanent dwellings once popular in Native American cultures. These prototypes quickly caught the attention of avid hikers and campers and these days, Wigwam® cabins come in many different models, with the list of franchise sites growing every year.
While Wigwam® is a registered trademark and the company introduced the idea of tent-shaped timber cabins now popular with many glamping sites around the country, the shape itself couldn't be patented.
That's why these days, you might come across many copycats while researching glamping sites. They do say that imitation is the sincerest form of flattery, though!
When you choose Wigwam® Holidays, you can always expect the same great quality from your lodgings across all our 80+ sites.
Now that you know a little more about what you can expect from your glamping break, why not take a look at some of our sites across the UK?