5 Of The Best Hikes in Wales For All Experience Levels
Hiking is one of the best glamping activities out there: you get to appreciate the incredible nature around you while still being able to enjoy some creature comforts at the end of the day. That's why today, we'll be taking a look at some of the best trails in Wales, a country famous for its varying landscape from sharp cliffs and mountains to gently rolling fields and sandy beaches.
With a seemingly endless number of great hikes available in Wales, it's no easy feat to narrow down our selection to just five. That's why in this article, we're focusing on hikes you might not have heard of that are accessible to most experience levels, all set in beautiful locations around Wales. Read on to discover some of the best walks for your Welsh getaway.
How to prepare for a hike
Whether you're hiking for the first time or are a seasoned outdoorsman or woman, taking some steps to prepare for your hiking adventure ensures a safe and fun experience. Especially for beginners, having a friend with hiking experience come with you provides not only some great company but also someone whose knowledge you can rely on in a situation you're unsure of.
Light layers make sure you can easily cool down or warm back up during your hike. Supportive, sturdy footwear with thick soles is also a must. A clean extra pair of socks in your backpack is a godsend if your feet get wet at any point of your walk. You should also add some basic first aid items like bandages, tweezers, antiseptic wipes and painkillers as well as a map and compass into your backpack.
How much water you need to pack depends on the weather, your fitness level and how physically demanding your chosen path is. That being said, a good rule of thumb is to pack 0.5 litres of water per person for each hour of your hike. Packing some nutrient-dense, bitesize snacks like nuts and dried fruit is a great way to get an energy boost on the trail, while non-spillable and lightweight items like sandwiches are good for mid-hike meals.
Best hike for first-timers - The Sugar Loaf, Brecon Beacons
The Sugar Loaf mountain in the Brecon Beacons National Park makes for a great beginner-friendly hiking destination. Rising to 596m, this iconic, conical hill offers magnificent views over the surrounding countryside. Keep in mind that there are no facilities available along the trail, so make sure to go to the bathroom before you leave and pack a snack for the trail.
This moderately strenuous path is four miles and takes around 3.5 hours to complete, meaning that you'll still have plenty of time after your hike to catch your breath and have something to eat in the nearby town of Abergavenny which has a good number of pubs, cafes and restaurants to choose from.
Best hike for families with kids - The Begwns Walk, Builth Wells
Hiking with kids can be a wonderful chance to spend some quality time together and to help them connect with nature. That being said, kids have both shorter legs and attention spans, meaning that temper tantrums and tired tots could quickly become your reality while out hiking.
That's why we love this Builth Wells hike: it's relatively flat, making it easy and safe for little hikers and only two miles long, taking about an hour to complete. You get fabulous views over the surrounding mountains without any the climb and kids will enjoy spotting the cattle leisurely grazing around you. There's an enclosed, wooded area at the top of this low hill that's perfect for a picnic or a bit of tree climbing to keep kids entertained.
Best hillwalking hike - Pen y Fan, Powys
For mountains and breathtaking views, there are a number of Brecon Beacons hiking routes that are sure to please. The 886m high peak is one of the most popular hills to conquer in the Brecon Beacons, with well-made footpaths that make for a great day of hiking.
There are several routes up this peak, which just so happens to be the highest in Southern Britain. Most of these start at the popular Storey Arms, though starting in the enchantingly beautiful Taf Fechan Forest is also an option. We like this walk that combines Pen y Fan and Corn Du and takes just 2.5 hours as well as this 10.5-mile trail that is great if you're looking for a full day of hiking.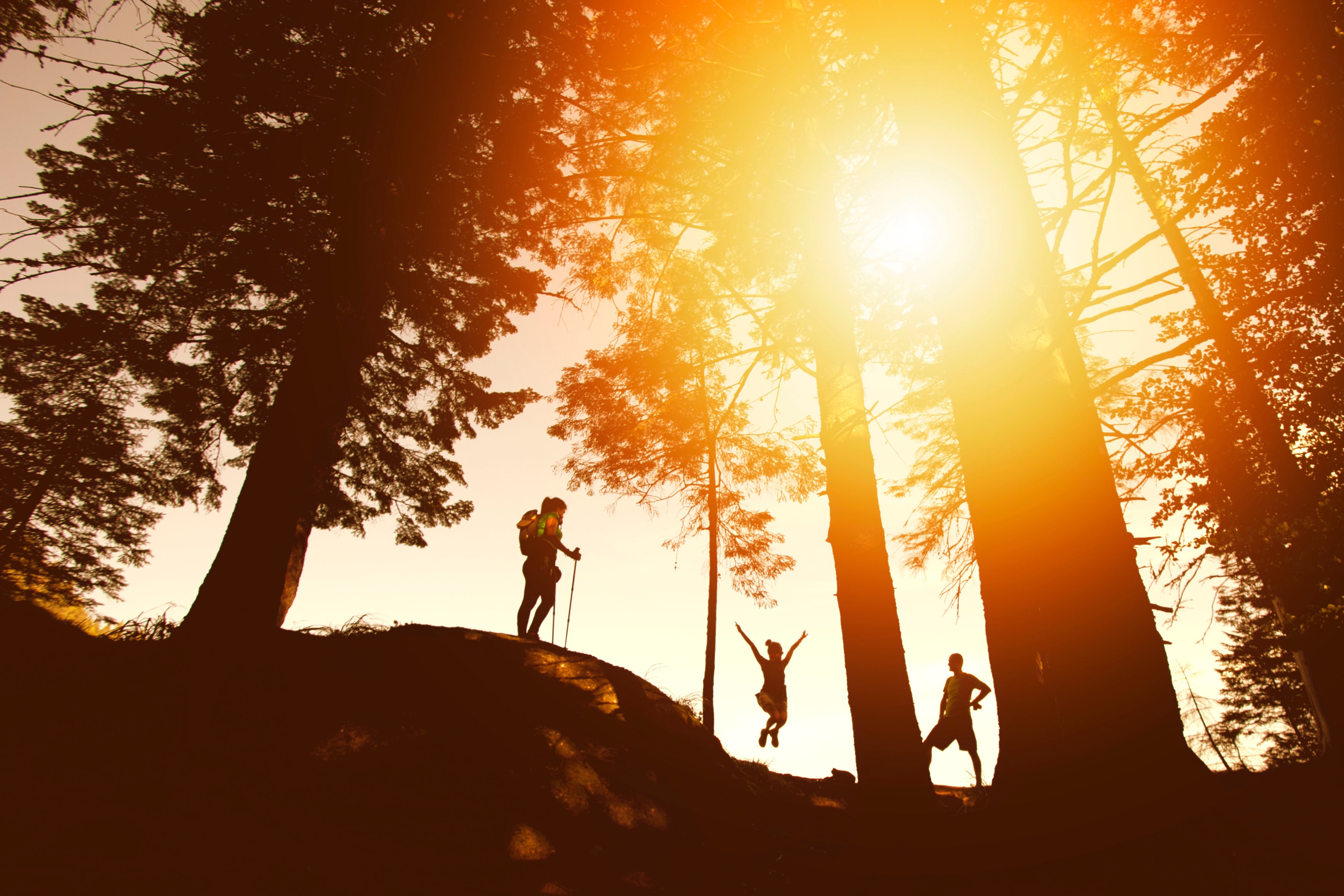 Best long-distance hike - Offa's Dyke Trail
If you'd like to try out a multi-day hike, consider taking on a part of the 177-mile long Offa's Dyke trail. Named as one of the UK's best walks by Lonely Planet, this scenic National Trail follows a medieval earthwork along the English border, past Clwydian Valley and Dee Valley, the Shropshire Hills, Brecon Beacons and Wye Valley.
Three of these are classified as areas of outstanding natural beauty, while the Brecon Beacons is a national park - this gives you a sense of the kind of gorgeous scenery you can expect on any stretch of this trail. This 42-mile hike along the dyke takes two days and offers spectacular views over the Clwydian Range.
Best coastal hike - Tenby, Pembrokeshire
If sandy beaches and beautiful seaside towns make up your dream hiking scenery, this 7-mile long circular trail is sure to please. Taking you through the towns of Saundersfoot and Tenby, this walk is perfect for a clear day when the views over the sea are good and you can stop at the beach for some sun and a snack.
From woodlands to the picturesque Victorian houses of Tenby Harbour, this walk is as pretty as it is accessible to all experience levels. There are pubs and restaurants in and around both towns along the way for refreshments. There's also a number of historical attractions in Tenby to check out if you have the time.
Your hiking holiday accommodation
For hikers, glamping is arguably the best accommodation option, combining the best aspects of both traditional camping and a hotel. First of all, you get to stay in the middle of a gorgeous, rural landscape that gives you easy access to some great hiking trails. Imagine starting your day with a cup of coffee sitting outside your cosy camping pod and taking in the view before heading off on the trail - it's practical and also gives you a chance to connect with nature even more than if you had to drive an hour into the nearest town with a guest house after your hike.
Glamping is also much comfier than traditional camping. After a long day of walking, what's better than a good night's sleep in a proper bed? Relaxing in a hot tub or around the campfire before you hit the hay also gives you a great chance to unwind and reflect on your outdoor adventure.
To book your glamping break in Wales, click on the link below and book your next hiking holiday.