5 Best Places For Camping To See Autumn Colours In The UK
What's a better way to welcome fall than with a camping trip to see some beautiful autumn foliage? While the East Coast of America is known as the place to go to admire golden landscapes once the weather turns crisp, we've got plenty of great spots right here in the UK to rival the foliage found across the pond.
In today's blog post, we'll go over some of the best places around the UK to admire the fall foliage. We'll also name some of our favourite activities for camping in the autumn to make your trip even more memorable. So bundle on some jumpers and fill your thermos with hot chocolate - it's time to go hunting for foliage!
1. The Lake District
Known for its magnificent nature, it's no wonder the Lake District is one of the best places to be if you want to catch some fantastic fall foliage. With its gorgeous, varying landscape of lakes (hence the name), mountains and woodlands, it's no wonder the area has inspired many painters and writers over the years. This is clearer than ever when the autumn chill sets the woodlands ablaze with rich hues of orange, yellow, red and brown.
See if you can catch some of the woodland wildlife among the fiery-hued branches: the area is home to the largest population of red deer and red squirrels in the UK. There are also a number of peregrine falcons that can be seen soaring overhead in the Lake District National Park.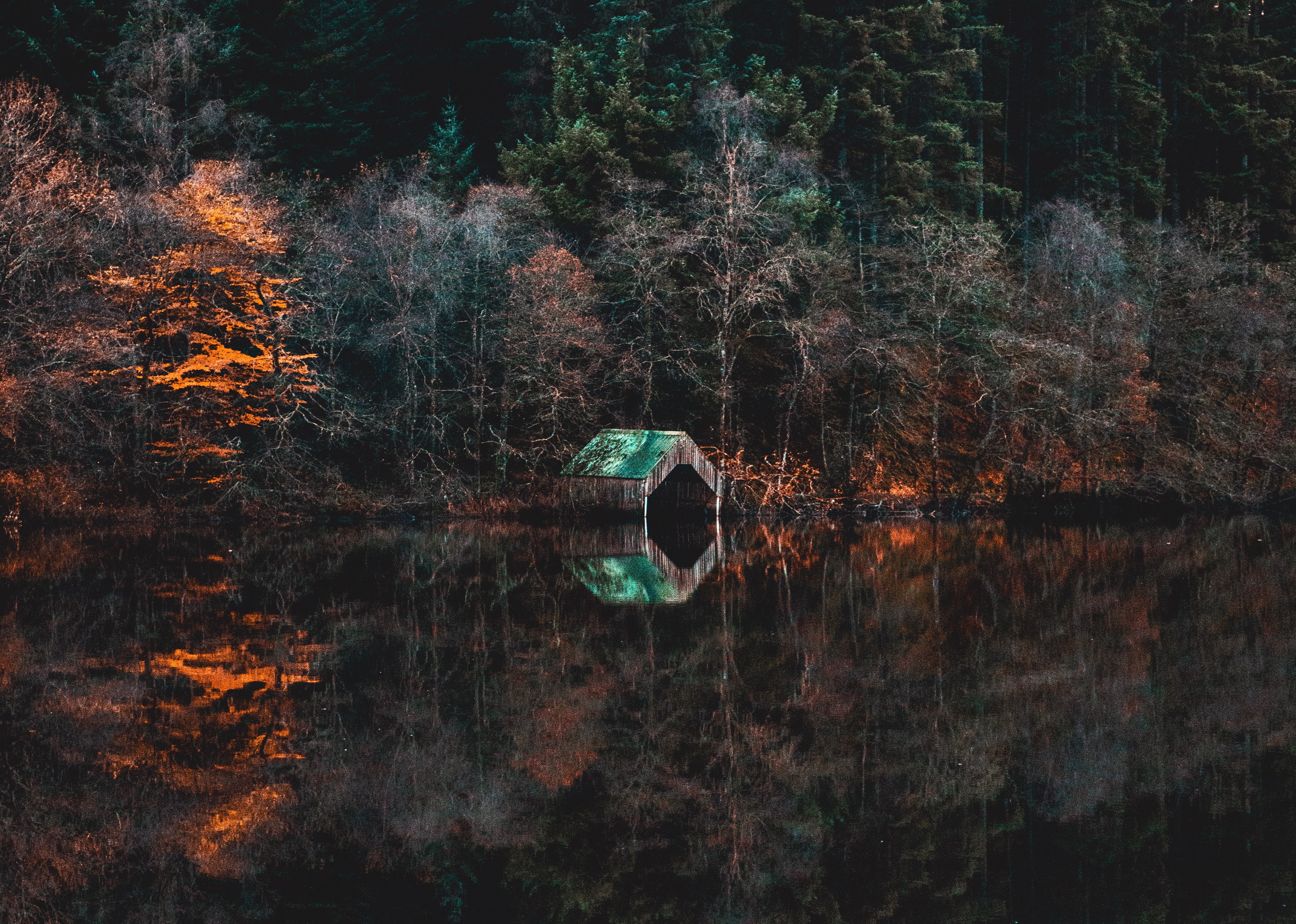 Loch Lomond
2. Loch Lomond
Loch Lomond & The Trossachs National Park is a fantastic place for camping if you want to catch some autumn foliage. Go for a stroll of the banks of the loch or explore the terrain on a mountain bike. Autumn starts earlier in Scotland than it does down south, so you can find some great autumn colours in this area from September onwards.
With majestic Western Atlantic oak trees growing in large clusters along the Millennium Forest Trail at Balmaha, you can get fantastic views over Loch Lomond while taking in the autumnal colouring that surrounds it. And after spending a day out in the brisk autumn weather, warm up in a charming country pub with a tipple of whisky - it'll warm you right back up!
Perthshire
3. Perthshire
Perthshire is another great area in Scotland for spotting some fall colours. Some of the best places in the region for viewing autumn colours include the Birks of Aberfeldy woodland and Craigvinean Forest. Going camping in Perthshire also means you can visit the beautiful old county town of Perth - there's lots to do in this small city, known as the gateway to the Highlands, from visiting historical landmarks to treating yourself to a meal in one of Perth's many award-winning eateries.
For something a little different, head to the Pitlochry Enchanted Forest. This nighttime sound and light show makes the autumn forest come alive with magnificent light and sound technology every October, projecting magical displays over the trees and lake in the Faskally Woods.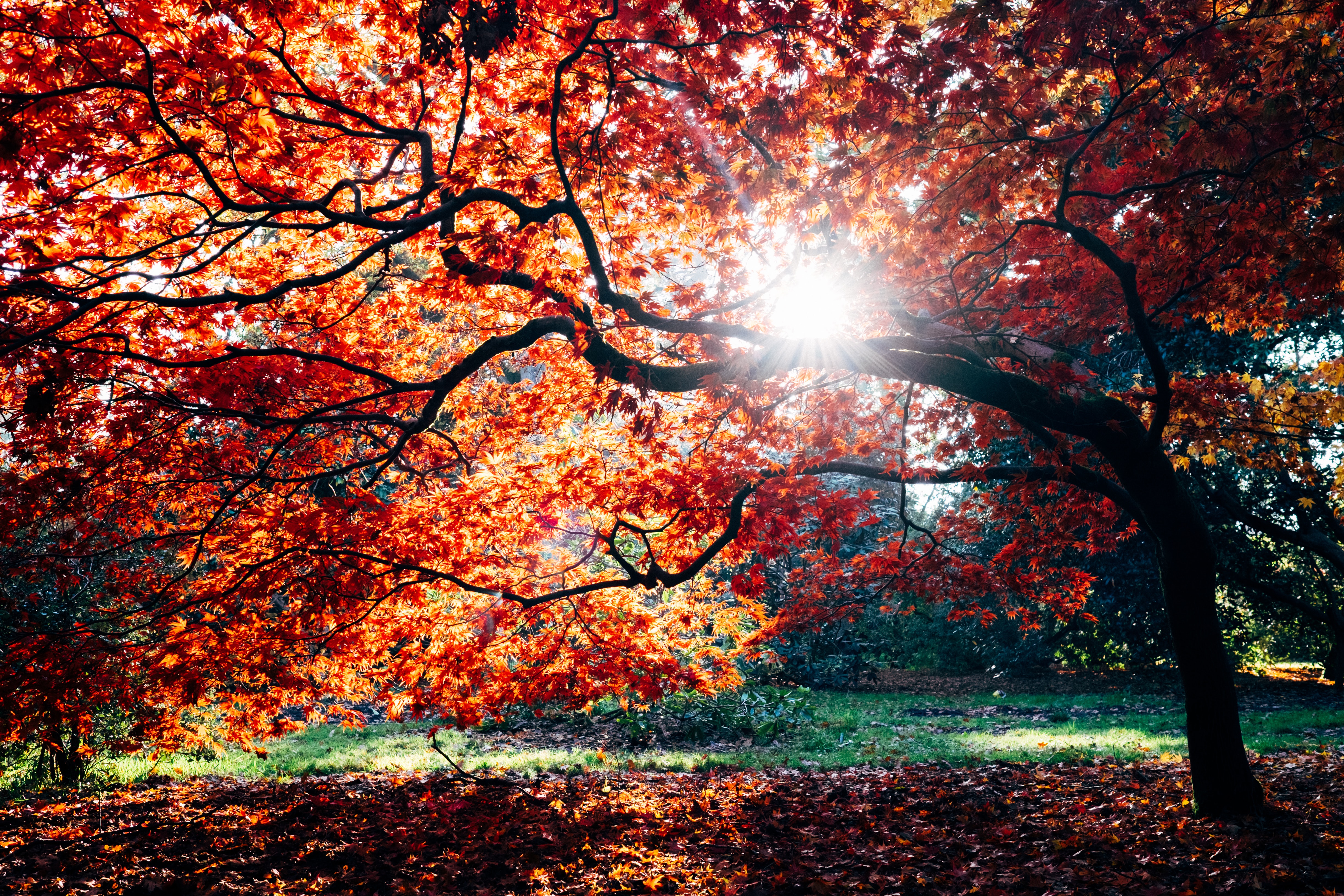 Westonbirt Arboretumn, The Cotswolds
4. The Cotswolds
Offering postcard-worthy scenery filled with winding country roads speckled with small villages of charming cottages, the Cotswolds is perhaps at its most magical during the autumn months. Admire the autumn colours by cycling down small forest paths or taking a ride on the Heritage Steam Railway - you'll feel like you're on your way to spend the fall semester at Hogwarts!
The National Arboretum at Westonbirt is nothing short of magnificent in October and November when its 2,500 species of trees from every corner of the world turn golden. Taking an autumnal stroll through the woods here is so popular that the arboretum has set up a seasonal hotline to receive calls about the best places around the park for admiring the fall colours.
5. Wye Valley
Nestled between England and Wales and designated as an area of outstanding natural beauty, Wye Valley is a sight to behold in September and October. Wye is one of the cleanest, most picturesque rivers in Britain and a gander along the banks or a day of kayaking on the water is a great way to get your fix of autumn foliage.
The vast, ancient oak woodland of Forest of Dean was once a hunting ground for Norman kings and is now one of the best places in the Wye Valley area to see fall foliage with its large numbers of oak, beech and chestnut trees that come alive with colour in the autumn. This conservation area is also filled with wildlife including deer, foxes and wild boar - all once hunted by the royalty in the area.
Autumn camping activities
Sitting by the campfire is wonderful all year round, but perhaps best when served with fall foliage and chilly weather. Get some blankets and snuggle up with loved ones around the warm fire, swapping ghost stories or simply admiring the dark skies above.
Playing conkers has been an autumnal favourite for British kids for countless generations. It's a great game to keep kids entertained - you could even make a tournament out of it! Another fun project to do with kids is to collect colourful autumn leaves for pressing or preserving to bring a bit of beautiful foliage into your home.
Foraging is another great activity for days out in the fall months. See if you can collect enough blackberries or apples for a crumble or take a course to help you identify which mushrooms are edible.
Above all, taking some time out of your busy life to enjoy the wonders of nature in this transitional season is the ultimate autumn camping activity. Make sure you stay cosy during your autumn adventure by staying in a camping pod. As the weather turns cooler, opt for a well-insulated and heated Wigwam® cabin instead of your trusty tent. This way, there's no chance of waking up wet and cold because the weather has taken a turn or your tent has sprung a leak.
To get inspiration for your fall camping adventure and book your cosy glamping accommodation, click the link below.