Your Guide To Fall Foraging In The UK
Living off the land with some foraging is a great way to boost your outdoor skills, get some exercise and, best of all, collect some delicious free food! While we traditionally see spring and summer as the times of years when nature is bountiful and full of fruits and flowers, you can find something unique and tasty growing in the wild pretty much any month of the year.
To help you get started with autumn foraging, we've put together a brief guide to preparing for your excursion and what to look out for when out and about. As a bonus, we've also shared two great recipes using wild food that can be cooked on the campfire.
Preparing for a foraging expedition
Before heading out to find some yummy wild food, make sure you know the foraging laws in the area you're in. In England and Wales, you need permission (either explicit or implicit) from the landowner to enter land you don't own. Meanwhile, in Scotland people have what's called 'right to roam'. This means you can access most areas as long as you do so responsibly and avoid private homes, gardens and areas used for growing crops.
In the UK, wild plants are protected under the Wildlife and Countryside Act. Under this law, you can forage fruits, flowers and fungi for personal use. That being said, it's illegal to dig up or remove a mushroom or plant growing wild without getting permission from the landowner or occupier. This means you should never dig up the roots or remove a plant completely - this way, the plant can grow back again.
Regardless of where you're foraging, use common sense: don't pick fruit, berries or fungi in people's gardens or conservation sites. And if you're not sure if you can forage in a certain spot, contact the landowner. Avoid protected species and leave enough behind for animals and other foragers. You should also have a clear understanding of what the items you're foraging look like - when in doubt, leave it out.
As for how to dress for your foraging adventure, the key is sensible clothing. Light layers mean that keeping warm without overheating is easy, while wellies ward against soggy socks and prickly plants when you're trudging through undergrowth or muddy patches.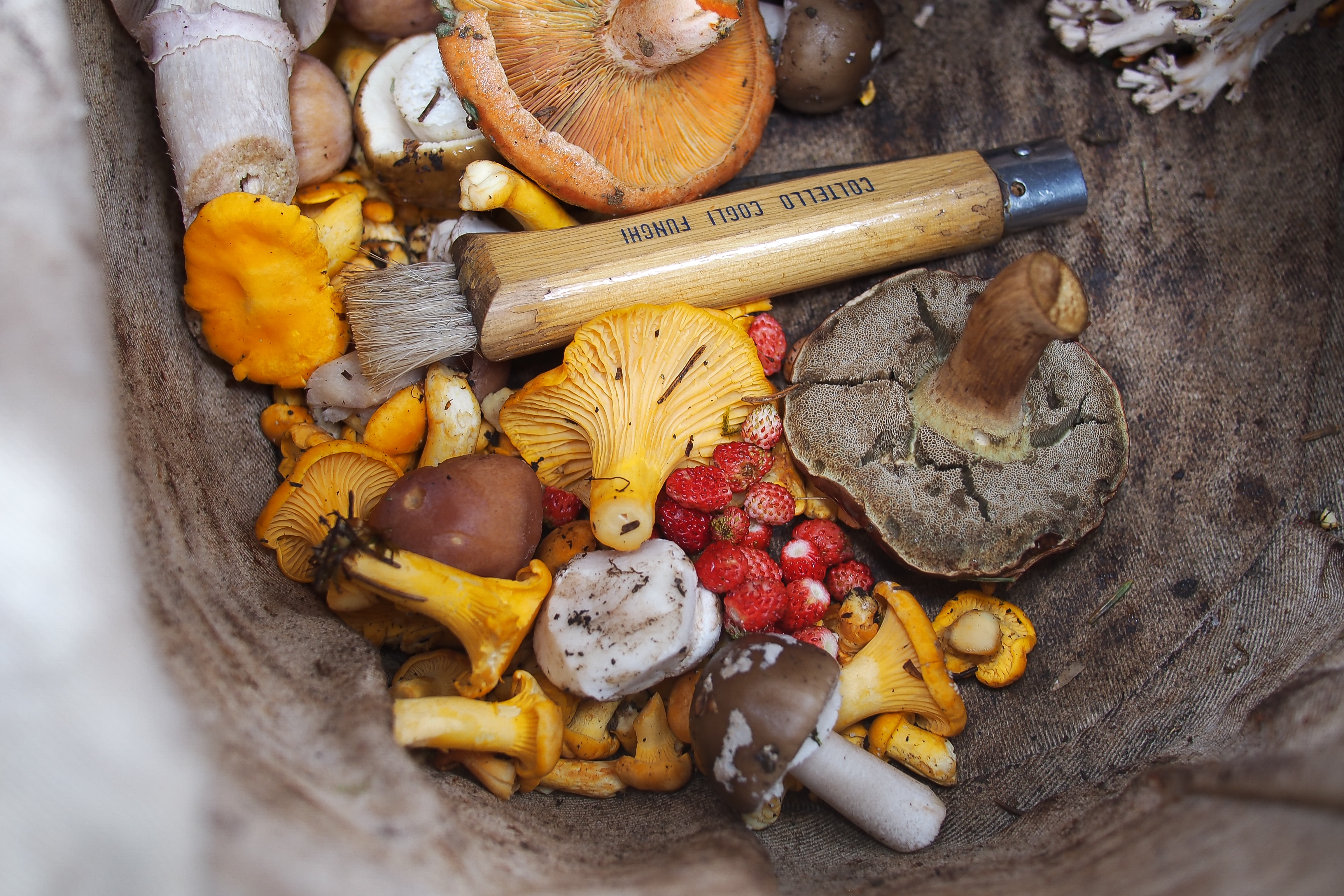 What foods can you forage in the fall?
There are plenty of delicious things you can forage even once the air grows crisp and the days get shorter. Blackberries can be found almost everywhere and taste great when used in pies. Ripe rose hips are also commonly found in the autumn and these orange fruits are known as a superfood: you can get your daily vitamin C dose from just fourteen grams! You can use your rose hips to make jam, syrup or herbal tea.
Elderberries may look a little wild with their shiny black skin and red stems but while these berries are mildly toxic when raw, they're great when cooked! You can make syrup or tea with the berries - these make for great natural remedies for the flu, colds and constipation. Apples can also be easily found in the autumn months - just don't pick in orchards in active use or from trees near people's homes.
Different nuts can also be easily found in the fall months - you just have to find them before the squirrels get to them! Hazel trees can often be found in ash and beech woodland and when roasted, the nuts are delicious crushed and sprinkled over ice cream or in chocolate-based desserts. Beech nuts and walnuts can also be found in the fall.
If you're in a coastal area, you could even forage for some mussels. Make sure you only collect mussels on clean beaches and shorelines and head out during low tide. Never collect a whole patch clear and leave mussels shorter than your little finger alone. Scrub them clean and steam for a few minutes - just discard unopened ones.
You could also go foraging for mushrooms, though it takes some practice before you can confidently identify edible and non-edible varieties. We recommend taking a mushroom foraging course and studying a guide to foraging fungi safely before and during your time out. White puffball mushrooms are among the easiest to identify and make for good additions to pasta dishes and stir-fries. They're edible as long as the insides are a solid white colour.
Campfire recipes for foraged food
Puffball schnitzels
Make a healthy veggie dinner with these puffball mushroom schnitzels. Cut your puffballs into steaks that are about ½ inch thick, then fry these in a cast-iron skillet with a bit of olive oil. While they're cooking, season some breadcrumbs and flour to your liking and crack an egg into a small bowl.
Dip the mushroom slices first into flour, then egg and finally the breadcrumbs and fry again until the crumbs are golden in colour. Serve with potatoes cooked in any way you'd like and a simple green salad.
Apple & blackberry crumble
As we're in the height of blackberry season, with the branches of prickly bushes everywhere growing heavy with big, juicy berries, an easy apple and blackberry crumble is the perfect campfire snack! Simply add a couple of chopped apples and a few handfuls of blackberries into a saucepan with a sprinkle of water and a pinch of sugar.
While this is stewing, mix together some oats with sugar and butter until you have a crumbly texture. Add the cooked fruit and then the crumble into an oven-proof dish or dutch oven and cook over the coals or on the hob until golden in colour.
Glamping breaks for foraging
Foraging is an excellent addition to a glamping holiday when you want to leave the hustle and bustle of city life behind for a few days in the country. Wigwam® glamping pods are available in every corner of the UK in beautiful, rural locations, yet often close to major cities - perfect for a little weekend or midweek getaway!
Wigwam® camping pods have heating and are well-insulated, making outdoor living enjoyable all year long. After a day of foraging in the woods or along the shoreline, leave your muddy boots on the porch and put the kettle on in your little kitchenette. You get bonus points for making a pot of delicious herbal tea with rose hips or some wild mint.
Then it's time for supper: cook a feast with foraged foods on the campfire or make a delicious stew on the hob with mussels or wild mushrooms. When the sun goes down, soak your worries away in a luxurious hot tub before drifting off in your comfortable memory foam double bed.
So what are you waiting for? Book your autumn glamping getaway with Wigwam® Holidays now!