Best Camping Activities in Loch Lomond & The Trossachs
Loch Lomond & The Trossachs National Park offers visitors a whopping 720 square miles of wild waters, woodlands and Munros, all just a short drive from Glasgow, Scotland's biggest city. These things make the national park a true camper's paradise.
But with so much to see and experience, where do you even begin to plan your Loch Lomond camping trip? To help you get inspired, we've put together a guide to some of the best camping activities in the area below. From bird-watching to faerie trails and from windsurfing to zip-lining, here are some of the best things to do in one of the UK's biggest national parks.
Hiking and cycling in the national park
The national park's stunning scenery is best taken in on foot or bike, allowing you to venture down narrow forest paths, up Munros and down to the edge of the water. Whether you're an experienced hiker or are a newcomer to the world of outdoor living, there are picture-perfect walks all over the park for you.
For a beginner-friendly hike with diverse views, try this circular trail combining Bochastle and the Falls of Leny. The walk combines a woodland venture with fantastic views off Bochastle Hill and a chance to see the frothing white waters of the Falls of Leny.
As for cycling, you can choose from a variety of tracks whether you're after a leisurely, family-friendly bike ride or want to challenge yourself with some mountain biking. You can bring your own bike or hire one at one of the many cycling centres throughout the park.
For a ride suitable for all ages and bike types, look no further than the Rob Roy Loop: this 7.5-mile ride takes you through Strathyre Forest and picturesque villages, with an option to visit the grave of Rob Roy, the Scottish folk hero and outlaw.
Wildlife watching
Loch Lomond & the Trossachs is full of opportunities for some wildlife watching, with various parts of the national park being prime spots for catching sight of rare and more common animals like red squirrels, pine martens, golden eagles, otters, swans, red deer and much more.
Some of the best places to visit in the national park for wildlife watching include Breadalbane, with otters and butterflies to be spotted on the shore of Loch Tay, the Cowal peninsula where you can catch a glimpse of porpoises, seals and a variety of seabirds and the RSPB Loch Lomond Reserve, a real paradise for birdwatchers: here, you can spot ospreys, geese and redstarts among other species.
For a perfect day of wildlife watching, pack your binoculars and your camera, and make sure to do your research to find the best spots for wildlife viewing. You should also set your expectations depending on the season and understand the best times of year to see different animals. While out, make sure to stay quiet and listen intently for telltale signs of creatures around you. And remember to always keep a respectful distance to animals you come across!
Beautiful towns and villages to discover
If you fancy a wee break from the brave wilderness and want to enjoy a refreshing afternoon tea or pub lunch with a side of sightseeing, you can visit some of the picturesque towns and villages within the national park.
The village of Luss may have less than 500 residents, but its location right on the shore of Loch Lomond and its status as a conservation village make it the perfect stop on your day of discovering the loch. There are a few shops in the village, selling smoked fish, homewares and gifts. For refreshments, stop at the Coach House Coffee Shop or enjoy some pub grub at The Village Rest.
Sitting at the foot of Loch Lomond, Balloch is another pretty village in the region that is popular with visitors. Here, you can find family favourites like the Loch Lomond Bird of Prey Centre and the Sea Life aquarium. You can also visit Balloch Castle & Country Park to roam the formal gardens and semi-natural woodlands around the Gothic mansion from the early 19th-century, feeling like a character in a Jane Austen novel.
Get on the water
The various bodies of water throughout the national park, including the largest lake in Britain, offer some fabulous chances for watersports, fishing, wild swimming or simply sitting on the shore, enjoying a slower pace of life with a picnic.
If you're into watersports, you can try paddleboarding, kayaking or windsurfing on Loch Lomond or one of the 21 other lochs in the park. You can book a class with an instructor at various locations so you can get the most out of your experience.
Swimming in the open water is an increasingly popular Loch Lomond activity. If you've got your sights set on braving the cool waters, there are some best practices to keep in mind. You should avoid areas that are heavily used for boating and wear a brightly coloured swim cap to make yourself more visible. Additionally, you shouldn't push yourself beyond your abilities when out in open water and check the weather conditions before heading out.
Another great way to spend a day out on the loch is with a cruise. On Loch Lomond, you can head out on a cruise from Balloch with Sweeney's Cruise Co, who offer a selection of experiences ranging from hour-long scenic circular routes to island discovery tours that allow you to sit back and relax with a dram of whisky or a hot drink while taking in the views.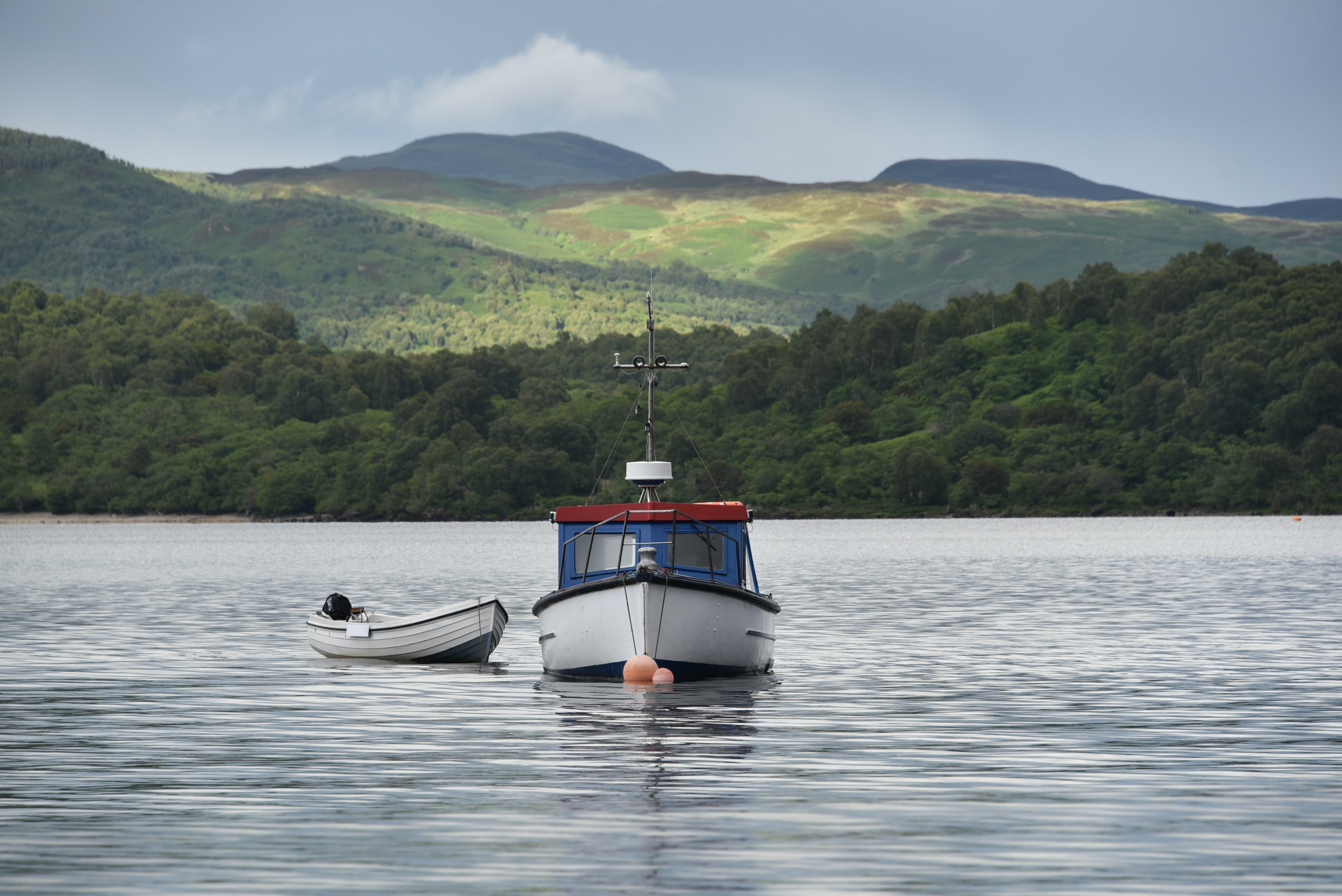 Fun and games for kids
If you're visiting Loch Lomond with little ones, there are lots of fun outdoor activities to enjoy with the kids. For an imagination-boosting day out, head to Luss for the Loch Lomond Faerie Trail. This self-guided, mile-long trail allows you to enjoy the fresh air while stimulating the senses with magical stories of woodland faeries and their enemies, the vicious Viking trolls.
Offering educational fun for all ages, the Loch Lomond Bird of Prey Centre allows you to see magnificent birds of prey in action with flying shows and different falconry experiences. You can also learn about wildlife conservation and what you can do to help. There are fun quiz sheets available for kids at the venue.
For slightly older kids, an adrenaline-filled day of clambering through the treetops at Go Ape Aberfoyle is bound to leave smiles on everyone's faces. Here, you'll find two of the UK's longest zip wires as well as the adventurous Treetop Challenge, suitable for ages ten and up. This thrilling course will test your limits, from a 323m-long zip wire ride to free-fall Tarzan Swings. A visit to this outdoor adventure centre is a surefire way to have an unforgettable day out.
Wild camping on Loch Lomond
Loch Lomond is a firm favourite among campers, but please keep in mind that if you want to try out some wild camping in the national park, you'll need to get a permit during the high season. This is different from the rest of Scotland, where people have the right to roam and you can go wild camping almost everywhere.
Comfy camping in Scotland
For a slightly different outdoor living experience, choose Wigwam® Holidays as your camping companion. Our aim is to make camping comfy and accessible to all, whether you love nothing more than holidays in nature or if the fear of leaky tents and midges have kept you from experiencing camping so far.
Our wooden camping pods are well insulated, with heating, electricity, and more often than not, running water. This way, you can simply kick back and relax after a long day of roaming forests, climbing Munros and enjoying life on the loch in the brave wilderness. To find out more about our Scottish glamping sites, click the link below.