Beginner's Guide To Wild Camping In The UK
Imagine a camping trip where you sleep under the stars and among unspoilt nature, off the beaten track, far from all other living souls. There's something incredibly romantic about wild camping but many people see it as something that's difficult, inaccessible and requiring lots of camping experience on traditional campsites.
This isn't necessarily the case, though, which is why we've put together this beginner-friendly guide to help you prep for your first wild camping experience. Read on to discover the best places in the UK to camp in the wild, the gear and safety tips you need as well as how to set up your camp.
Where can you go wild camping?
Wild camping is restricted by law in the majority of places in England, Wales and Northern Ireland, meaning campers have no rights. That's why you'll need the landowner's permission to camp in the wild here. That being said, there are certain areas in Dartmoor where you can camp without permission.
Also, in many remote areas outside Dartmoor, wild camping is often tolerated as long as you do so discreetly and leave no trace of your stay behind. An example of this is the Lake District National Park, where wild camping is a long-standing, well-established tradition. This is not a right, though, and getting permission from the landowner or national park administration is always best practice.
Wild camping in Scotland, however, is much easier. That's because, up north, the law dictates that people have the right to roam. What this means in practice is that you can camp anywhere as long as it's some ways away from houses, roads and enclosed fields used for crops or farm animals. You should also limit the size of your camping party and only stay a maximum of two or three nights in one place.
That being said, there are certain spots in Scotland where you do need a permit if you want to go wild camping. Loch Lomond is a notable one: you need to obtain a permit for wild camping between March and September in the Loch Lomond & the Trossachs National Park.
For wild camping in Scotland, we suggest you get to know the Outdoor Access Code for responsible camping before you head out on your outdoor adventure.
The gear you need
The most important piece of kit is a lightweight tent you can comfortably carry on your back and that you could pitch up with your eyes closed. If you're buying a new tent for your wild camping adventure, practice pitching it up in the garden or your living room beforehand. Going for a sturdy design with fabric that can withstand whipping winds and heavy rain is a must. We like the look of this lightweight two-person tent by Alpkit.
Alternatively, you could go for a tarp and a bivvy bag, a waterproof layer for your sleeping bag. This means you can fall asleep watching the stars. You'll also want to pack a compact and lightweight, yet cosy sleeping mat and sleeping bag. Light, warm layers are a must, and packing some spare dry clothes as well as a waterproof layer will make sure you stay cosy even in the rain.
Other camping gear that can make your wild camping experience much easier includes a small camping stove, a good head torch, a quick-drying towel, a small shovel for burying human waste and a GPS tracker.
As for food, opt for meals that can be easily cooked with just hot water - think couscous, pasta, boil in the bag rice and ready-made, tomato-based sauces. High-calorie snacks like chocolate, nuts and crisps help keep hunger pangs at bay.
How to set up camp
The first step to setting up your campsite is finding the perfect spot. This should be remote, so as not to disturb other people enjoying the great outdoors. It's best to plan the rough spot you want to stay in advance so that you can tell people where you'll be (important for your safety) and so that the setting sun doesn't creep up on you before you've had the chance to pitch up.
That being said, the rule of thumb to wild camping is to arrive late and to leave early so as to cause minimal disturbance to other hikers and wild campers. With this in mind, you should also keep noise levels low. And make sure your campsite is not visible from any nearby houses or roads.
Additionally, always remember the golden rule of leaving your campsite cleaner than you found it. Pick up all trash, be careful so as not to disturb any vegetation and don't leave behind any fire damage or holes in the ground.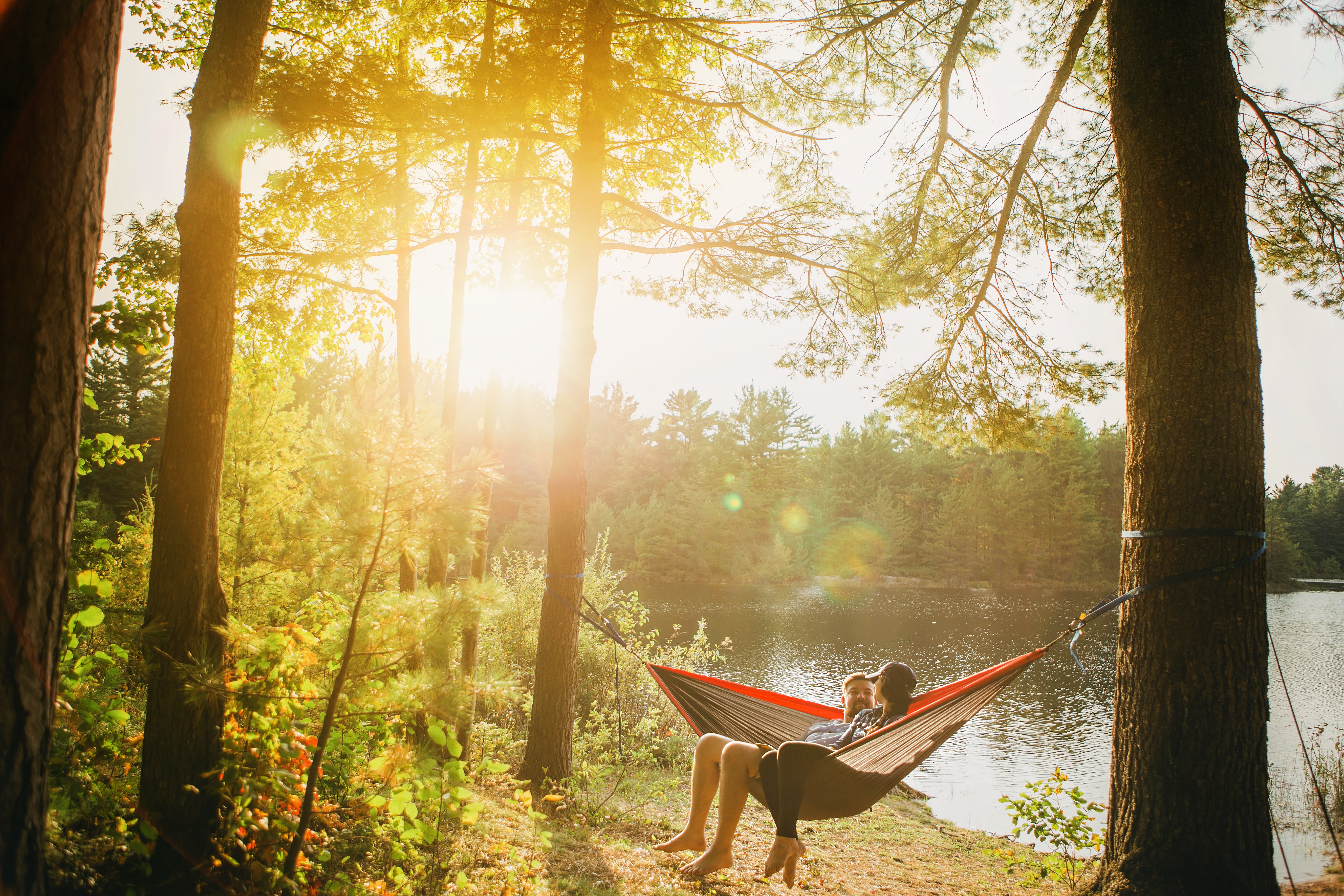 Staying safe and healthy on your camping trip
Especially if you don't have much camping experience, you might have your fears about getting lost in the woods, with no phone signal or map, as the sun goes down. The good news is that since the UK is densely populated, you're never too far from civilisation, and with some planning, this fear shouldn't hold you back from experiencing camping in the wild.
To make sure you don't get lost, it's a good idea to learn to read a map and use it with a compass. You should not rely on having 4G on your phone and while you can download trail maps and instructions onto your phone, you should have a plan in place in case you run out of battery. Having a portable charger with you is highly advisable - we recommend getting a solar-powered one so you can recharge on the go even on longer trips.
Because water is heavy to carry, it's best to choose your camping spot near a freshwater source. To make sure you won't get sick from drinking this water, check there are no animal droppings or carcasses on the banks and run the water through a filter or boil it before drinking.
You should also make sure you go to the bathroom a good 50 metres away from any nearby water sources. Bury your "business" about 15cm deep to allow it to biodegrade naturally. Unfortunately, you can't do the same with toilet paper, so pack this in a resealable bag to take back with you with the rest of your rubbish.
You should also pack some basic first aid items just in case. For ideas on what to include in your first aid kit, read our guide to camping safety. Bug repellent is also a good addition to your bag to ward off midges if you're headed for the Highlands or camping near a body of water. If you have a camping stove with you or have permission to build a fire and know how to do so safely, you should also pack waterproof matches or a fire steel and striker.
In conclusion
If you're interested in wild camping, we say go for it! By doing your research beforehand, you can enjoy the great outdoors like never before and truly feel like Bear Grylls. Wild camping can be a very empowering experience, allowing you to prove to yourself how resourceful and resilient you can be. Plus, the views are great!
For more handy camping information, make sure to check out some of our other blog posts - we publish new camping content every Monday. To receive highlights from our blog into your inbox every month, sign up for our email newsletter below.