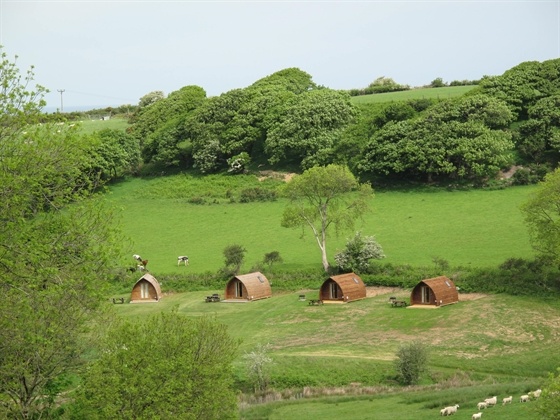 Explore Llyn Peninsula
The focus of a recent edition of BBC TV's Countryfile, Llŷn Peninsula in North West Wales is an area of staggering beauty, a place of peace and spirituality and even has a sheep breed named after it!
Extending some 30 miles into the Irish Sea, gorgeous fishing villages, seaside locations such as Criccieth and even some strange sounds from sandy shores make this a remarkable location for a glamping holiday – Wigwam® Holidays Llŷn Peninsula is just the ticket!
So a visit from the respected Countryfile TV programme inspired viewers about the peninsula and the Llŷn Heritage Coast. One of its presenters, Ellie Harrison, had a go at snorkelling so she could investigate the world under the sea. The presenter also visited the workshop of a local boat-builder who still uses his grandfather's tools to build traditional Abedaron beach boats, a skill that is now exceedingly rare.
Perhaps you didn't know that Llŷn Peninsula is also known as Snowdonia's Arm – the distinctive hook of land extending from the Snowdonia National Park out to sea. So as well as quaint fishing coves, there's also one of the UK's most beautiful and varied National Parks on the doorstep.
Llŷn richly deserves its Area of Outstanding Natural Beauty status with its crystal clear waters, white beaches and rugged hills.
As well as the sea, agriculture is celebrated at Llŷn, having its own breed of sheep, a hardy species that survives wild Welsh winters.
One of the best ways to absorb the tranquility of Llŷn is to walk along sections of the Wales Coast Path, including paths from Criccieth to Porthmadog; Porth Orion to Aberdaron and from Porth Oer (Whistling Sands) to Aberdaron.
And as we've now mentioned the Whistling Sands, it is worth looking into this mysterious trick of nature that some many visitors find so memorable.
Now a National Trust beach, Porth Oer is colloquially known as the Whistling Sands; as you walk along the gleaming white beach, the sand granules rub together to produce this eerie sound. This is only one of two beaches in Europe that can boast this phenomenon.
Llŷn is also home to the fashionable
seaside resort of Abersoch
with its boutique shops, offering something very different to the usual high street chains
Pwllehli is referred to as the area's capital, with the word translating as salt water pool. Pwllehli is also where Plaid Cymru (the National Party of Wales) was founded and has two lovely beaches just waiting to be explored!
Llŷn Peninsula is also a place of pilgrimage. Bardsey Island, a sacred place just of the western tip of the peninsula, was 'home' to monks for over one thousand years, and visitors can see the remains of a thirteenth century abbey.
And with this peaceful part of Llŷn concluding our quick tour of the area, it's best to remember the Welsh saying 'Go slowly and go far' – a saying which resonates so well with this spectacular part of the world. And with Wigwam® Holidays Lleyn Peninsula set right in the heart of this beautiful part of the world, you can lose yourself in Llŷn.