Destination Spotlight - Glamping in Norfolk
Occupying the 'hip' of the UK, Norfolk is blessed with awe-inspiring beaches, inspiring landscapes and some of the best holiday accommodation around.
Sunset over the North Norfolk coast - Photo by Brian Smithson
With it's 12-month season, Norfolk is known as 'Big Sky' country, with mile after mile of unspoilt sands, countryside, forest, heathland and vast, open skies. From bustling holiday hotspots such as Great Yarmouth to the tranquillity of the Norfolk Broads, this varied county offers something for the whole family, with as much activity or relaxation as required!
North Norfolk is particularly known for its spectacular coastline, seaside communities, market towns and incredible wildlife. To experience nature close up, why not take a boat trip to Blakeney Point, Norfolk's seal colony?
You might find seals on Blakeney Point - photo by Gary Smalley
Between the seaside resort of Hunstanton and the town of Sheringham, revel in the Area of Outstanding Natural Beauty with tidal marshes, shingle beaches and sweeping golden beaches.
Nearby Wells-next-the-Sea has been voted the best beach in Britain, while a little to the east is Cromer, set atop a cliff and with its famous Victorian pier
Classic Beach Huts can be found in Norfolk - Photo by qiv
So you're sold on the area, now you have to decide where to stay!
There's always the option of fabulous 'glamping' in an insulated, heated timber cabin. Wigwam Holidays Forest Park, Northrepps near Cromer is one of North Norfolk's newest holiday accommodation listings, with deluxe, timber cabins alongside a campsite and holiday cottages.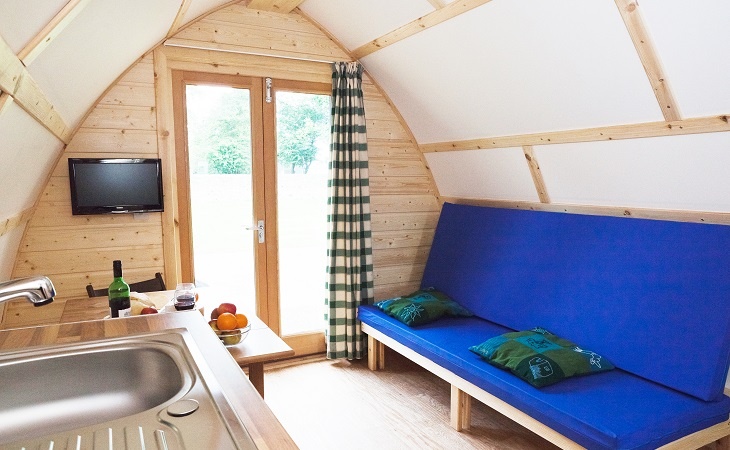 Inside the Running Water Deluxe Wigwam®
Inside the Running Water Deluxe Wigwam®
The site nestles among 100 acres of Norfolk woodland with hilltop views to Cromer. Forest Park is also a proud winner of the Bellamy Gold Award for Conservation, an award that has been consistently achieved since 2001.
You can go for luxury with some of the county's best hotels, or chill out in a peaceful holiday cottage. Or you could really enjoy for the great outdoors with camping locations.
As changeful as the tides and the clouds, North Norfolk's scenery varies with the weather and the waves, ideal for budding photographers.
Walkers and cyclists are spoilt for choice when it comes to routes and paths.
You can't mention a holiday without a spot of retail therapy, and the town of Holt is famous for its eclectic range of independent shops. This Georgian town was rebuilt following a devastating fire in 1708, a real phoenix from the ashes.
History buffs will not be disappointed with the Deep History Coast, which dates back to prehistoric times when mammoths literally roamed the earth.
The best-preserved mammoth skeleton was found here along with some human footprints, thought to be about 850,000 years old!
So for a truly timeless holiday experience, Norfolk offers an incredibly varied and memorable holiday location, one you will want to return to time and again.