Camping With A Dog - Your Guide To Holidays With Pets
As dogs are quite famously man's best friend, it's no wonder that many people don't want to leave their dog behind when they go on holiday. After all, us humans love going on holiday, so it's natural to want our beloved pets to join in on the fun rather than have them stay in a kennel.
A holiday with your dog does need some planning to make sure you have a successful trip, so read on to discover how to have a pooch-approved holiday with the help of some of our favourite products.
Preparing for your trip & what to pack for your dog
Good preparation is the key to travelling with your dog. Before your trip, take note of the nearest vet is to where you're staying - if you're going camping, you may or may not be able to google the nearest vet office while trekking in the great outdoors. This is where having the number saved on your phone will prove a godsend. You should also ensure that your dog is microchipped and that their vaccinations are up to date.
The day before, take your pet on an extra-long walk or play some extra rounds of fetch with them to make sure they're sufficiently pooped out for travel the next day, especially as it can be difficult to plan some play time in with your pup the morning before your travel.
As to what to pack for your pooch, be strategic and pack multiples of everyday necessities. Make sure to add these items in the bag:
A tag for their collar with your name and number
Wet wipes
Extra towels - and then some more!
A microfibre towel
Enough food pre-portioned in sandwich bags or Tupperware
A cold weather jacket in the colder months if needed
Doggie sunscreen for the summer months if needed
How to travel with a dog in the car
While we often think of dogs loving a car journey, putting their heads out of the window and letting the wind flap their ears, this is not always the reality. After all, your dog can't enjoy a good mixtape of road trip songs the same way you can!
Planning a 15-30 minute break every few hours is a must to keep your pet happy on long drives. This gives them a chance to stretch their legs a bit and relieve themselves. While driving, do let your pup gaze out the window if they want to: this can help with motion sickness and gives them something to focus on other than barking, barfing or any other charming activities they might want to partake in if they feel bored or nauseous.
You should also make sure your dog is suitably restrained and unable to distract you while you're driving: a crate or a dog seat belts keeps both you and your furry friend safe.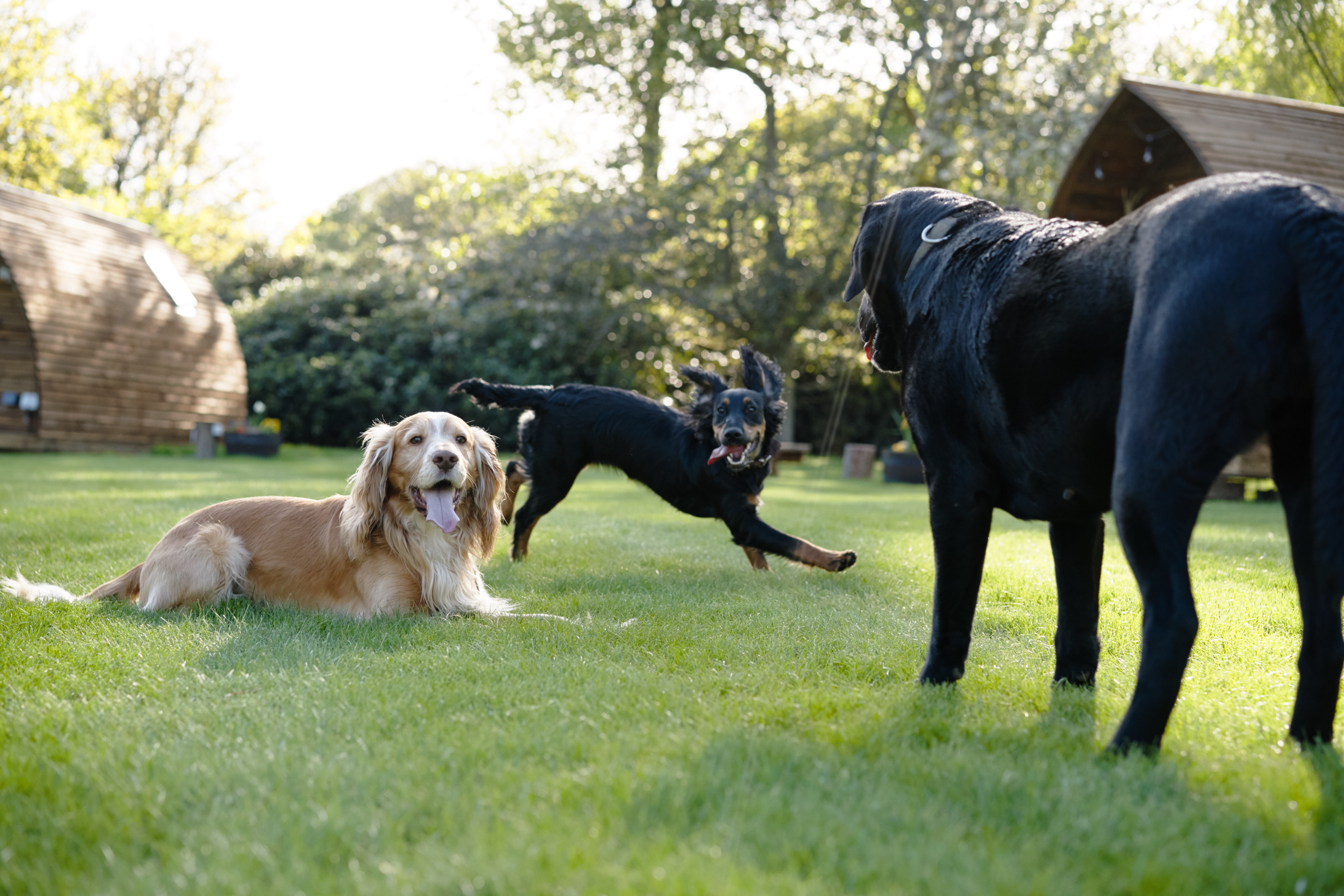 The best accommodation for dogs
So where should you stay on your trip with your dog? You could choose between a hotel, a holiday rental, a tent or a camping pod. Let's have a closer look at these options.
These days, a good number of hotels are willing to accommodate well-behaved dogs for an extra charge. The same goes for holiday lets. The latter usually gives more room for your pooch, while a hotel room can quickly start feeling cramped with a dog that's a little bigger or full of energy.
Make sure to double-check fees before booking a hotel or a holiday flat as these can quickly add up if they're charged daily and if there's a high deposit to be paid beforehand. Make sure there's also adequate green space around the hotel for walking your dog.
Camping with your dog is another popular option. It's a great chance for some properly long walks with your furry friend and means you don't have to leave your dog cooped up in a hotel room while you're enjoying your holiday.
Tips for camping with your dog
Not all dogs are well-suited for camping. If your pooch barks a lot, is aggressive with other dogs, people or wildlife or if they don't walk well on a leash, they might not be ready to join you on your camping trip just yet. Staying on a campsite warrants everyone respecting their neighbours so that you can all enjoy your holidays.
You'll obviously need to find a campsite that allows for dogs but make sure there's also lots of dog-friendly activities available around the site: some beaches and walking paths restrict access from dogs, so do a bit of research.
Make sure to always pick up your dog's "business" whether you're on the campsite or the trail - dog poo isn't anyone's idea of a lovely addition to their holiday photos! If you're out on the trail, some kind of an airtight container for your dog's poo bag helps hide the nasty smells until you get to a bin.
After a full day of exploring the great outdoors, check to make sure that your tent is properly zipped up and your dog can't get out. It might be a good idea to store treats somewhere they can't get to them - in the porch of the tent if they're sleeping with you and vice versa.
Glamping with dogs with Wigwam® Holidays
Staying in a camping pod can eliminate a good deal of the hassle from camping with your dog. You can rest assured your furry friend won't tear through the canvas in the night and run away. And while wooden camping pods aren't usually completely sound-proof, they do dampen the noise of barking if your pooch decides on an impromptu serenade.
You'll have more space to stretch out with your dog than you usually would in a tent and you don't have to worry about your dog getting cold even in the winter: many camping pods, including all Wigwam® models are well-insulated and heated. You can even choose a camping pod with its own ensuite bathroom - perfect for cleaning up those muddy paws!
We have a large number of dog-friendly glamping sites in every part of the UK. You can even book a dog-friendly holiday with a hot tub! Unfortunately, your pup can't join in on the bubbly fun, but they'll love exploring the great outdoors with you after you've had some relaxing me-time in your private hot tub.
So if you're looking for the perfect camping holiday with your dog, look no further than Wigwam® Holidays! Browse our dog-friendly campsites by clicking the link below and selecting "Dogs Allowed" under "Site Facilities".