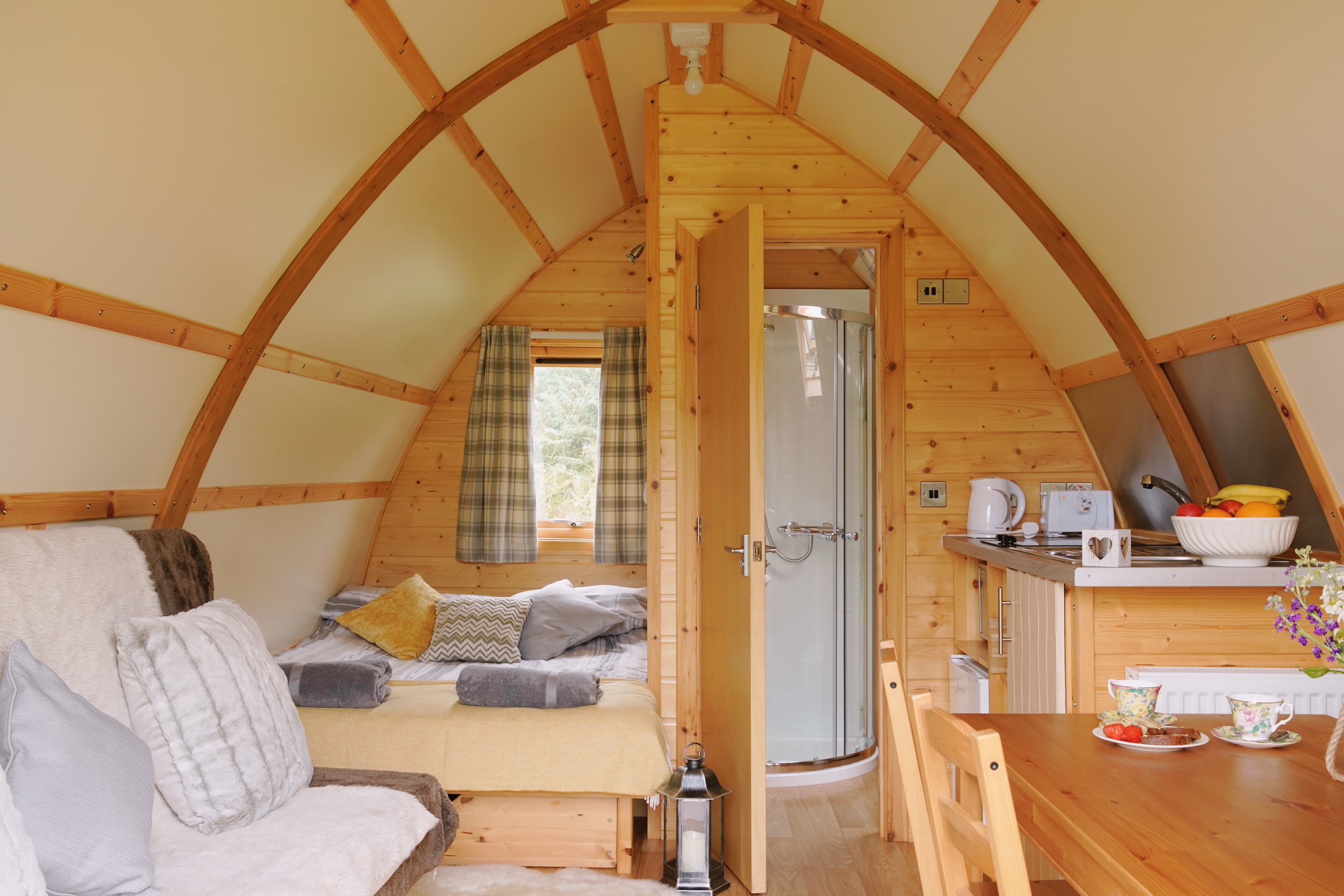 Wigwam® Holidays Camping Pods: What You Should Expect
There's nothing worse than believing that something will be as good as you expect only to find that it falls far short! If for example, that pricey crème Brulee you ordered in a posh restaurant turns out to be underwhelmingly ordinary rather than lip-smackingly special it will spoil a much-anticipated treat. The same is true of booking a camping pod holiday. You want it to deliver both what you're paying and hoping for! So if you're new to this type of vacation here's a heads up about making an informed choice.
Camping pod types
As culinary legend, Mrs. Beeton is often misquoted as saying, 'first catch your hare' or in this case 'first choose your pod'. Most of these cabins are sturdy, watertight, well-insulated, heated structures made of wood. Shapes can vary from round, arched, or hexagonal to anything in between. A lockable door with a glass pane or double glass doors at the entrance with a window at the far end and even a Velux roof light are common features giving a bright and airy feel to most interiors which can be anything from bare to a miniature home from home. But even the more basic pod is a welcome level up from the hassles of camping under canvas especially out of season.
What's inside?
A simple pod might cost less but may only have electrical sockets, lights, and a heater of some sort. You would need to bring all the things you'd normally pack if you were staying in a tent including camp beds or inflatable mattresses and bedding etc. Even in this type of frills-free pod, you'll be a lot cosier than under canvas if the weather's bad.
The next rung up on the camping pod ladder will offer more home comforts. It may have a work surface, fridge, microwave, toaster, kettle, seats, coffee table sleeping platforms, and built-in heater but not have its own cooking, washing, or toilet facilities. Overall it will feel much comfier and snug than the basic options but you will still need to bring your own bedding.
At the higher end of the market, you'll find luxury pods, often marketed as glamorous camping. This type of cabin is likely to have added extras like a mini kitchen with hob, dining table, en-suite bathroom with power shower and heated towel rail, TV, and Wifi. Although these pods cost a little more to hire you will usually find the prices very affordable compared to traditional self-catering options such as log cabins, hotels, or B&B's.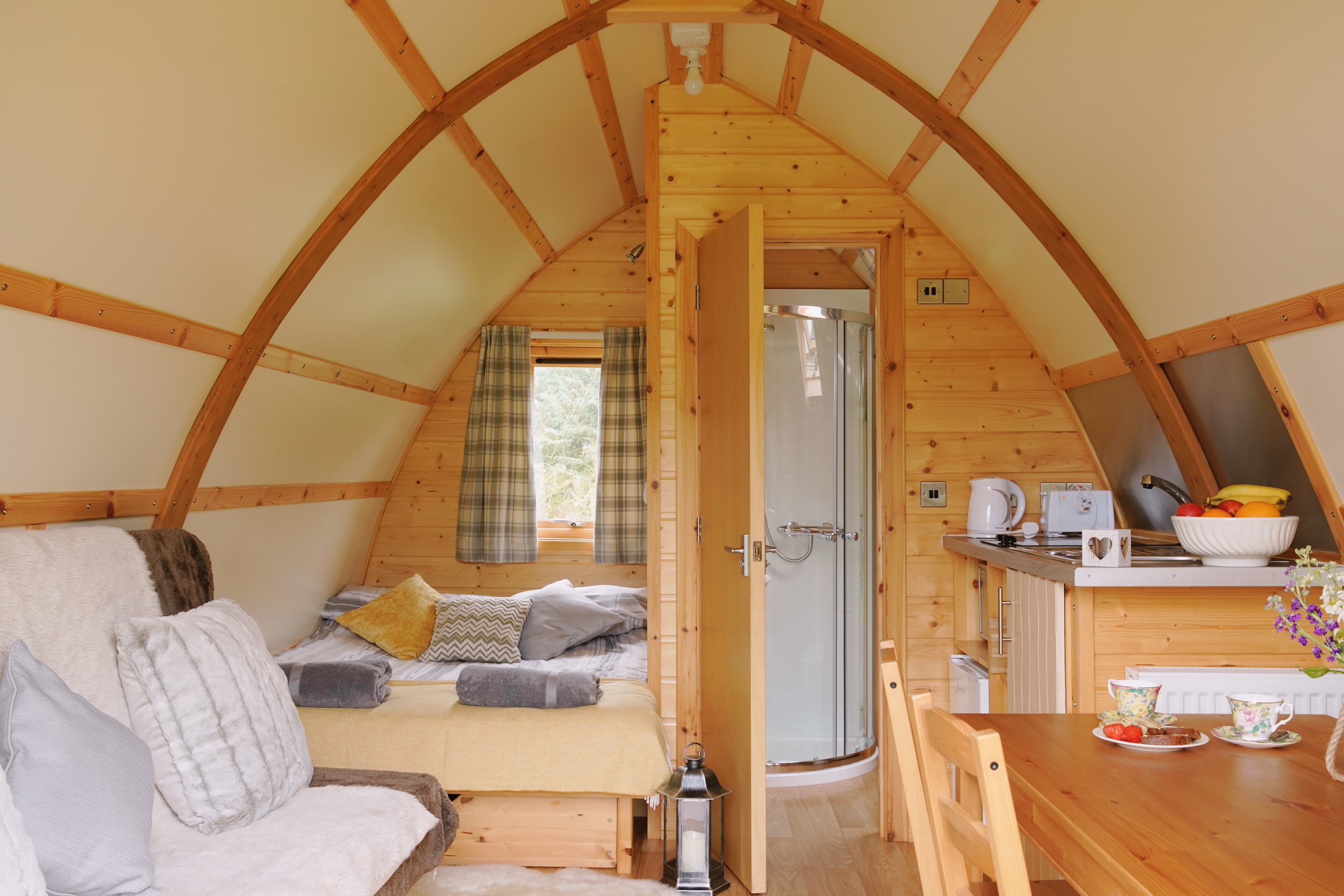 Most camping pods have electricity supplying lights, sockets, and a heater at the very least. The cost of switching on may be included in the price per person or charged per pod per night but it might also be an additional amount added onto the bill or there may be an electricity metre for which you need to buy tokens so do check. Crockery, cutlery, and cooking utensils are sometimes provided as part of your cabin contents or may be available to hire.
With a typical pod sleeping 4 to five adults, these cute cabins are ideal for families, couples, or even someone holidaying on their own. The better-equipped pods may have a partitioned-off area with a double bed or there may be bunk beds, sofa beds, or raised sleeping platforms. Where quality mattresses are provided these may double up as seating during the day. Although guests usually need to bring their own bedding and towels these items can be hired at some sites.
What's outside?
The most important factor outside should be the fantastic views as pods will normally be sited in especially beautiful settings! That said, there will usually be a BBQ and or fire pit area outside the cabin, with possibly a picnic table, decking, and sometimes a porch for bulky coats and an outside storage box.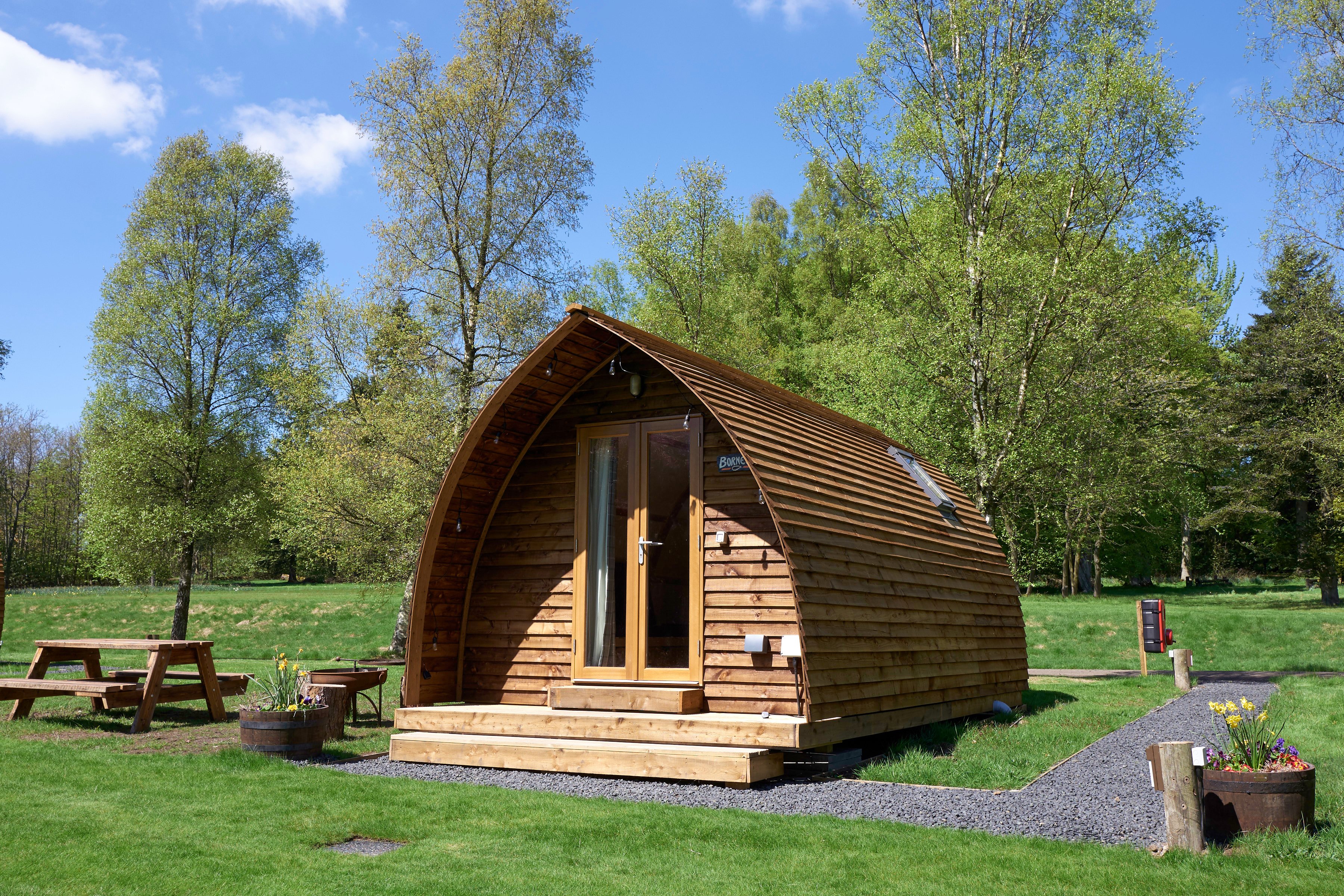 Campfires are not allowed at all sites so it's worth checking before you book and also whether you can buy fuel on-site or need to bring some with you. You also may be asked to use the BBQ facility provided rather than your own.
Useful extras can include a lockable bike shed. There may even be a dog washing area at some of the many sites which welcome a man's best friend. In most cases, you will be able to park close by to unload your bags and minimise the soaking of a wet weather dash from car to pod.
With the more top-of-the-range cabins, there is often the option of hiring a hot tub. This has got to be well worth the extra charge for relaxing with friends, family, or that special someone as you sip a glass of Prosecco or local craft beer in your own mini spa under the stars!
Site Facilities, Terms & Conditions
Many sites go to great lengths to be user-friendly. This can just be through a helpful attitude or even include leaving freshly laid eggs, chocolates, or local produce as a 'welcome to your pod' present for new arrivals. Others offer breakfast packs which you can buy as extras and most sites will provide leaflets and information about local attractions. Sites without en-suite pods should have communal shower and toilet facilities fairly nearby. There may also be a self-catering kitchen, shop, and drying area for guests.
All sites have their own rules which are worth checking out and may include being quiet after a certain time of night so as not to disturb others. Some sites are not open to groups or not to groups under a certain age. Others accommodate stag and hen do's so make sure you have read all the small print to ensure the site you choose is right for you.
Special Deals
Every so often there may be special deals with money off for booking an extra day or for last-minute availability when there's a cancellation. Some sites also offer themed packages. A Valentine's Day weekend booking for two may include heart-shaped fairy lights, cushions, towels, bathrobes, and bubbly for a modest extra charge as a romantic surprise for your other half! For Mother's Day, it could be chocs and flowers or for Father's Day a free fishing ticket – you get the idea.
Take your pick
A good place to start is on a camping pod provider's website where you can match your 'wish list' to sites and locations which tick those boxes. Most have symbols showing what's available at a glance or search facilities to help narrow down your choice. For example, do you want the site to be near the sea or have outdoor activities like quad biking? With so much choice there is usually something for everyone and with online booking, you can make your decision at any time of the day or night. It may be 2am but your holiday is sorted!
To return to the restaurant analogy, part of the fun of planning a holiday is whetting your appetite by seeing what's on the menu. If you do your homework you'll be able to make sure that what you want is what will actually be served up!