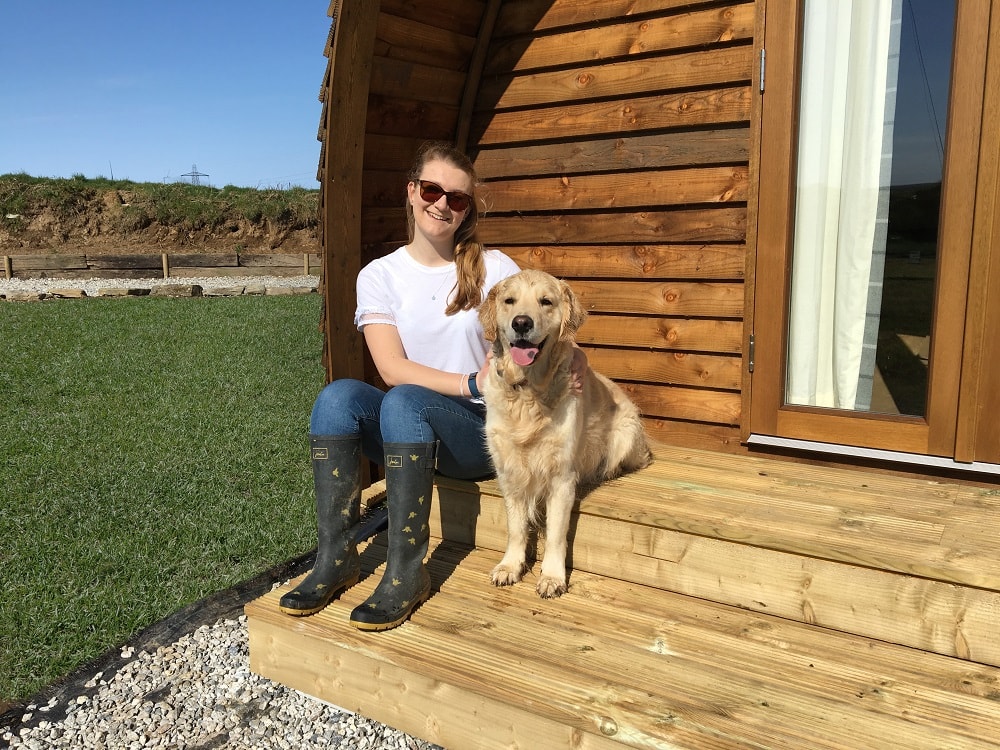 Glamping: What Site is for Me?
Okay so you're already window-shopping on some of the best glamping holiday websites but here's some tips and tricks to get you from looking to booking!
I remember a friend from India visiting the UK for the first time, standing amazed in front of the bread section in a large supermarket, overwhelmed by the choice of different loaves on offer. It can be a bit like that with glamping. There's the equivalent of the 'sundried tomato, olive and pecan, sough dough, and whole wheat soda varieties' but which product will give you the best slice of what you and your family are looking for?
You can't 'try before you buy' an unfamiliar loaf but you can make an educated guess based on your own personal taste and preferences. On that basis why not make a wish-list of your dream glamping preferences then find which option best matches your lifestyle and values.
Would you prefer an eco-friendly site for example? If that means using a compost loo or an outdoor shower does that rank as a plus or minus for you? Is it important to be near the coast, hidden away in a forest, high up in the hills, at ground level or even way above it? There are so many 'serving suggestions' out there you shouldn't need to compromise.
Generally speaking glamping accommodation can be divided into these four categories:- wigwams, tipis and yurts: glamping pods: glamping on wheels and treehouses. Of course there are always some more unusual options to break the mould like floating cabins, redundant chapels or grain silos also proffered under the broader glamorous camping umbrella! You'll find a selection here https://www.canopyandstars.co.uk/find/#!searchByKeyword=1&filter=One+of+a+kind&display=list&offset=20
Sites with wigwams, tipis and yurts tend to offer varying levels of luxury depending on size and price. With more basic choices you may need to bring your own airbeds and pillows but many sites have comfy beds, cushions, rugs and throws and woodburning stoves. However, the showers, toilet and kitchen facilities may be communal albeit it only a short stroll away. You'll find a range of this type of accommodation at https://www.pitchup.com/rent-a-tent/
Glamping pods
Glamping pods on the other hand tend to be more like homes in miniature, many having their own toilet, shower, mini kitchen and electric heating. Whatever their facilities they come in all shapes and sizes and tend to be made of wood - from hobbit style to arched or barrel-shaped versions.
Glamping on wheels comes in many forms from shepherd's huts to unusual vintage vehicles like planes, horseboxes and helicopters. For nostalgia lovers something retro like one of these vintage American caravans named 'Betsy', 'Nettie' and 'Dee Dee' could be just the job https://www.happydaysrv.co.uk/?utm_source=campsites.co.uk&utm_medium=referral&utm_campaign=campsites.co.uk Or sample a completely different yesteryear experience in the Big Green Bus as featured on George Clarke's Amazing spaces programme http://www.biggreenbus.co.uk/the-bus/e Whatever the vintage vehicle the wheels don't usually 'go round and round' this is usually quirky static accommodation.
Glamping above ground in tree houses, tree pods and domes tends to sit or rather be 'suspended' at the luxury end of the glamping market often with prices to match. Sleeping from 2 to 5 they can be close to civilisation or so off grid you'll have to walk 3 miles on foot to get there! There are 43 listed here alone with some only a few feet off the ground to those as high as 30 feet in the air. https://www.canopyandstars.co.uk/find/#!searchByKeyword=1&filter=Britain&filter=Treehouses&display=list
Only you know what drives your glamping choice. Why a yurt rather than a tree-house? Although being scared of heights could be one good reason for opting to glamp at ground level!
Some of the most unusual glamping options can be found at https://www.quirkyaccom.com/glamping
Setting goals for your holiday
As you search keep measuring what's available against what's important to you about your holiday. Do you want to meet new people and socialise or is sharing quality family time together and making memories more important? Is having the freedom and opportunity to be energetic and creative a 'must' or do you just want to relax undisturbed in awesome wide-open spaces?
Are you going to 'set goals' for your time away together and if so which site would best help you meet them? Aspirations could include detoxing from technology or a high energy adventure out of your normal comfort zone each with very different 'glamping heaven' backdrops.
This site has the best of both worlds - a range of quirky glamping options from geodomes to hobbit pods and safari tents with activities like high ropes, a zip wire and quad biking https://www.campkatur.com/index.php
But if peace, privacy and bespoke are your priorities this family sized tree-house on its own with hot tub may appeal
https://www.canopyandstars.co.uk/britain/england/worcestershire/little-comberton/lime-treehouse#search_type=keyword&search_text=&
Glamping is not just about staying in a fantastic rural setting but about having a WOW factor living space that's as luxurious as it's different. Whether you 'define' luxury as having your own hot tub and pizza oven or a simple rustic shack in the 'sticks', is entirely up to you.
One big glamping attraction for both adults and youngsters is the additional bonus of some 'campfire therapy'. Gazing up from dancing flames to starry skies, reflecting on life and sharing stories together is a truly magical experience. In fact psychologists have found that sitting and watching a flickering fire relaxes people and can even lower blood pressure so what a great way to end a busy day of exploring and more active fun.
Although not all glamping sites allow camp fires, most of our Wigwam Holidays ones do, with a fire pit right outside each pod. When the glow from the evening's embers finally dies down simply step into your cosy heated cabin where a comfy bed promising a great night's sleep awaits.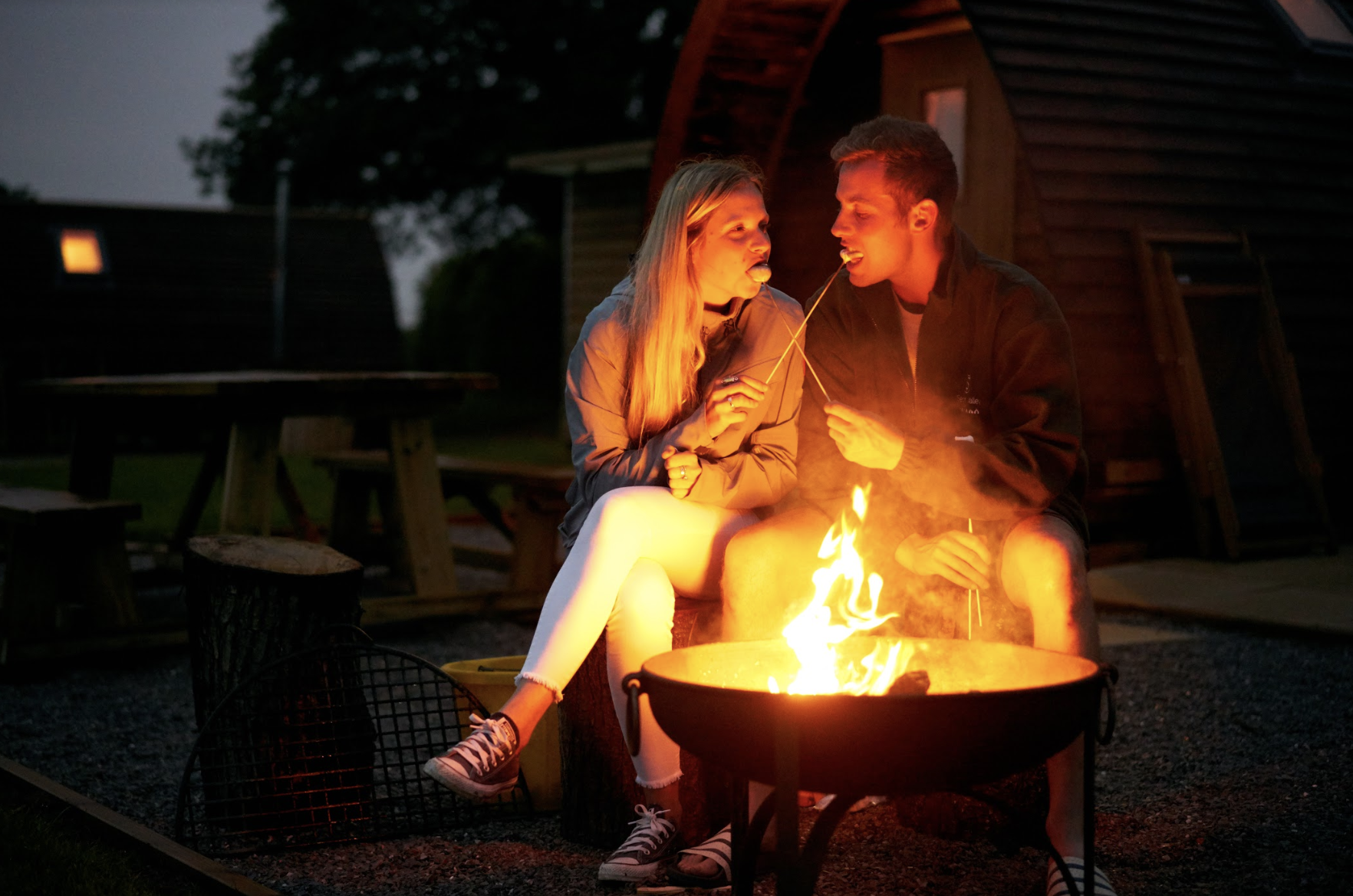 You'll find plenty of campfire friendly choices on offer with Wigwam Holidays. You can also search for places that tick the rest of your boxes at over 80 UK sites. From 'dog-friendly' to 'outdoor activities' or 'hot tubs' it's all to be found right here right now at /locations