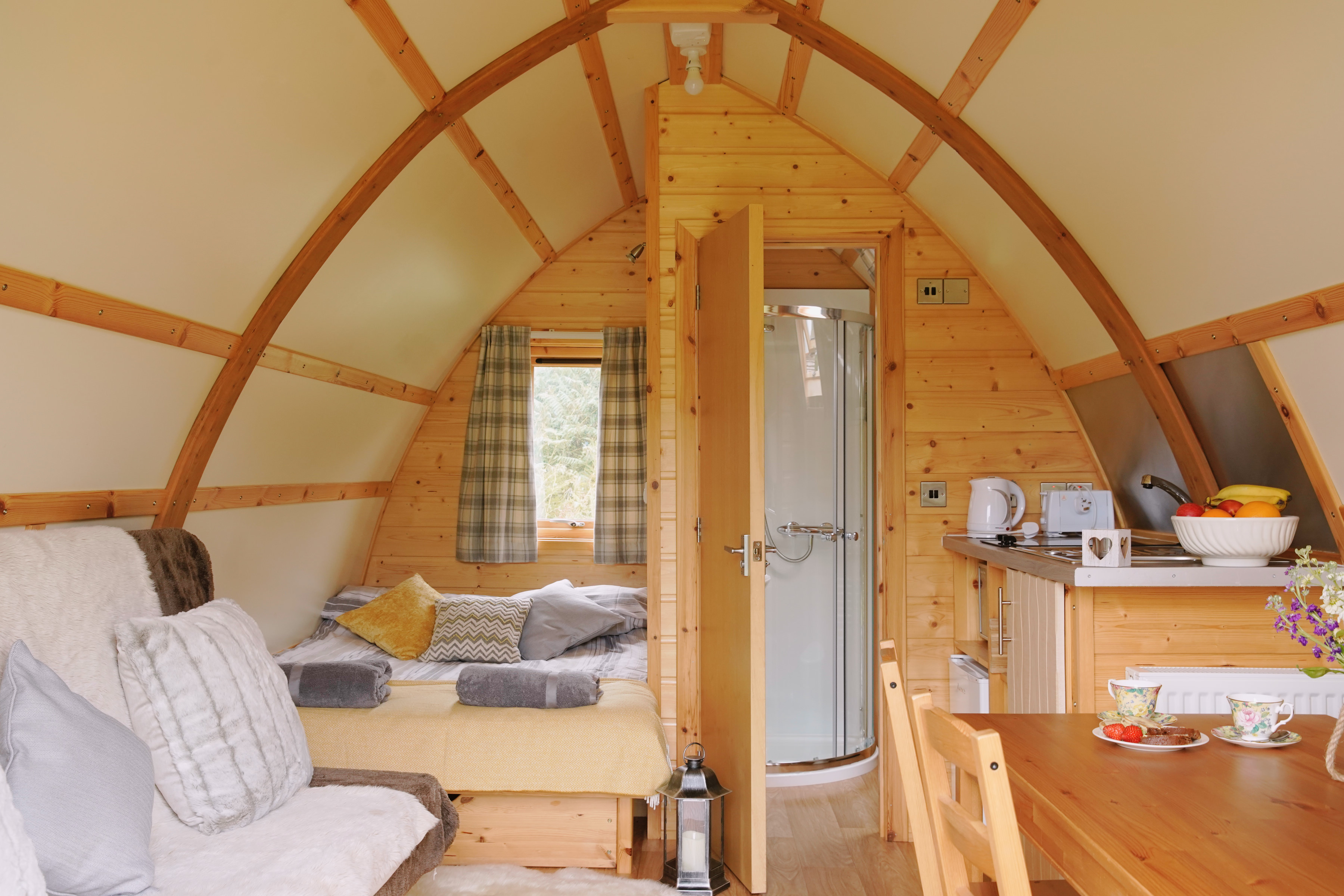 What is a Glamping Pod?
Whilst camping in a basic wooden pod is fine for some people for others luxury beckons in the form of Glamping Pods which offer so much more! With run of the mill options the idea is usually to save money with frills-free accommodation and splash the cash on sightseeing but what if that's missing the point? What if your accommodation can be the icing on the cake, a full-on part of your holiday experience? Glamping in state-of-the-art style adds value to your vacation. It's the smart way to enjoy a close-to-nature holiday especially if you want to feel cosy and pampered out of season.
The first wave of glamping a decade ago was just a hint of things to come. It brought a mere sprinkling of home comforts which has evolved into a whole vista of exciting options. The lack-lustre side of camping just got kicked into touch and you'll be overjoyed when you see what's on offer these days!
Fabulous extras like built-in heating, sumptuous mattresses, en-suite bathrooms with power showers, micro kitchens, hot tubs, wide-screen TV, satellite and Wi-fi are now prevalent if you know where to look. Wigwam Holidays are a brand leader when it comes to this type of break so we're a great place to start. Get ready to indulge yourself! An affordable stay in a wonderfully well-equipped all-weather cabin can be yours. Just add the stunning rural backdrop of your choice.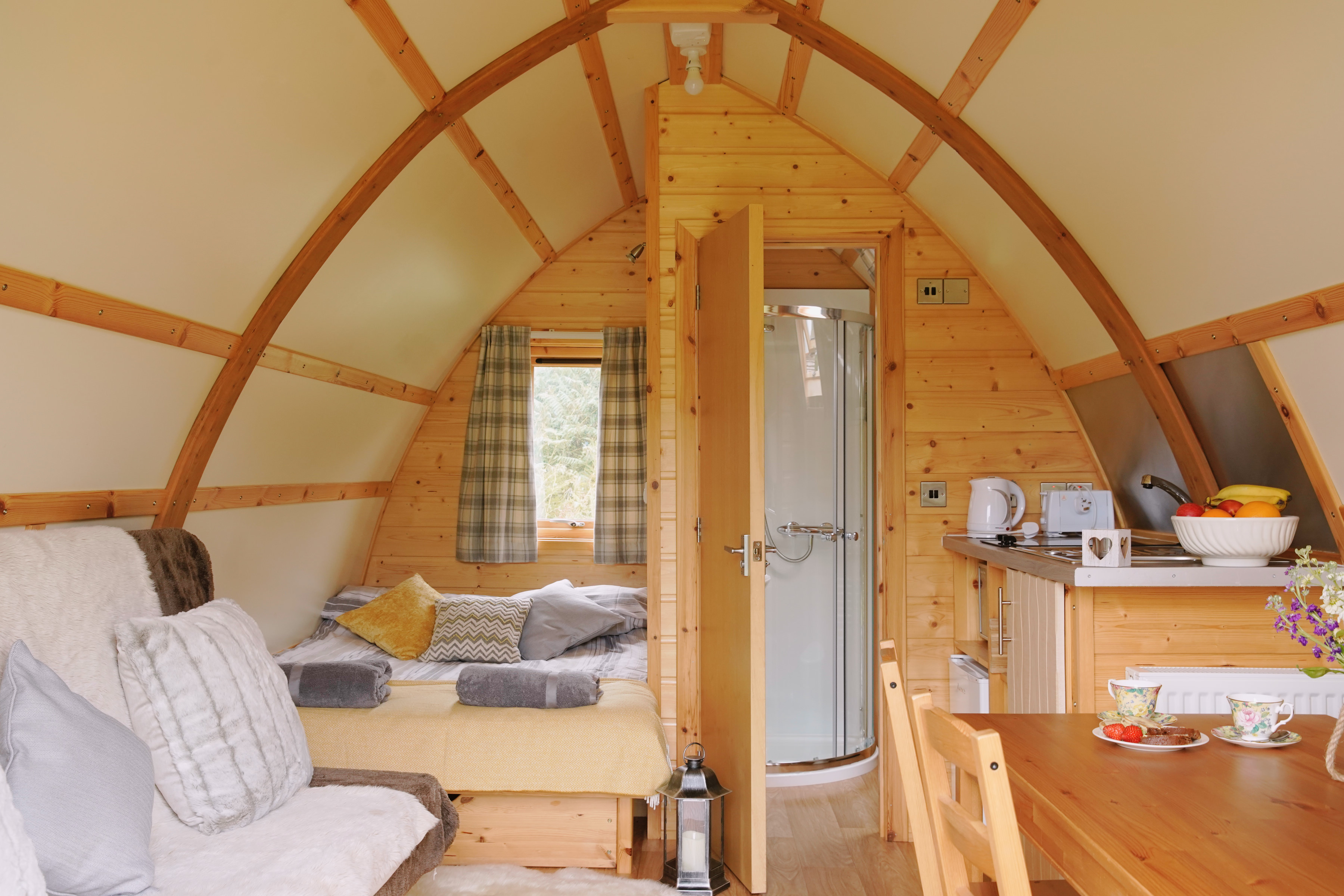 If you ever had a Wendy House in the garden when you were a kid you'll probably remember spending hours there playing in a mini version of your real home. For many it was a magical world of its own. Glamping pods have that throwback to childhood feel. That's why staying in one on a rainy day is just as much fun as going out exploring because everything you need is tucked up in your cute little cabin alongside you. It's like having your own pied-a-terre in the middle of nature!
Snuggle up inside or throw open the door, soak up the glorious views, and listen to the birdsong. It's the perfect way to embrace freedom from busyness and routine and enjoy some quality time with your nearest and dearest away from it all. And there's good news if you're a dog lover - your loyal pooch can join you in your posh rural pad at many sites. With so much already thrown in with your glamping package there'll be a lot more room in the car for your four-legged friends!
So what can you expect from today's Glamping pods? For starters they're spacious – you won't feel like you haven't enough room to swing a cat! The Wigwam Holidays en-suite 'Running Water Deluxe' glamping pod for example is 6.5 metres long and comfortably packs in a double bed and sofa bed with ultra-comfy quality mattresses. An electric panel heater, mini kitchen with crockery, fridge and microwave, dining table and chairs are all part of these fully insulated fabulous cabins. Whether used as a snug 'get-away for two' or for a family holiday the person who took the lead in booking your stay will be hailed a hero! Will it be you?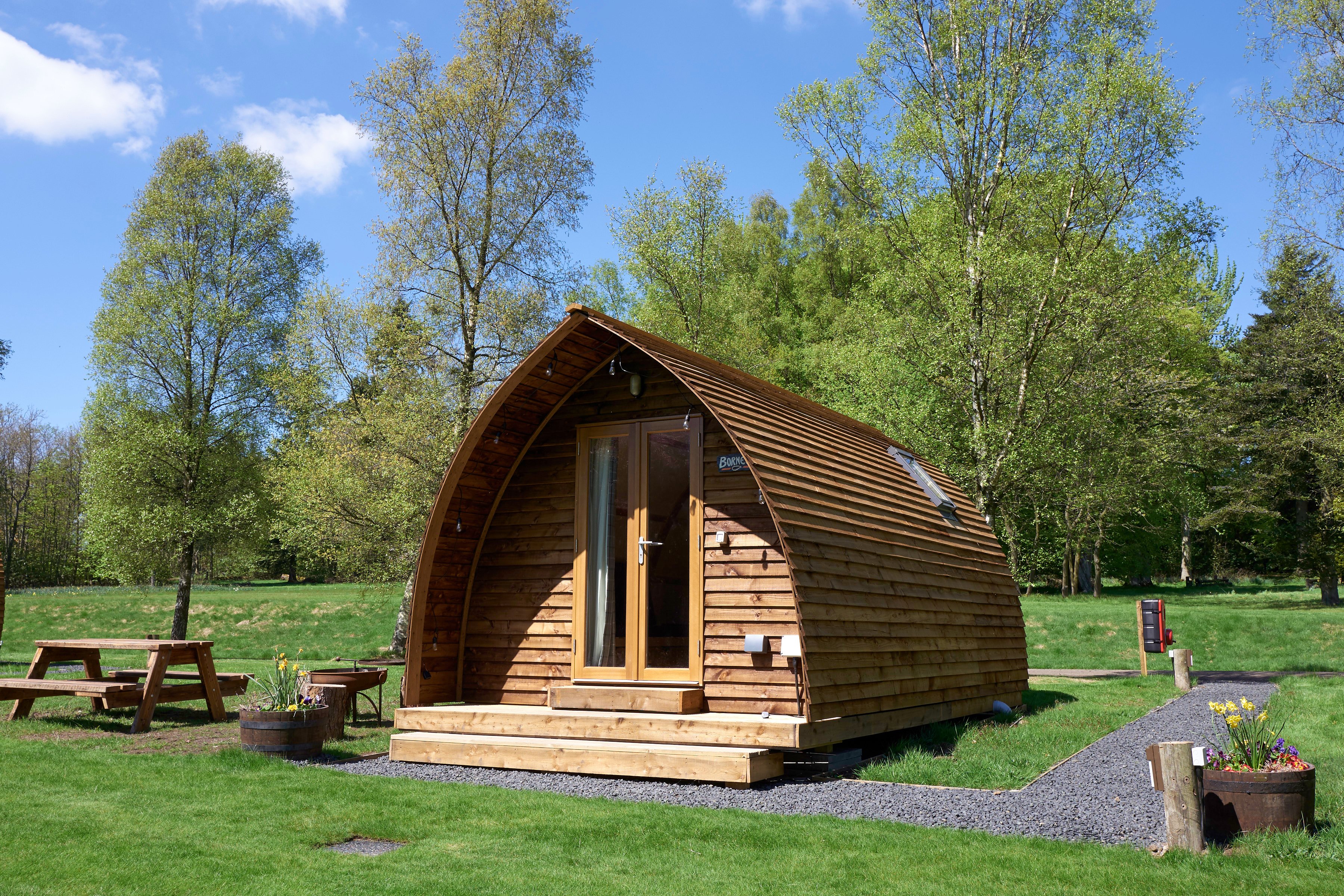 You can also expect a glamping pod to be in a sensational setting close up and personal to gorgeous natural surroundings. Such dream locations are the essential venue for this kind of holiday and can vary from mountains, lakes, rivers or the sea to wild forests, rolling hills, wide open plains or rocky island havens. If you fancy a romantic retreat there are secluded sites with only one or two pods. Or if you prefer an action-packed holiday with outdoor pursuits like kayaking there's sure to be a site that ticks this and many of your other 'wish list' boxes. Glamping provider websites will help you narrow down the choices based on your preferences so you can fast-track to booking what's right for you.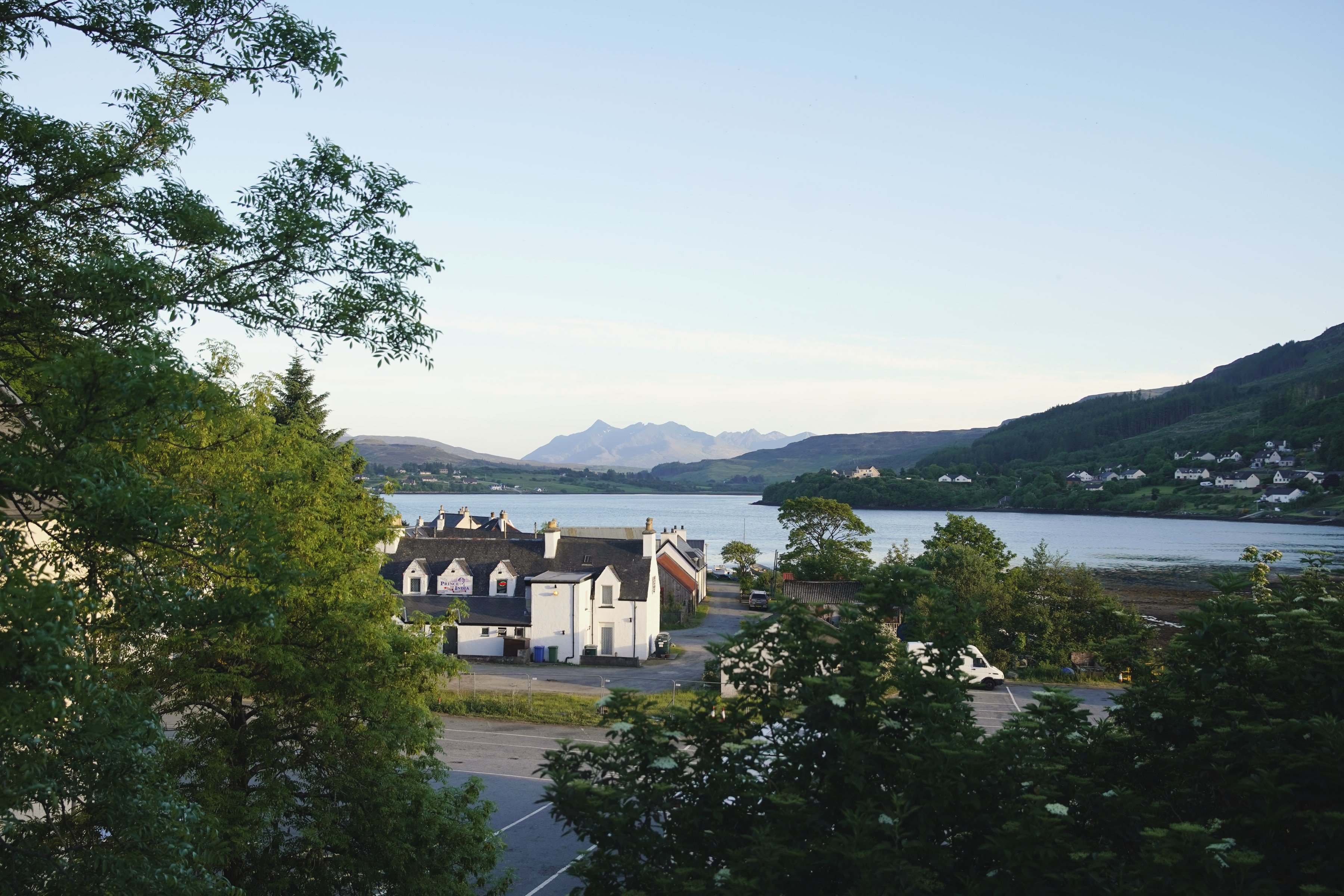 'Cosy for two' stand-alone glamping pods in beautiful settings like this at Greenley Croft Wigwams® in Aberdeenshire might be just the 'off the beaten track' hide-away you're looking for It sits on a small croft on the unspoilt Banffshire coast. There's a working pottery and small gallery on site and many wonderful coastal walks on the doorstep with charming seaside villages nearby. Welcome to glorious seascape serenity!
Other sites might have useful amenities such as a shop, leisure room, cafe or swimming pool. Some locations may be of particular interest to people with special interests such as fishing as at this location just outside Brampton in Cumbria.
There is a myriad of options available to suit your own unique tastes.
Super fun extras can include fairy lights and pretty bunting, access to a sauna or hiring your own hot tub right beside your Glamping Pod. Check out this site in mid-Wales which offers woodfired 'Luv-Tubs' and there are many more.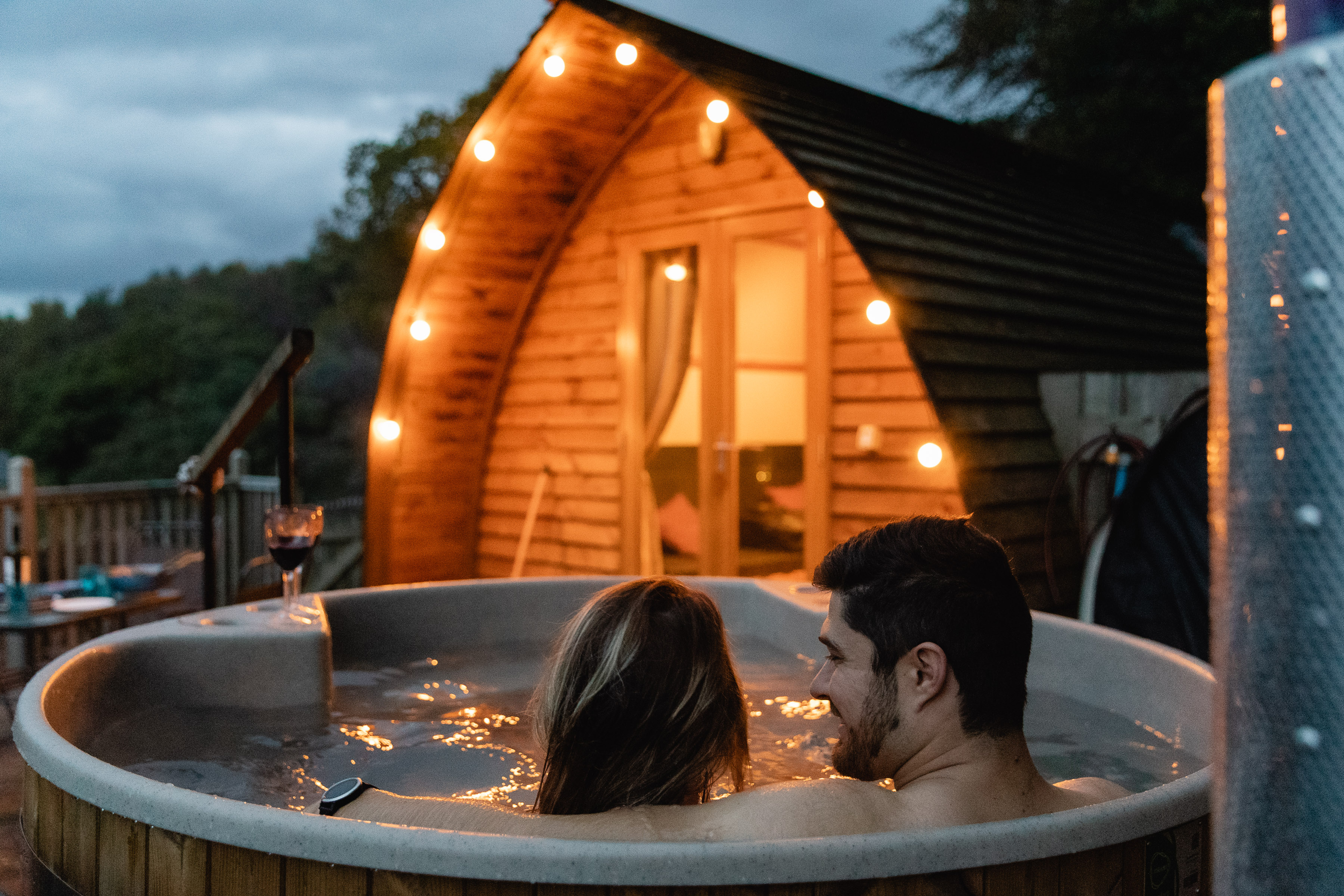 Of course no glamping trip would be complete without a camp fire and BBQ area included to give that fully immersive outdoors holiday experience. Some sites also offer pizza ovens and large outside lanterns to boot. Each proprietor is as individual as you are and offer their own spin on what's available. That's why it's such fun to shop around for the perfect match.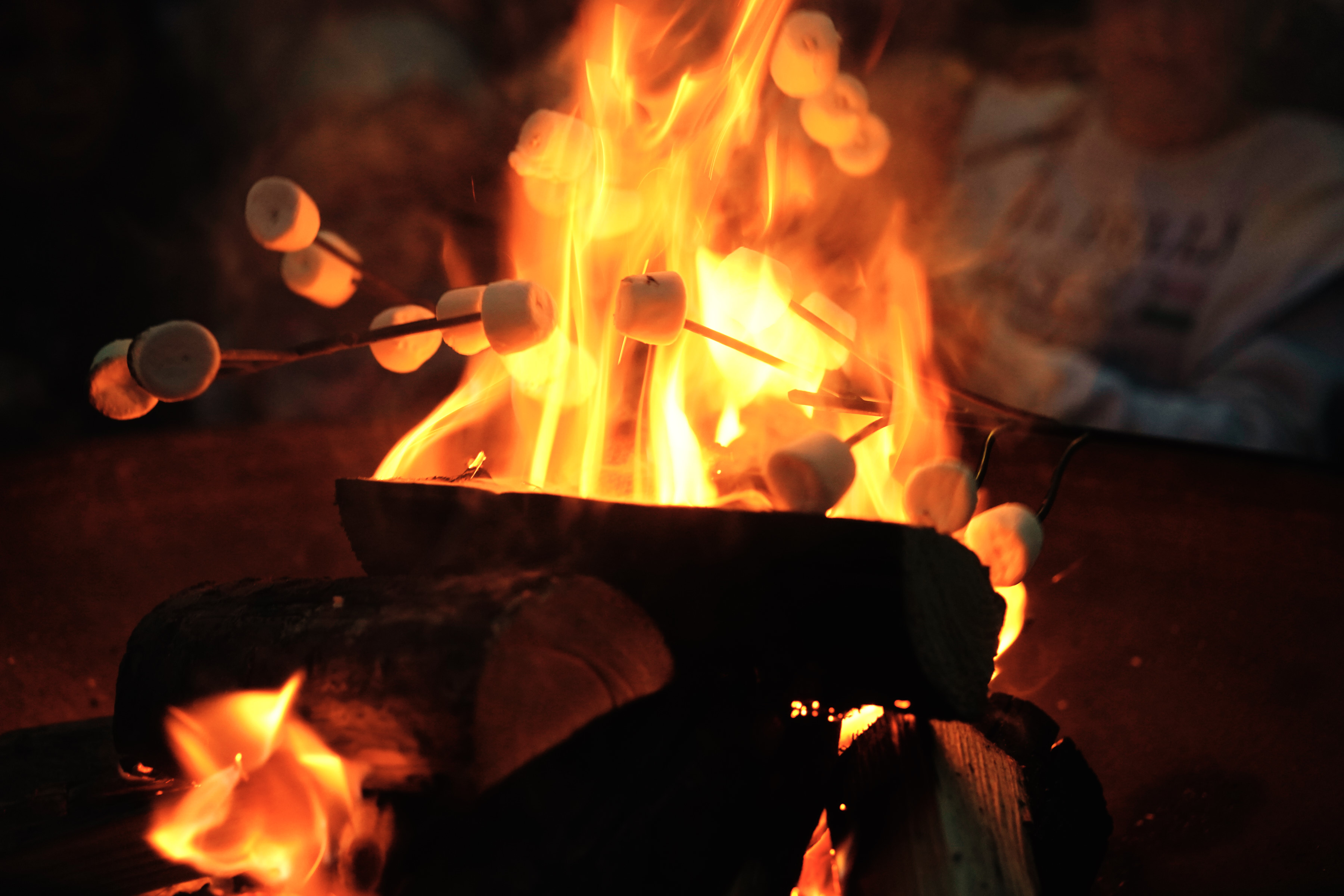 Have fun planning your trip together or surprise your partner, family or friends with your perfect choice to suit you all as a special treat! With top of the range glamping pods in all kinds of lush locations why settle for anything less? Taking your camping holiday to the next level with glamorous camping is a great decision and can be the start of an exciting new adventure of discovery.
For couples planning a special time away together or families looking to create some great memories a glamorous weatherproof escape to the country makes perfect sense. Whatever your reason for choosing the best that glamping has to offer browse our amazing selection of options now in over 80 fantastic UK locations.