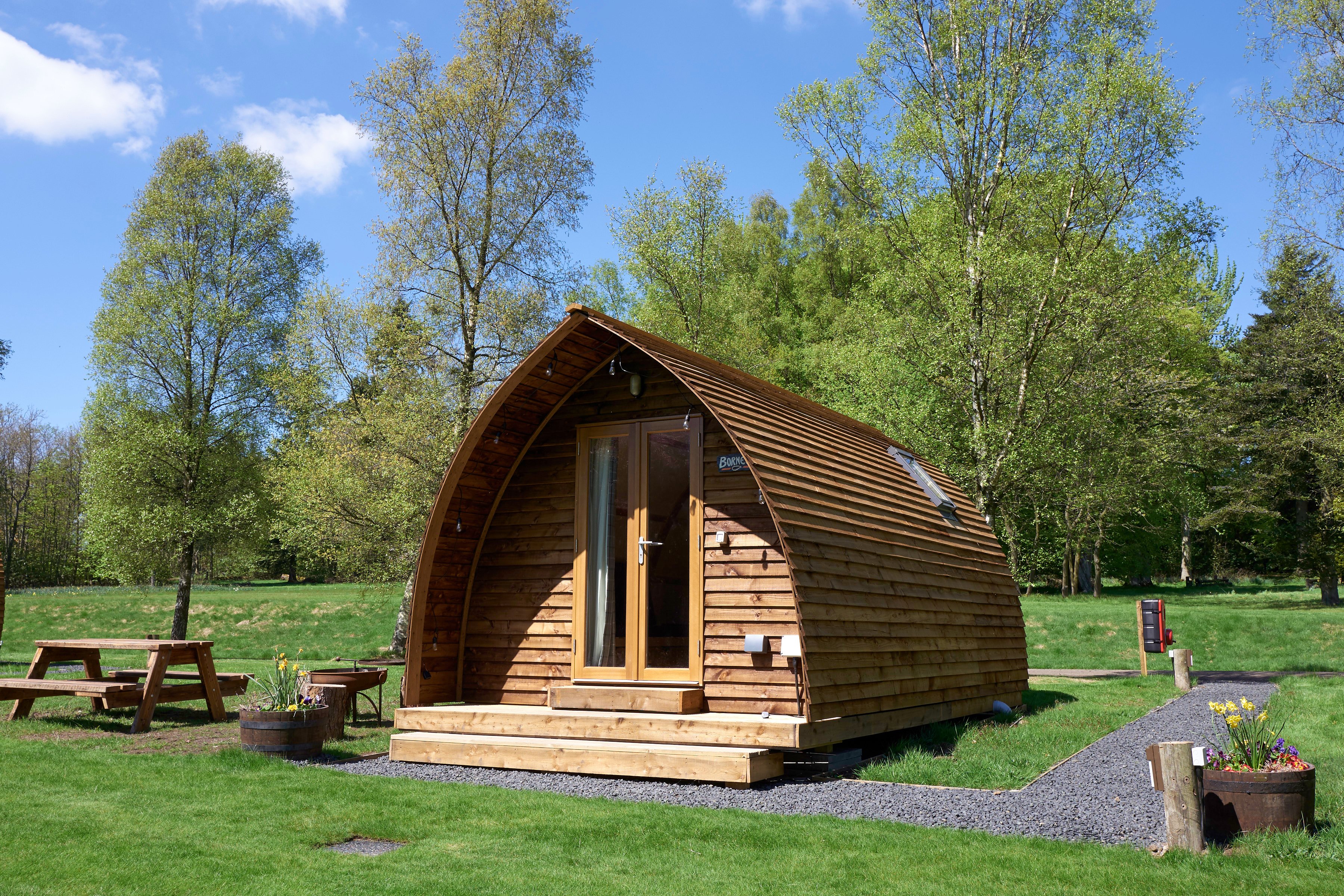 What is a Camping Pod?
Chances are that many of us will have wrapped up well and headed for the countryside or beach for a bracing walk in the wintry weather as part of our new year's resolution to get more exercise. Inspiring though such a foray may prove, getting back to our warm and cosy homes afterwards will have been for many a welcome relief! But did you know that can take a camping holiday in winter and still have the same positive experience of fun outings in beautiful natural surroundings with an inviting warm base to come back to? Welcome to the wonderful world of camping pods!
If you pick the right site you will easily find this type of luxury cabin-style accommodation at a reasonable price. Ideal for families, it's a great way to enjoy sleeping under the stars together in beautiful scenic locations whatever the time of year or weather. Explore the countryside by day and return to your comfy cabin at night with the option of your own camp fire just outside to look forward to. But do be aware that not all camping pods are equal.
Although most have a simple wooden structure in common just how comfortable you are will depend on how well made your pod is and what it comes with. Some are more like insulated wooden tents and may be pretty bare or ordinary inside. That's fine if you're happy with a stripped back interior and a no-frills experience which may involve sleeping on a futon or inflatable bed.
Other snazzier pods though, take it to the next level. Some boast sufficient insulation to withstand the worst of the weather in the most northerly parts of the UK out of season! Even the smallest of these can offer double glazing, electric heating, sleeping platforms, comfy mattresses and useful basics like a fridge, microwave, kettle and toaster as standard. Larger versions may even throw in the kitchen sink literally! A mini hob to go with it plus private shower, wash basin and loo are also available if you want to cross-over into glamorous camping - but more about that in a future blog.
For many people a camping pod is a reassuring step up from a tent in our unpredictable climate and involves far less hassle not to mention the security of a lockable door. It's a great first step to family camping in the countryside if the thought of being vulnerable to the elements under canvas has put you off going wild in the country so far! Your accommodation is an important part of your holiday and should feel special and comfy and camping pods can easily tick both boxes!
Even if the pod you opt for is fairly plain you can always jazz it up for your stay with your own rugs, cushions and throws to add your own style if you don't mind bringing them with you.
When it comes to camping pod facilities - with more basic pods you can expect to find shared toilets, showers and (not always so do check) kitchen or catering facilities on site. Unless they can be hired, at most sites you will need to bring your own bedding and towels with you. More elaborate pods will include some of the above amenities within the privacy of your own cabin. Some camping pods provide electricity and a heater as part of the price others may have a metre with tokens instead.
You may be wondering how many can a typical pod sleep and if you'll need to bring extra relatives or friends to get your money's worth? Some sites charge per pod and others per person but with the average pod sleeping between 4 and 5 adults from as little as £16 per person per night in winter you won't need to cram in as many people as possible to keep costs down. So you can forget all those 'how many people can you get in a phone box or a mini' record attempts – this kind of a break is easy on your pocket even just for you and yours!
Of course for many, no holiday is complete without the family pet joining in the fun and games. Many camping pod sites accept at least one dog in some cabins. There may be a small extra charge but that's nothing compared with the cost of leaving your prized pooch in kennels not to mention the emotional cost of feeling guilty when you leave your four-legged friend out of what would surely be any dog's dream holiday.
Basically a camping pod is for those wanting an authentic close to nature camping experience without the inconveniences or uncertainties of doing the same thing under canvas. Pods are great for families and extend your camping season options to all of the time all of the year! They're also an expression of your individuality offering many bespoke choices to fit you and your tribe. What's not to like?
We hope we've answered your questions as to what is a camping pod? But finally it's worth considering what it most definitely is not. A camping pod should not be little more than a glorified garden shed touting fairy lights and other 'bling' but not really robust enough for spending quality time in including (and especially!) sleeping. It should be genuinely fit for the purpose of camping in the outdoors not an attempt to cash in on this growing holiday market with an inferior or inadequately equipped product!
Most camping pod sites thankfully offer the real deal and sticking with a recognised brand could be a smart move for first time campers. Wigwam Holidays have been in the business for nearly 20 years and make all their own cabins to high specifications so you can be sure that what their sites say about their pods is what you'll get at any of over 80 stunning locations in the UK. Browse for your camping pod holiday at any time of the year with confidence at www.wigwamholidays.com