Transform Your Winter Camping Experience
If the words 'winter' and 'camping' combined into one sentence bring you out in the shivers, then you're doing it all wrong. For those in the know, taking a camping trip during the winter months can be a magical holiday that beats a faceless hotel minibreak hands down.
In fact, camping throughout the winter season can offer an experience that's in equal measures exhilarating and comforting. So channel your inner nature god or goddess, and prepare to camp!
Camping in Winter Weather
Of course, the biggest elephant in the room, or more precisely tent, is the unpredictable winter weather. While no one enjoys the idea of setting up camp in the teeming rain while attempting to keep the kids entertained, the prospect of whiling away an evening playing board games while listening to the soft pitter-patter of rain on canvas is indeed more appealing.
The key here is to turn the weather to your advantage. You are already aware that you are likely to encounter cold temperatures and potential rainfall, so pack your waterproofs, your cosiest blankets, and a few hot water bottles and embrace the winter season.
While an unexpected downpour during a summer break can undoubtedly put a 'dampener' on things, during the winter, you can choose to make a memorable experience of whatever the weather throws at you. Turn a walk in the rain into a puddle jumping competition, brave a winter paddle in the sea, or enjoy throwing a snowball or two.
Campfire Cooking
"Chestnuts roasting on an open fire, Jack Frost nipping at your toes". Feeling the winter love yet? Eating al-fresco to the backdrop of a flickering campfire is one of the greatest pleasures that winter camp-dwellers can enjoy.
Dining on some warming favourites such as mixed bean chilli over campfire roasted potatoes, or bonfire bangers followed up with melted marshmallows is the type of dinner that goes down in mealtime legendary.
Fancy something a little more grown up? Try making your own heated spiced cider, or warming winter Pimm's to keep the chill off, and enjoy under the canopy of stars that only a clear winter night affords.
Winter camping offers you the opportunity to get creative when it comes to mealtimes. From the sheer joy of a long walk followed by a lovely pub lunch, to the simple fact that you can lay out your dinner without being pounced upon by the insects of summer. When it comes to food - winter is truly the best season, without a soggy salad in sight!
Watching Winter Wildlife
Winter is an excellent time to see local wildlife. As the leaves fall from the trees, a host of animals become a little easier to spot. If the ground is muddy, or even better, you're lucky enough to enjoy snowfall during your trip, you can enjoy studying and identifying animal tracks, a great activity to keep kids entertained.
Additionally, in winter, it's the best time to observe birds who roost together for safety and warmth, so it's not unusual to see huge flocks dancing through the air as the sun sets, what could be more romantic?
Of course, another benefit of winter vs summer is the distinct lack of pesky flies and midges that abound during the summer months. No need to pack your insect repellent, no agonising evenings trying to itch that one bite that you cannot quite reach, and as we mentioned before, there is no need to keep your food locked away to avoid an army of insects stealing it.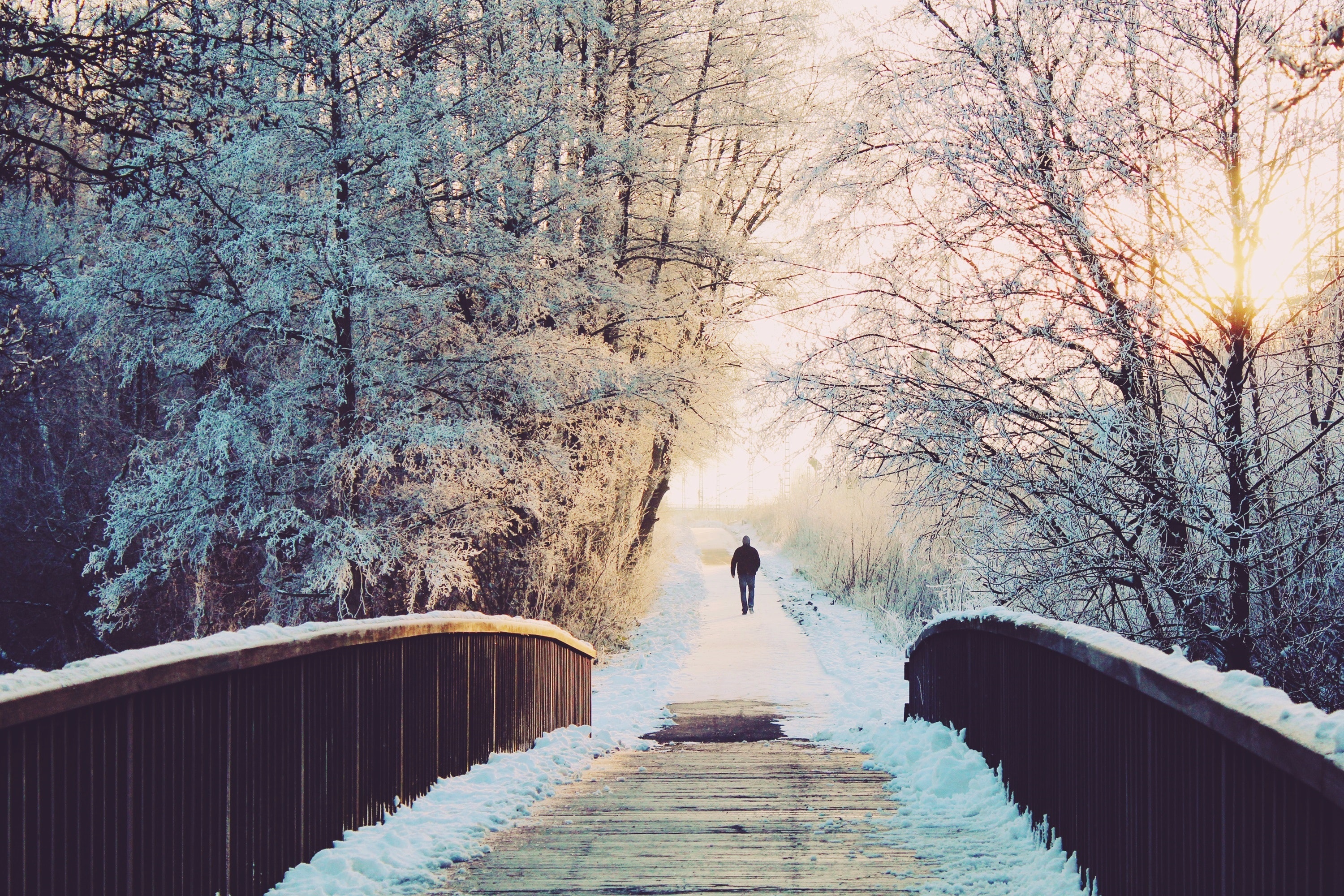 Winter Walking
There are so many reasons why a bracing winter walk is fabulous. The crunch of the ground under your feet, breathing in the fresh, crisp air, and the boost in mood you get from heading out in the daylight hours.
With increasingly sweltering summers, if you have a love of fresh air and a good hike, winter is actually the best time to take a walking break, as temperatures in the warmer months can put a halt to being able to trek for miles.
Whether you enjoy the thrill of putting the first footprints on a deserted beach or following nature trails with your four-legged friend, the colder months are an ideal time to explore. So pack up your thermos, your weatherproof boots, and get out there!
Ditch the Dull Half Term
Let's be honest - the winter half term can be a bit of a nightmare. Either you're stuck indoors having endless 'pyjama days' which sounded like a dream until around day two when watching Frozen on repeat got a bit old, or you're desperately scrabbling for days out that sit under a warm roof (another cinema trip anyone)?
Instead of waiting for February half term inspiration to strike, why not plan a winter camping break? It can be an excellent opportunity to get your children motivated during the winter months, building a love of the great outdoors that can last for a lifetime.
Getting Cosy
Whether it's snuggling up under a warm blanket or sipping on a steaming mug of hot chocolate; for those whose favourite part of the year falls firmly between November and February, the rationale tends to be the same - comfort.
Unless you've been under a rock for the past few years, you've probably heard of the concept of hygge - a quality of cosiness that gives a feeling of wellbeing. Get your hygge on by stocking up on snuggly socks, an electric blanket, and a few home comforts such as squishy cushions and furry throws and spread liberally throughout your tent.
Winter Camping in Style
If, after reading all of the above, you still are not convinced that spending your winter break in a tent is not for you, why not consider a Wigwam® Cabin? You still get to enjoy all of the benefits of a camping holiday, but with the added comfort of a fully insulated and double-glazed structure, with heating, lighting, and electricity.
Some of our sites even have some added luxuries... Imagine enjoying sitting in a hot tub on a cold winter's night while sipping on a glass of champagne while looking up at the starry sky.
With locations across the UK, you can choose to explore wild coastlines, walk the countryside or magical winter woodland.
Browse our winter deals to find your perfect Wigwam break.