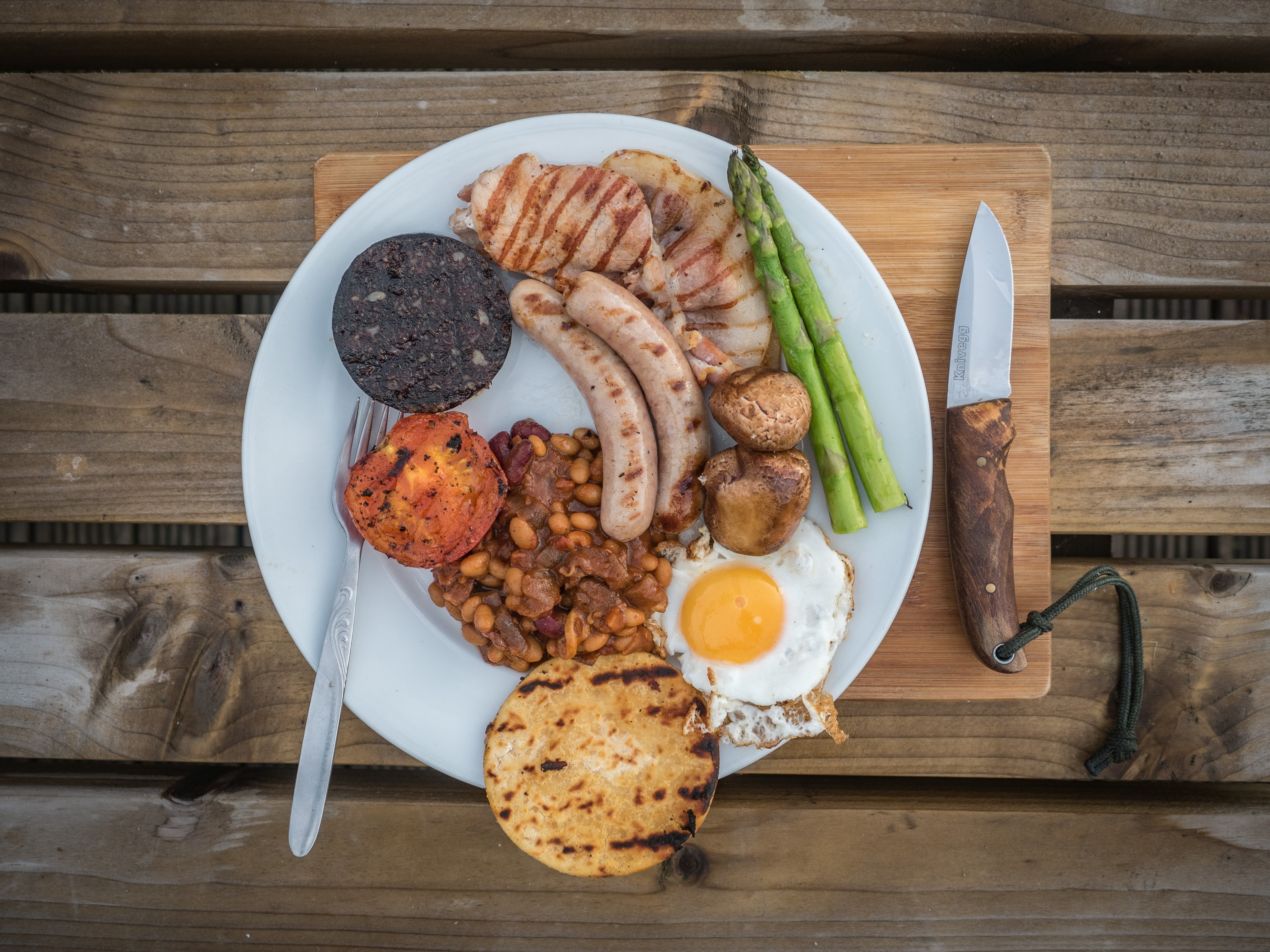 The Ultimate Campfire Cooked Breakfast
A good cooked breakfast is more than just a meal — it's a statement of intent. It signals to the world that today is a day dedicated to you, and to enjoying the good things in life. It gets made reverently on special occasions, when you have all the time in the world, and a good breakfast is the perfect way to stretch out a lazy morning. No hurried bowl of bran flakes and a quickly gulped coffee on the way out of the door, that's definitely not going to cut it on your holiday!
They say that breakfast is the most important meal of the day, since it sets you up for what's to come, and with a proper day of relaxing and refreshing fun ahead of you, this proper breakfast has got you covered. Cooking on the griddle over a fire keeps things simple, saves on washing up, and gives that deeper connection to your cooking that is well suited to a 'treat yourself' meal like this.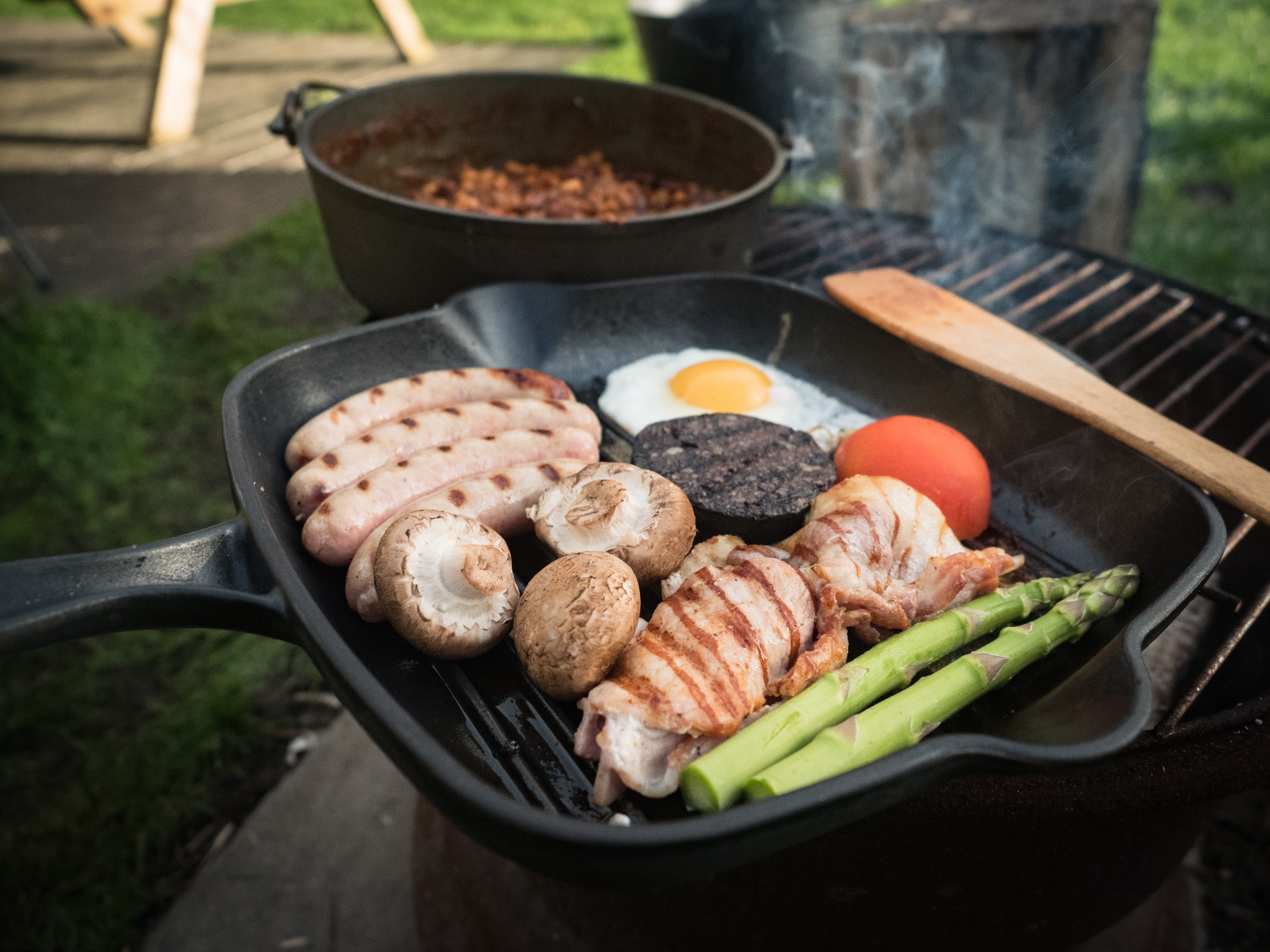 The 'full English' (or full Scottish) breakfast is more a set of guidelines than a recipe, so feel free to pick and choose. When I went to stay at the Wigwam cabins at The Loft, near Forres, I was lucky enough to have the excellent Macbeth's butchers nearby, where I was able to pick up some lovely bacon, sausages and black pudding, but these can easily be replaced with vegetarian alternatives.
I don't find a plate full of meat all that appealing, so I like adding some vegetables to a cooked breakfast to add some different colours, textures and flavours. Tomatoes are a breakfast classic, and they cook really well on a nice, hot griddle. The seared flesh gives them a very different flavour to a roast tomato. I also added some asparagus, as it also suits being cooked on a hot griddle and becomes much more flavoursome. With a little oil, mushrooms become golden brown and go great with the meat ingredients.
Baked beans are, of course, a staple of the cooked breakfast, but if like me you've tried our 'Cowboy Baked Beans' recipe the evening before, then you might be lucky enough to have some leftovers to add to your ultimate breakfast. To mop up all that tasty sauce at the end you might want to use some bread, but if you've really gotten into the spirit of things you might want to knock up a quick batch of campfire bannocks! With a nod to the Scottish surroundings, a 'tattie scone' is also a great way to mop up any leftovers.
Whatever you choose to add, a griddle is the best way to cook everything except the beans. A strong fire that has been allowed to die down to glowing embers is best, and you'll want to place the griddle over it for five minutes before you start cooking, to allow it to heat up. A little oil or butter will help to stop things sticking.
My menu:
Bacon
Black Pudding
Sausages
'Cowboy' baked beans
Fried egg
Large tomato
Chestnut mushrooms
Asparagus spears
Potato Scone

How to cook the ultimate campfire breakfast:
Apart from the baked beans, this was all cooked on a single griddle. The thicker meat ingredients like the sausages and black pudding need a little longer than the others, around 10 minutes on each side. The potato scone, bacon, asparagus, mushrooms and tomato need around 5 minutes on each side. The fried egg needs the least time on the griddle: around 5 minutes if you want to keep the yolk runny.