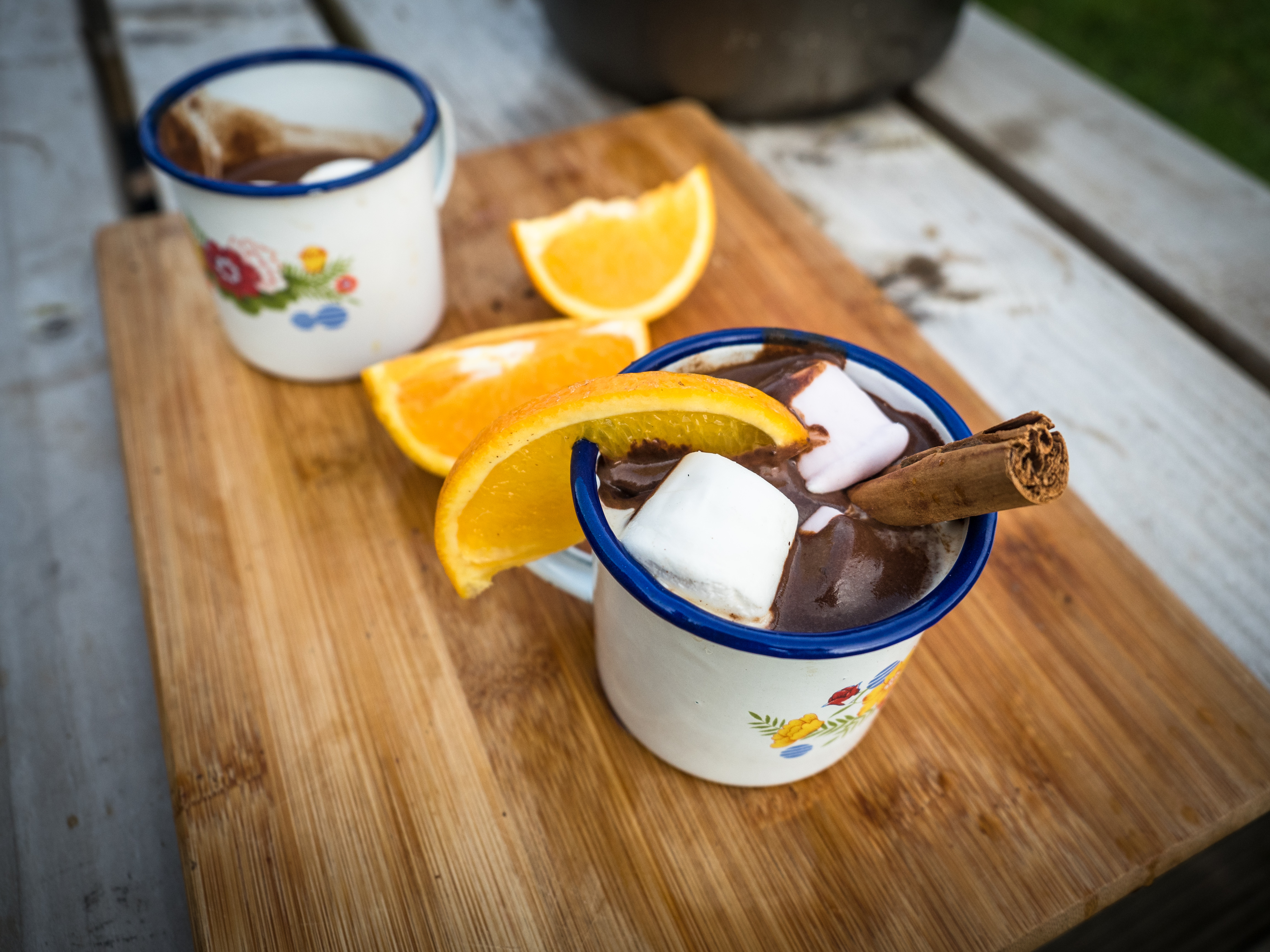 The Best Glamping Hot Chocolate
Winter is full of sensations that make it a special time of year: cold air on your cheeks, the voices of friends gathered around a fire, and the smell of damp earth and woodsmoke. For me, no sensation sums up winter better than the warmth of a steaming mug of hot chocolate in your hands radiating through the wool of your gloves. If you can't enjoy noisily slurping down a decadently sweet and creamy mug of velvety chocolate, then there really is no hope for the salvation of your Christmas spirit, I'm afraid.
Just as no summer dining experience is complete without a chilled glass of white wine, as far as I'm concerned hot chocolate is winter. Although my memories are of bottomless mugs of frothy, molten perfection allowed as a treat before bedtime, I suspect that might be the rose-tinted glasses that I'm wearing. In fact, it was likely just powdered chocolate from a tin, which behind the sweetness of its copious sugar content is about as flavoursome as shredded cardboard. I think the very best hot chocolate should be dark and nutty. Cadbury has a lot to answer for.
No, if you're going to do hot chocolate properly, then you've got to do it right, and hot chocolate powder is simply not going to cut it I'm afraid. Cocoa powder would be a good start, but if you've ever tried stirring the powder into hot milk then you'll know that ending up with a lump-free drink is nigh on impossible. Instead, this recipe uses solid chocolate melted into the milk to give the velvet-smooth consistency that makes it irresistible. A little cream adds to the richness, and a pinch of salt brings out the chocolate's flavour in an unexpected way. Of course, simplicity is one of hot chocolate's appeals, but if you want a little variety then cinnamon and nutmeg add a comforting level of spice without heat. If you want to do it the Mayan way and spice things up a little, then some like their chocolate with a little chili kick, although kids might enjoy the classic version with a little sugar for that sweet tooth. Other flavours can work well with chocolate, depending on your tastes, so a little experimentation is always fun. Fruit fans might enjoy the zest of an orange stirred in while heating the milk.
As it only needs a single pan, this recipe is simple to make indoors over the stove, but is all the better for being made over a fire outdoors, where the added ritual of hot flames and chilly air makes the end result extra satisfying. Any 'little helpers' might enjoy the extra tasks of fire stoking and marshmallow taste-testing while the hot chocolate is being heated!
Recipe
Serves 4
Ingredients
2 pints whole milk
200g chocolate, finely chopped. Either 70% cacao dark chocolate, or milk chocolate if you prefer
125ml single cream
½ tsp ground Cinnamon (optional)
¼ tsp ground nutmeg (optional)
Juice and zest of ¼ orange
Pinch Salt
Sugar to taste
Marshmallows!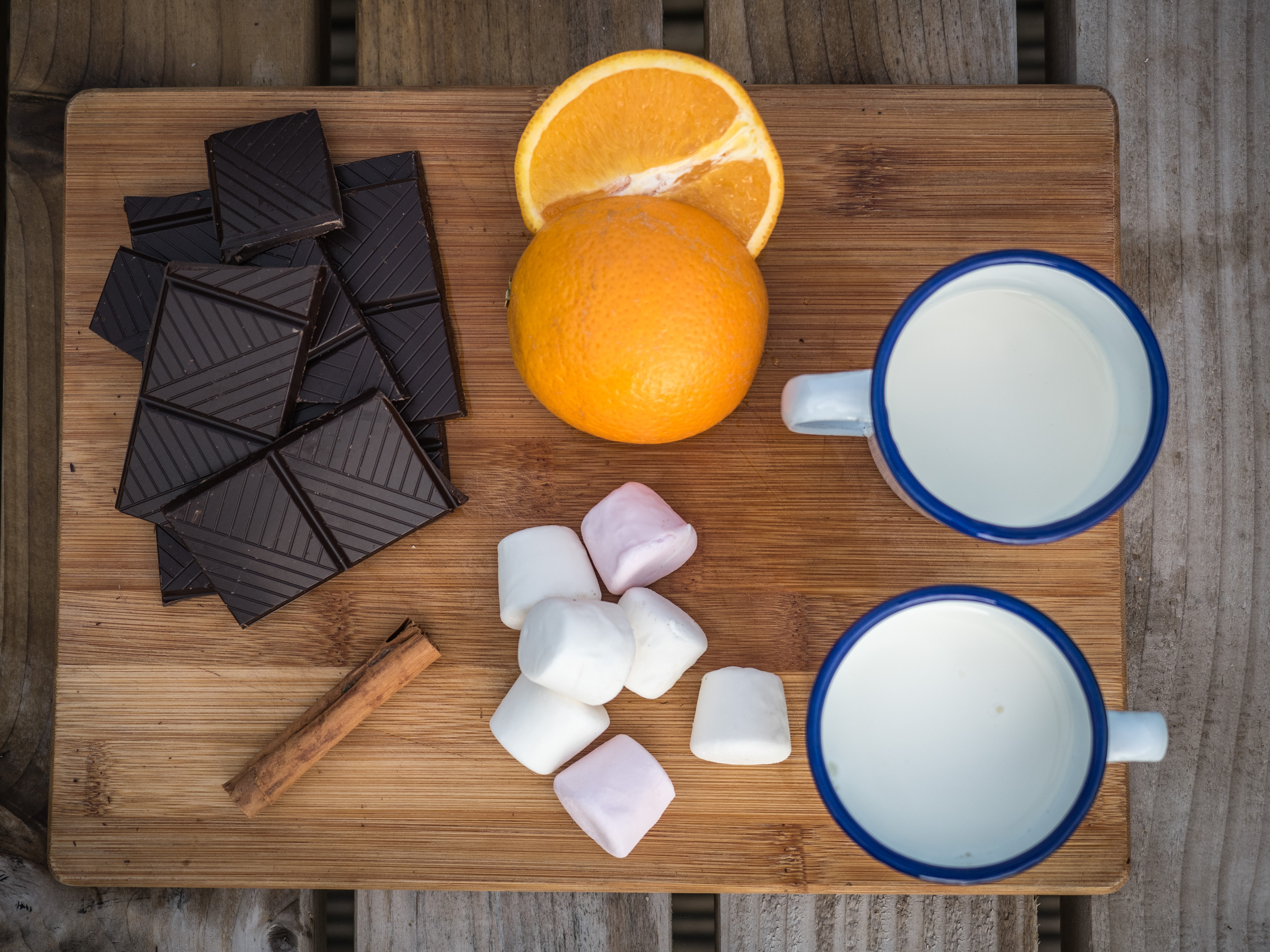 Method
Warm half the milk in a pan over the stove or fire. Be cautious when using an open flame as it is easy to burn the milk on the bottom of the pan. Heat it gently, stirring almost constantly. Stir in the chopped chocolate, and continue stirring until it's all melted in.




Stir in the rest of the milk and the cream. Keep heating the hot chocolate until it's not quite boiling. When little bubbles appear around the sides and on the surface, then you're there.




Add the cinnamon, nutmeg, and orange. If you'd like your chocolate extra frothy, give it a good whisk at this point.
Add the salt, and sugar to taste.
Serve with marshmallows* and enjoy!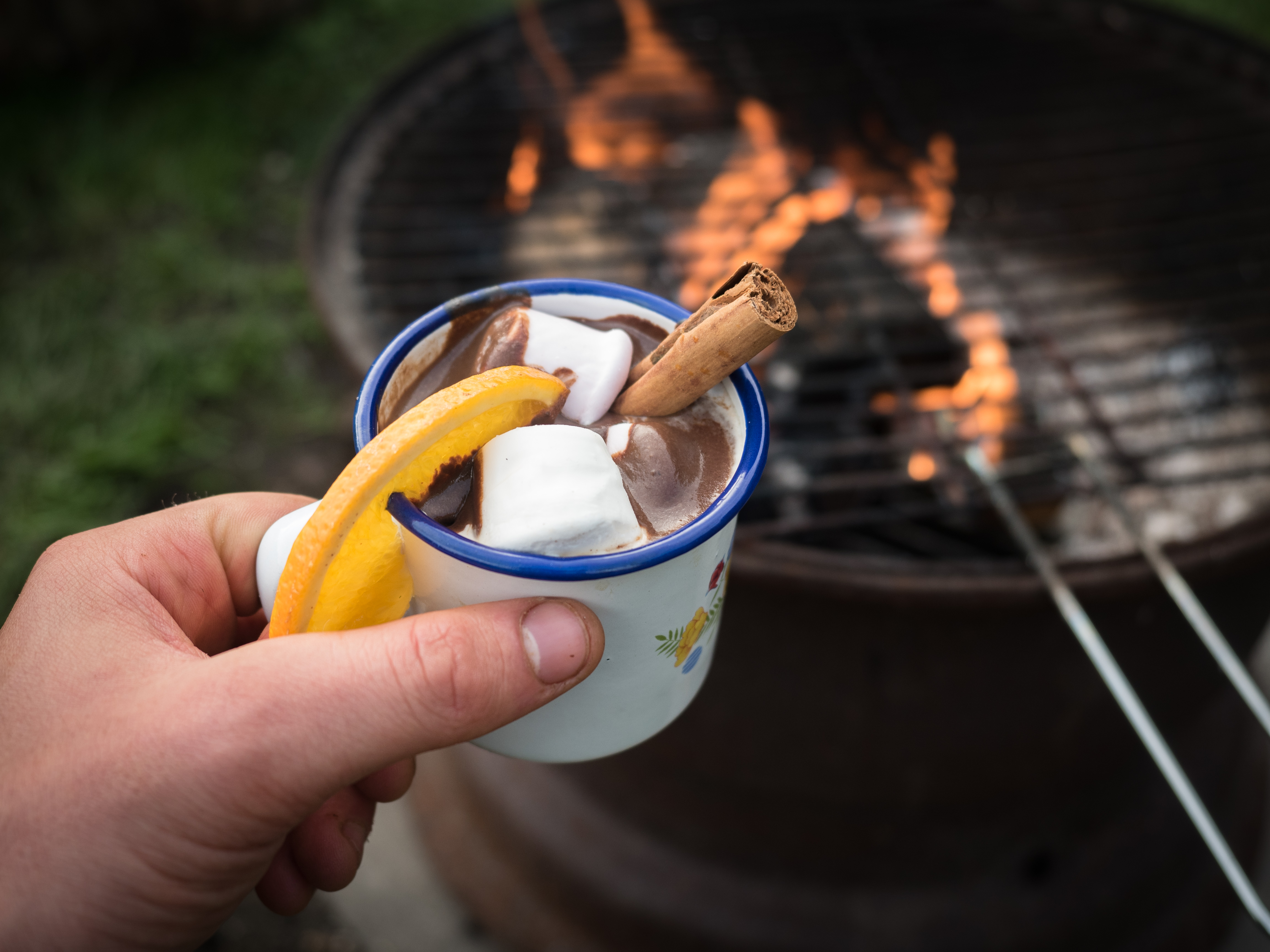 * Adults might, when the kids aren't looking, want to replace this ingredient with a wee tot of rum or brandy… We won't tell if you don't.
Love campfire cooking?


We love campfire cooking and love sharing our recipes! Find some more below: