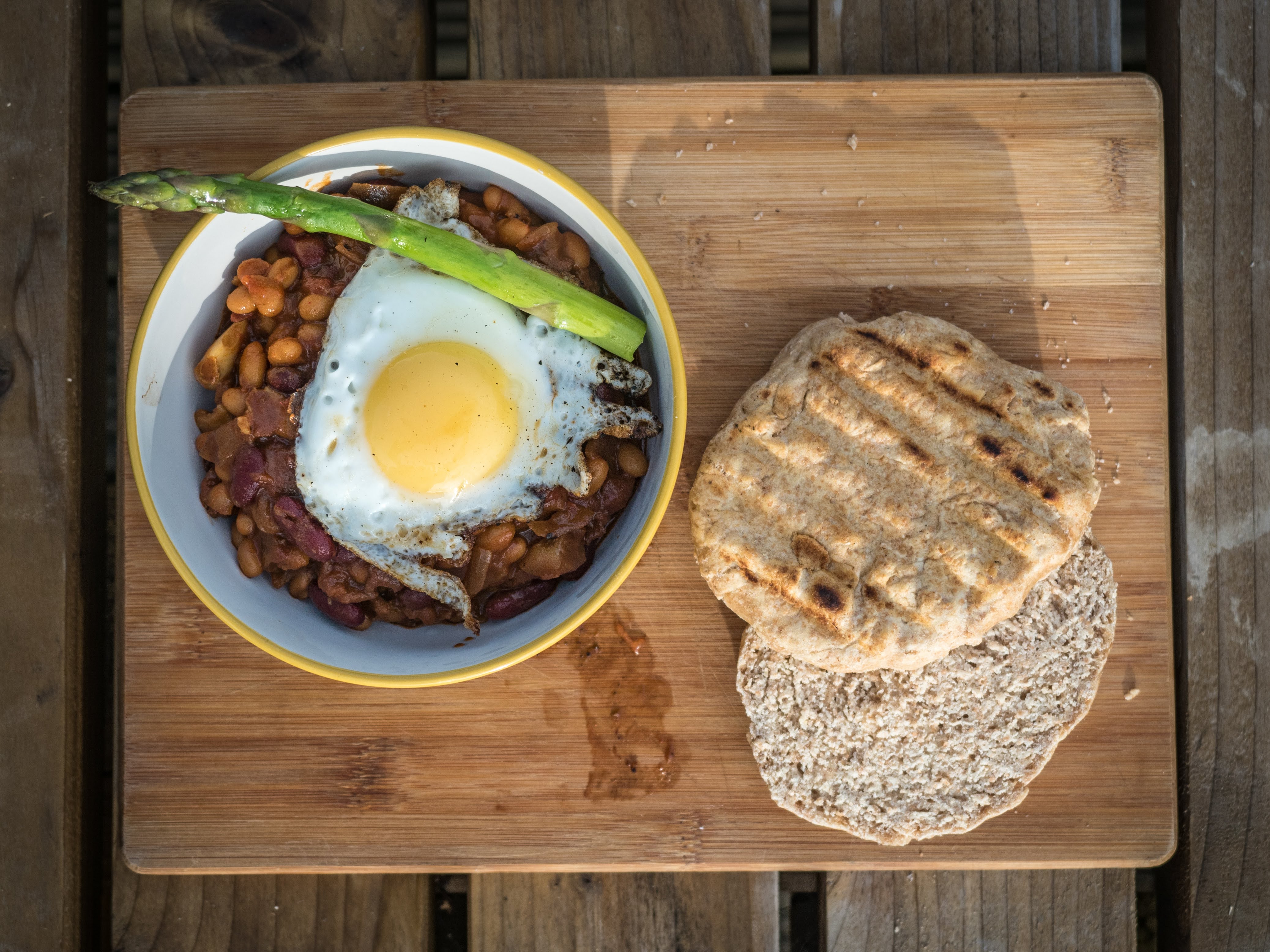 Make Your Own Cowboy Baked Beans
To take your outdoor cooking to the next level, you might need some inspiration from the masters — and who knows more about cooking out under the stars than cowboys? This recipe is a great way to rustle up a hearty meal while channeling your inner cowpoke, no spurs or ten-gallon hat required... It uses a single large pot, plentiful onions and garlic, some bacon if you want the carnivore option, and of course those all important beans. The spices and sugar give the beans their more-ish, barbecue flavours and will make you unable to even consider eating baked beans out of a green tin ever again. This is comfort food at its best: simple preparation, generous portions, big flavours and plenty of leftover sauce for mopping up. The cooking smells will bring people flocking well ahead of time, so our advice is to keep a large spatula nearby to swat away hungry hands!
This is a far-cry from the sad student meal of baked beans on toast. A bowlful of these beans is a hearty meal in itself, or they can make a perfect accompaniment to a salad, a cooked breakfast or simply served on toast with a fried egg on top. It's pretty hard to go wrong! However you serve them, the cooking is best done in a heavy casserole dish to make sure that the heat from the fire is spread nice and evenly.They're best cooked slowly over a gentle heat, so if you want to be the best spatula-slinger in town make sure to leave plenty of time to get the fire nice and hot, as well as the twenty minutes needed to prepare and around ninety minutes to cook the beans until they're tender and the flavours are developed.
A batch of campfire bannocks will make a great accompaniment to your cowboy beans, but the classic baked potato is equally delicious. Simply pierce your potatoes with a fork a few times and wrap each one well in tin foil with a little butter. Once the beans are cooking nicely, place them on the grill if you have room, or in the gentler heat of the embers around the edge of the fire. They'll need 30-45 minutes to cook. If you really want to go to town, I love my beans topped with a fried egg and allow the yolk to mix in with the beans. Don't worry about making too much, either: the flavour only gets better if you leave the leftovers overnight to tuck into for breakfast the next day!
The Recipe
Serves 4
Ingredients
3 Tbsp olive oil
3 small onions, roughly chopped
4 garlic cloves, whole
6 slices smoked bacon, chopped (optional)
2 x 400g tin haricot beans, drained
400g tin red kidney beans, drained
4oog tin chopped tomatoes
250ml vegetable stock
1 Tbsp black treacle
1 Tbsp dark brown sugar
1 Tbsp dijon mustard
1 Tbsp cider vinegar
2 Tsp smoked paprika
Salt and pepper to taste

Method
Heat the pan over the fire, but not too strong a flame. Embers are best. Add the oil and the onion, and cook gently until the onion becomes golden.




If using bacon, add it now and cook for 5 minutes or so, stirring often.






Add the garlic, treacle, sugar, paprika, vinegar and mustard. Stir well for 2 minutes until the onion and bacon are well coated.




Add the chopped tomatoes, beans and stock, stir well and cover. Cook over a medium heat for 90 minutes, stirring occasionally. Season to taste, and enjoy!








Love campfire cooking?
We just absolutely love campfire cooking and have loads more recipes you can find here: