Glamping Adventures in Scotland - Part 1
If you were only having three hours sleep in a night and were the proud (but exhausted) parents of a constantly bouncing-off-the-walls 3 year old and a six month old baby who seemed allergic to napping - would you go on a two week camping holiday North West Scotland?

I'll leave a pause here for you to quietly say 'NO WAY' under your breath.
'No way' is the response I should have given when my husband first suggested it, but for some reason - possibly because I was sleep deprived and assumed my husband was sleep talking - I said 'okay! Let's go'.
I should say - we are seasoned campers. We camp as often as we can from May till late October. We camp in forests, we camp by lochs, we camp up mountains, we camp in sand dunes. We will camp anywhere. And we're not put off by having babies with us. In fact, we took our eldest son camping for the first time when he was 7 weeks old. It was absolute madness, and I spent the coldest night of my life making sure he was warm and cosy (he was), but we did it all the same.
We are campers to the core. We love everything about it. We love the kit. We love working out our itinerary. We love cooking on the campfire. We love the journey and we love working out where to stay (wild camping always - until you need a shower, and then a campsite is acceptable).
If anybody ever suggested we try out 'glamping' we'd laugh. Glamping! Hah. That's what people who don't know how to camp do.
Fast forward this story to the middle of the first week of our insanity lead holiday. It was starting to feel much less like 'holiday' and much more like 'gruelling punishment' Tempers were frayed. Moods were low. Emotions were running high. The baby had started to wake up for the day while owls were still hooting in the trees. Not one campfire had been lit. Marshmallows went untoasted. The weather was terrible. Nobody could stay awake beyond 8pm (apart from the baby. Obviously).
Our camp spot was too close to a busy road. Deep down, we knew it when we set up. But our vast amount of stuff wasn't going to put itself up before dark, so we just had to make do. And the baby insisted on being fed. What we didn't know about that road was that it was a popular one for 50s B movie style drag races and big, hairy motorbike gangs.
Okay - maybe it wasn't quite that bad, but whoever was hurtling along those roads at night, they were fast. They were loud. They were blasting music. They were having the time of their lives. We however, were not.
Despite all of that - we couldn't bare the thought of moving on. Having to deal with both kids at the same time as packing up our obscene amount of kit was deeply depressing.
And was it our imagination or was the wind picking up by the hour?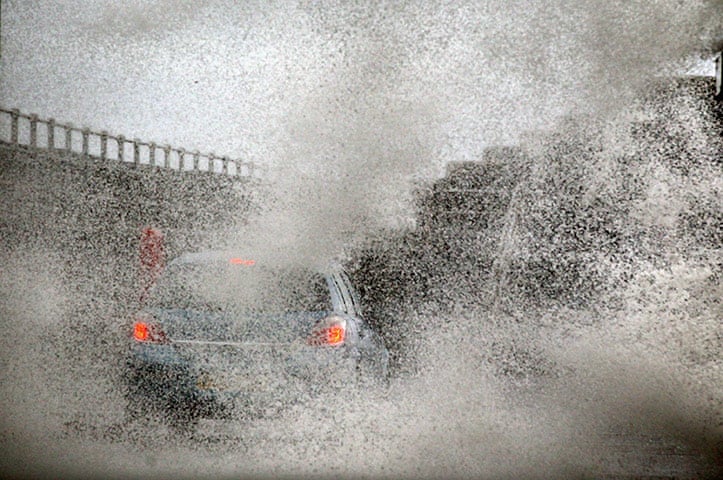 Dragging the last of our camping spirit from our boots, we knew we had to move on. Packing up our belongings in the pouring rain and howling wind, we decided it was time to look for a campsite to hunker down in. Campsite amenities come in very useful in times of horrendous weather.
With two sleepers in the back of the car we had our eyes peeled for a campsite that might have spaces for us to check into. We'd already been turned away from one so we weren't too optimistic. "Who goes camping in this kind of weather?" my husband asked, in frustration at a fully booked campsite. Completely unaware of the irony.
It wasn't looking good. We'd started to discuss the idea of finding another temporary wild camping spot and were looking at maps for potential areas.. The wind was really howling now and the rain was coming down in sheets.
With map akimbo, and a vague plan to find a nearby loch with (hopefully) sheltered camping spots, we turned off onto a smaller road. Spirits and positivity were at an all time low. And then, we noticed an arrow and the words 'Wigwam Holidays'. With a little spark of hope in our bellies, we set off down the little road to find out more. Driving through great puddles, and the windscreen wipers in overdrive, we spotted a very friendly sight in among the trees. Dotted among the trees, standing strong and steady despite the frenzied storm all around us were five or six Wigwam glamping pods.
We tried not to get our hopes up, but oh my did we want to be in one of those. We battled through the wind to the little reception (I won't lie, I was close to tears) and to our great relief there was a wigwam available. The last one. And it had en-suite!
I can't tell you how luxurious it all felt after our battles with the tent. A solid structure. A warm and comfy bed. A sanctuary from the wind and rain. A peaceful night ahead. At last.
It turns out we were at the very beginning of a Hurricane Katia.There's no doubt about it - if we'd pitched up somewhere in a hurry, like we were going to - we would have ended up with a very wrecked tent. Most likely in the middle of the night. Our stuff would have been trashed. Our love of camping would have been shaken. I don't know when I'd have risked another family camp after a disaster like that.
Fortunately, we found Wigwam Holidays instead. We never did get back on the road to finish off the road trip. We stayed exactly where we were. Safe, snug and very cosy in our glamping pod. We were able to sit up and read with the radiator on and the little light, while the kids slept in their beds. We could have a cup of tea whenever we wanted just by flicking on a switch. No effort, no worries. And having a solid structure meant the baby actually started to sleep through the night so we all felt rested.
It was the perfect solution for us. We were still keeping the theme of our camping holiday going but had some security and comfort when we needed it the most. We'll always be grateful for that lovely sign in the trees pointing us to the Wigwam Site. We really needed a holiday and some family time together, but not at the expense of feeling safe and warm. We got all that and so much more. Our eldest still talks about the time we camped in the hurricane - we sound like intrepid explorers, when honestly I was the cosiest and happiest I'd ever been on a camp holiday!
And the best bit of all? After the storm had died down we managed to get a campfire going outside our glamping pod. We toasted those marshmallows. And all was right in the world.
Looking to book a comfortable Camping Holiday, Click the Test CTA below to. learn more etc....
About The Author:
Abi Cornwall is a Scottish based writer. She loves the great outdoors and connecting to nature with her two boisterous children and outdoorsy husband
almost
as much as she loves a warm bed and a good book.